caffi DAVIES cafe
The Cafe at Oriel Davies is operated by:
Seren Bach Bistro - a Vegetarian and Vegan Eating Place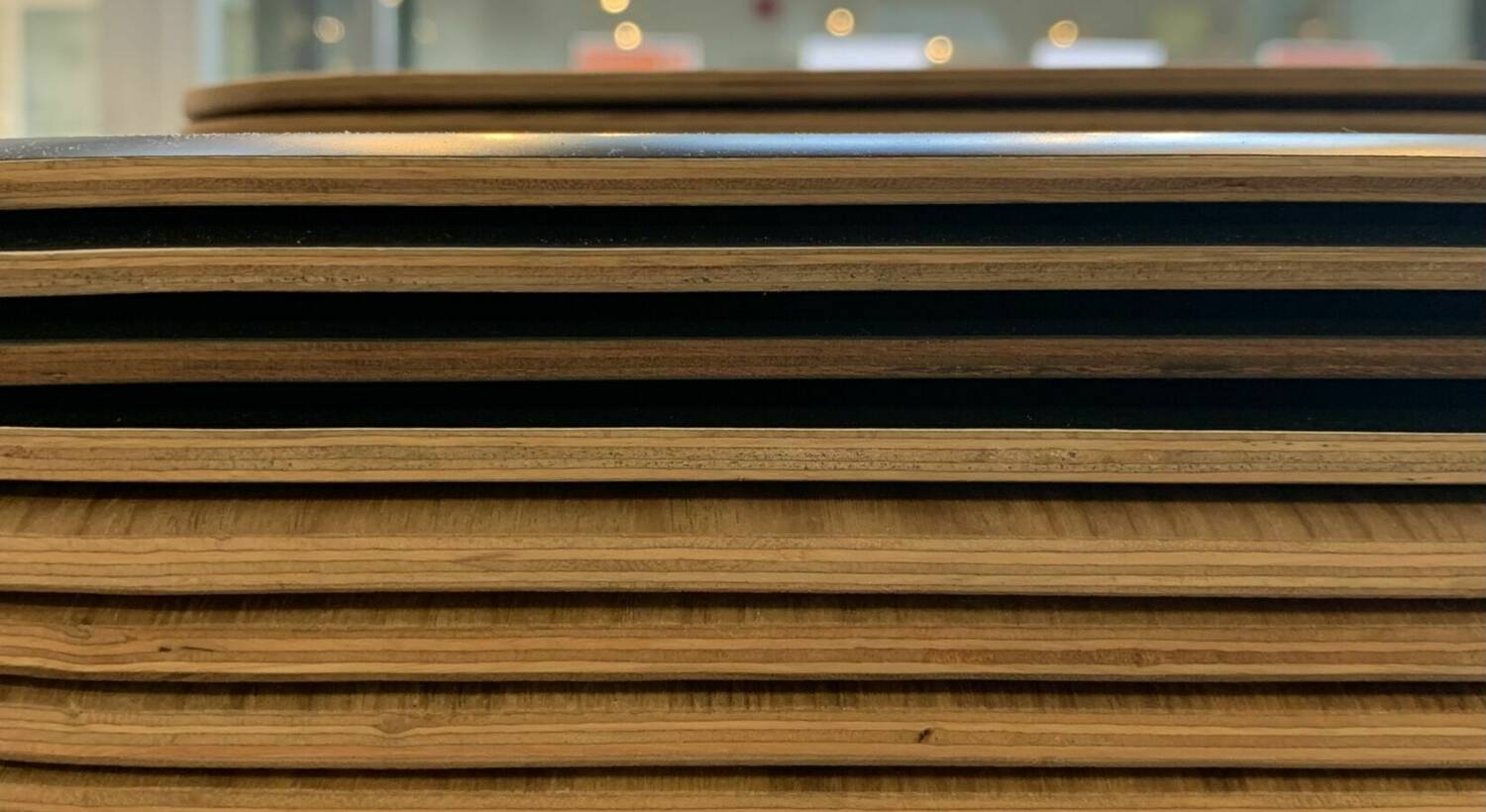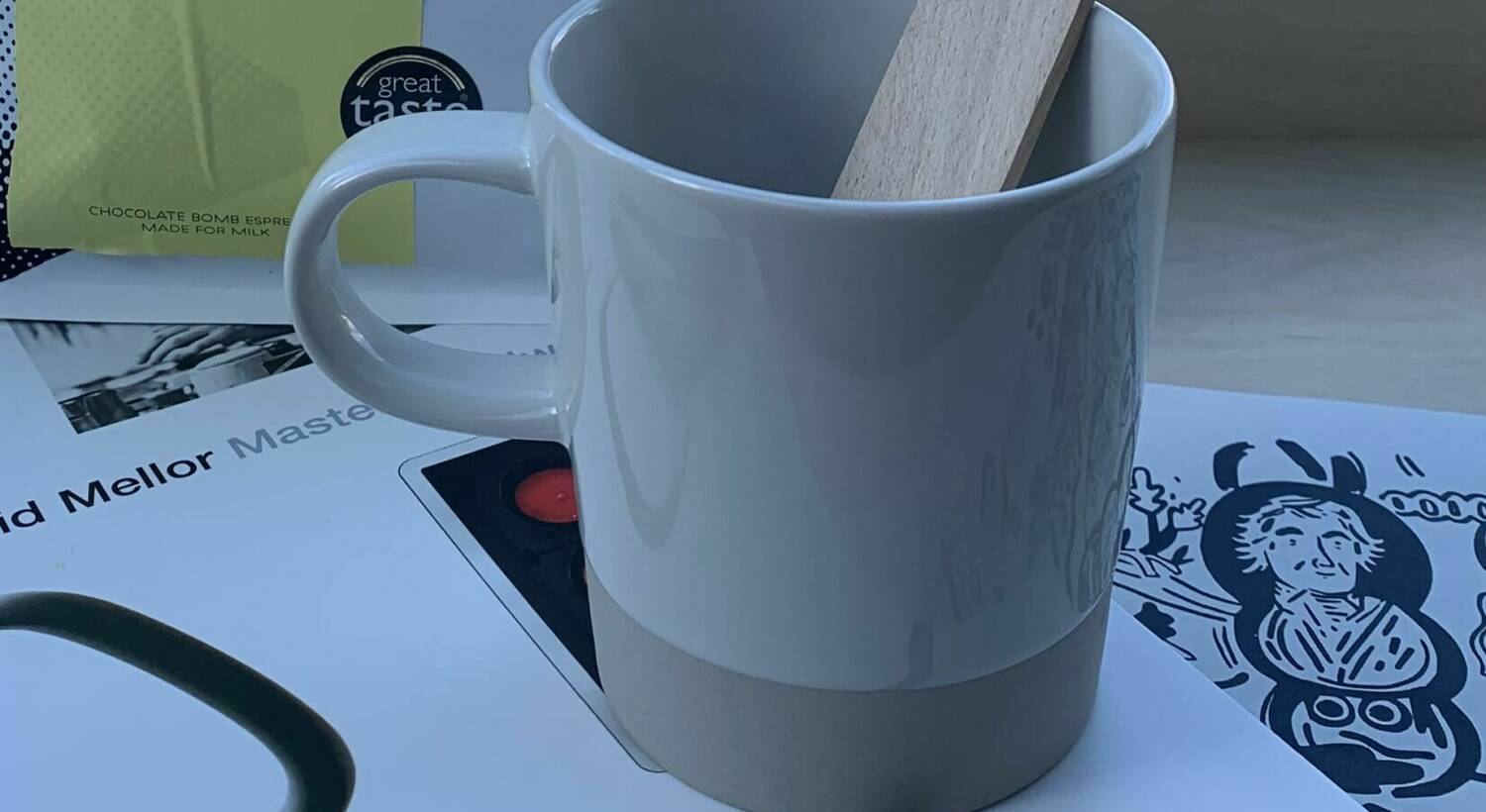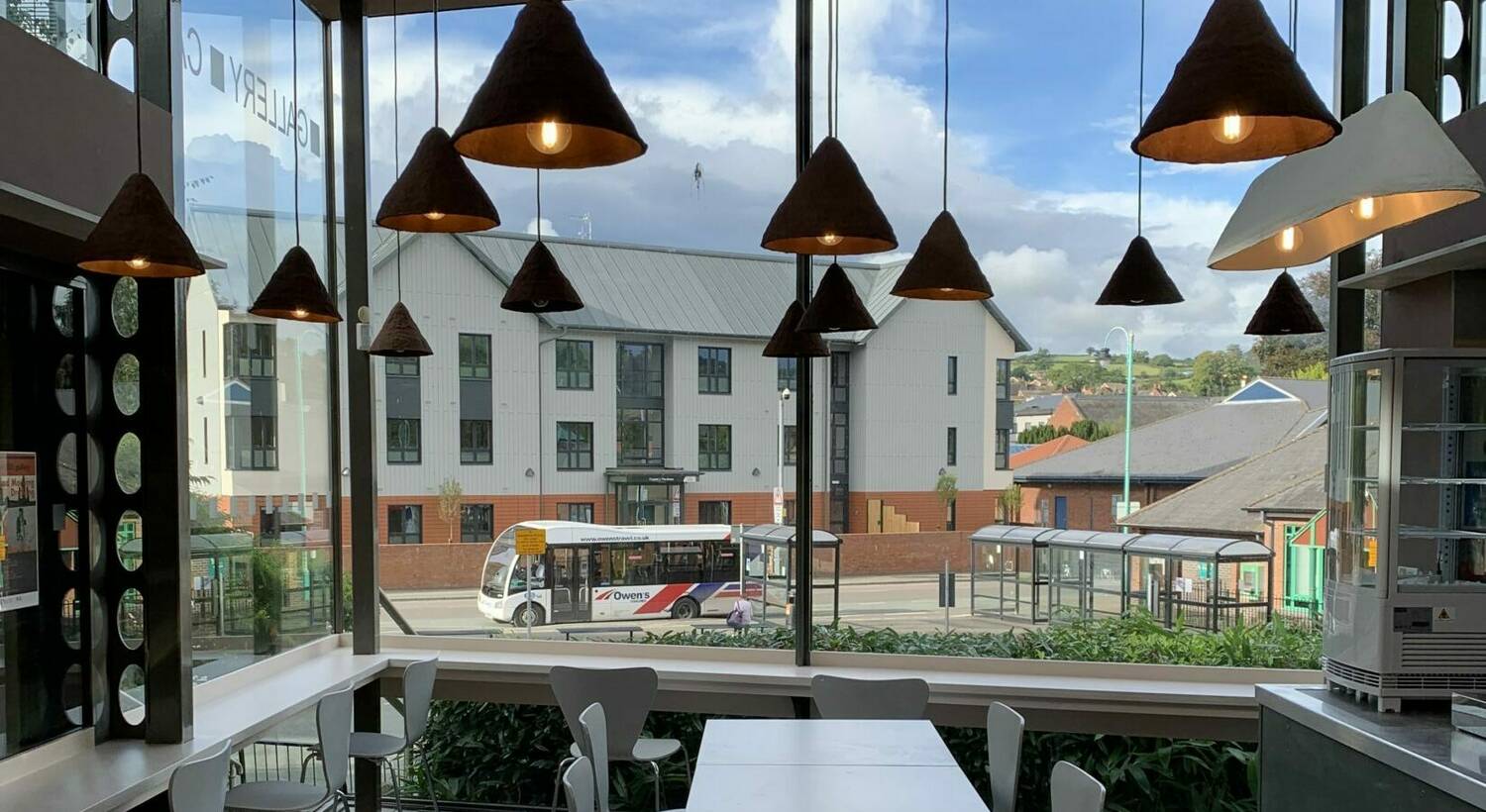 Our Cafe is a collaboration between Oriel Davies and Seren Bach Bistro. Scroll down to find out more about Seren's vision for the Seren Bach Bistro and Steffan's vision for the objects within the cafe.
About Seren Bach Bistro
At Seren Bach Bistro we pride in providing breakfast & lunch dishes that are prepared with good ingredients, love and attention as well as being delicious to eat.

We use the best seasonal ingredients and work with some wonderful local producers to deliver fresh and tasty treats daily. Our suppliers include a variety of small edible flower and vegetable growers, Kerry Vineyards, Swifts family Bakers, Teifi Cheese, Watson and Pratts Organic Grocers, Mary's Farmhouse Ice Cream, Hundred House Coffee and Gasm drinks.
Seren is passionate about baking and afternoon tea's and is dedicated to create home-made desserts and cakes which are displayed daily on the display counter for customers to enjoy. Whether you want to sit back and enjoy a cup of freshly ground coffee or a pot of finely blended tea; whether you want to enjoy a slice of cake or one of our house specials or salads we look forward to extending a warm welcome to you.
The light, bright modern Café at Oriel Davies is a great place to eat, drink and meet friends. During the Summer months, the Café extends onto the terrace, allowing visitors to eat al fresco.
Seren Bach Bistro is licensed to sell alcohol, and stocks excellent beers, wines and a great selection of soft drinks.
Seren
Cafe Open Times:
Tuesday - Saturday 11 - 4 (last orders 3.30)

Tuesday - Sunday 11-4 British Summer Time March-October

Seren Bach Bistro is also open all year.
Direct Line: 01686 622288.
About the Cafe at Oriel Davies

We're committed to doing what we can to minimise our impact on the environment at Oriel Davies. We use the best quality product we can find, because we believe that things that last longer have less impact on the earth's resources, and we also believe in supporting our local community.
As a sustainable organisation, we take this responsibility seriously and are constantly looking for ways we can do better. From the origins of everything we use, to our commitment to the circular economy, we consider the impact of all our choices.
When we were looking for a new gallery cafe we were interested in finding someone who would use local produce, plant-based, organic food, grown by independent producers.
With this in mind I began curating our gallery cafe space to reflect our ethos.
I wanted to create a calm space, where people could meet and talk, somewhere that felt warm, homely and contemporary. Somewhere that felt cosy. Previously the space felt very bright and the acoustics were quite harsh. So from the start I was looking to bring it "in" more, to soften the sound, to define a space. Something to connect with the outside space, and work with the large windows.
I began looking around for ethical paint and found Little Greene. Little Greene produces its paint in a small factory in Bethesda, Gwynedd. They have recently launched their Re:mix range, a collection of left-over, unwanted paints, reformulated into a beautiful, matt finish for interior walls and ceilings. The upcycling of these waste paints prevents as much as 60,000 litres of high-quality mineral and organic raw materials from going to waste each year.
We've used Nether Red and Light Beauvais in the cafe. Nether Red is based on sandstone mud pigment from Alderley Edge in Cheshire, where the writer Alan Garner spent his formative years. The Owl Service (1969) has featured in a number of exhibitions over the years at Oriel Davies. Alan Garner described the book as an "expression of the myth" of Blodeuwedd. (Light Beauvais is based on a number of colours found on the tapestries from the Royal Factory in Beauvais, Picardy.)
https://www.littlegreene.com/remix
The next consideration was lighting. I wanted something that was low energy but that would bring the sound level down. Adam Davies, and his brother Daniel, are co-founders of Tŷ Syml, based in Pembrokeshire. The lights in the cafe are hand made in small batches from recycled paper and local, sustainably sourced seaweed. Tŷ Syml are currently focusing on the use of seaweed and mycelium (mushroom) composites as a material to create a range of products such as lampshades and acoustic wall panels. With a focus on sustainability, the materials are designed to have a negligible impact on society and the environment.
One of the reasons that Tŷ Syml is based in Wales is their aspiration to have a positive influence on the local economy.
Tŷ Syml places value on the use of traditional skills that can be used to create modern and sustainable products using locally sourced materials
https://tysyml.com/shop/p/algau
Our cutlery, crockery and glassware is all designed and made by hand in the UK. The majority of crockery and cutlery is by David Mellor, with some designs by Corin Mellor.

David Mellor Design operates on the simple principle that well-designed equipment can improve your life.
The company was set up by David Mellor, Royal Designer for Industry. Mellor was a key figure in British design with an international reputation as designer, manufacturer and shopkeeper. Born in Sheffield and originally trained as a silversmith, he always specialised in metalwork and is particularly famous for his cutlery which won numerous design awards and which is in many international collections. Corin is the son of David Mellor CBE and cultural historian Fiona MacCarthy OBE, he was born in Sheffield in 1966.
https://www.davidmellordesign....
We want people to feel that it's a friendly, natural environment.
I love mid century design and I like the phrase from architect Berthold Lubetkin in the late 30s
"Nothing is too good for ordinary people!"

I also wanted to reflect on the phrase "Long Life, Loose Fit, Low Energy" by the architect of Oriel Davies Alex Gordon. You can read about this here

For information about the cafe windows click here
Architecture for love or money long life low energy loose fit

You might also be interested in...