Robert Owen 250 Virtual Reality Trail Commission
Robert Owen 250 Virtual Reality Trail
Total Budget of £10,000
An opportunity for an individual or company to propose a VR Trail exploring the town through the life and writings of Robert Owen.

Proposals are invited from producers, artists, designers, individuals, or businesses to produce a VR trail that explores the legacy of Robert Owen in a contemporary context, reflecting on his life and writings and and to act as a resource for locals and visitors.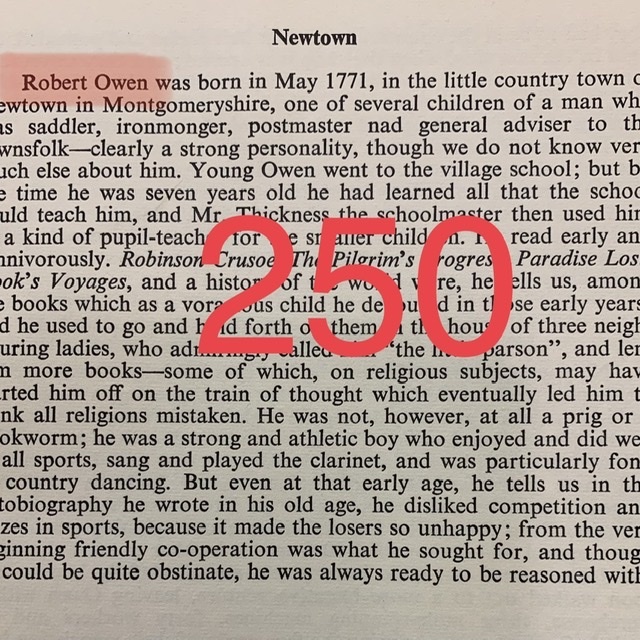 Timeline
We expect the projects to be completed by November 2021
How to apply
Interested parties should submit a proposal by 9am Wednesday 14th July 2021
We'd like to know about your work, and what you would bring to this project through this opportunity.
The format for this proposal is a single PDF, containing:
A statement of intent (maximum 500 words) with a response or method statement for responding to the specific opportunity.
A brief CV (2 pages max) with contact details of at least two referees.
Up to 10 images of your work/links* to other media.
*Please provide hyperlinks to online files or a Dropbox containing the files. Time-based media should be limited to up to four clips of no longer than 5 minutes; images should be no larger than 1600 x 1200 pixels.
Information submitted in other formats will not be accepted.
The Roles will be appointed in July with start dates 1 August 2021.
For queries please email: desk@orieldavies.org
Interviews will take place mid July 2021 (W/b 19 July TBC)
Deadline for applications is 14 July 2021
Start Date: 1 August 2021
(This is a readvertisement. Previous applicants will be considered and do not need to reapply)

Summary
Following a highly successful Robert Owen 250 Artist Residency in 2020, resident artist, Lisa Heledd Jones, produced a report with recommendations, some of which have been adopted as the project moves forward in partnership between the Welsh Government, Powys County Council, and Newtown and Llanllwchaiarn Town Council. The project is managed by Oriel Davies, with support from The Arts Council of Wales, and The Robert Owen Museum.
Robert Owen was a Welsh textile manufacturer, philanthropist and social reformer born in Newtown, Powys 250 years ago. Owen's ideas about principled manufacturing, youth education and early child care, and the importance of community resonate with us two and a half centuries later. However, from the prism of a twenty first century position, it is important that people are provided with a rounded opportunity to understand his history with the slave trade – he is a persuasive example of how even progressive thinkers may be blinkered by the norms of their era.
As 2021 marks the 250 year anniversary of the birth of Robert Owen, the Welsh Government has been working with local partners to explore new ways of remembering this social reformer from mid Wales and telling his story in a full and rounded way. In conjunction with Oriel Davies in Newtown, the project sought to engage with the community, and open up a dialogue with local residents about the nature of such a commemoration.
Following an open competition, artist Lisa Heledd Jones was commissioned to take forward the engagement project. She undertook the research and engagement project during the past year and her final report was delivered to the local steering group earlier this year.
As a result, four specific projects will be taken forward to commemorate the life of Robert Owen.
Project Overview
The projects are:
A permanent piece of public art in Newtown to be commissioned and created by a professional artist;
A local sculpture competition for young people to explore the life and work of Robert Owen (in partnership with Mid Wales Arts Centre);
A virtual reality trail in Newtown that will tell Robert Owen's story; and
Support to update the Robert Owen Museum including refreshed displays providing a wide-ranging account of his life, and an outreach programme for schools with a dedicated outreach officer to deliver the programme.
Given the extensive audit of statues, street and building names commissioned by the First Minister, it's important that when we look at new commemorations and historical projects in Wales that they properly reflect all parts of a person's history no matter how difficult. Robert Owen's opposition to emancipation and the use of goods from American plantations, shows that despite the successes in his history, his time was not without controversy. Welsh Government, does not seek to rewrite history, but to ensure it is properly reflected. To show individuals as they were, the good with the bad.
The project is funded by Welsh Government, Powys County Council, The Robert Owen Museum and Newtown and Llanllwchaiarn Town Council. The partner organisations are Oriel Davies Gallery www.orieldavies.org, Robert Owen Museum www.robertowenmuseum.co.uk
There are already a number of sites commemorating Robert Owen throughout the town including a museum, plaques, sculptures, reliefs, and a tomb.
It is hoped that this project will help to establish and develop a mutually beneficial way of working for the partners that enables us to nurture a productive longer-term relationship. It is important to note that there are a number of groups in the town exploring the ideas of circular economy, community ownership, and green economy who are all keen to cooperate and be involved in the project
The project will offer an opportunity for relevant communities (including Welsh speaking communities), groups, schools, families, workers, staff and volunteers to present new ways of looking at the legacy of Robert Owen.