A Tree A Rock A Cloud
Clare Woods
Exhibitions
|
6 September 2014 - 5 November 2014
Exhibition Opening: Saturday 6 September 2014 5-8pm Featuring Clare Woods in conversation with Mandy Fowler, co-curator of A Tree A Rock A Cloud, from 5-6pm. Followed by opening 6-8pm with Nicholas Thornton, Head of Fine Art, Amgueddfa Cymru - National Museum Wales. Refreshments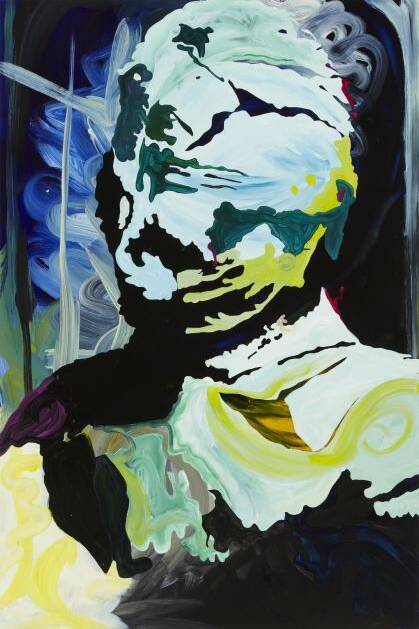 Oriel Davies is thrilled to present significant new works by acclaimed artist Clare Woods in her first large-scale solo exhibition in Wales. A Tree A Rock A Cloud represents a defining moment in the artist's practice bringing together work that takes into consideration the traditional subjects of landscape, still life and portraiture alongside three key works from Amgueddfa Cymru - National Museum Wales. Selected by the artist, these include The Rabbit by Edouard Manet (1881) and Frozen Pond by John Nash (1953), both from the Davies Sisters collection, alongside the photograph Civilian Victim, Vietnam (1967) by Philip Jones Griffiths.
Exploring these genres through these three key works and Woods' own paintings, the artist creates remarkable compositions that reveal tensions between solid form and hollow space, playing with foreground and background, gravity and mass to set up curious and unsettling situations.
Woods has exhibited widely in the UK, Europe and America and her work is represented in major collections including Amgueddfa Cymru - National Museum Wales which purchased Hill of Hurdles, 2010. She has recently had solo exhibitions in Denmark, Leeds, London, Athens, Madrid and Berlin.
The exhibition opening on 6 September will feature an artist talk in conversation with Mandy Fowler, Co-Curator with Oriel Davies for A Tree A Rock A Cloud.
A programme of learning and participatory activities will accompany the show throughout the exhibition period as part of Oriel Davies REACH programme. More information will be available very soon via our website.
Exhibition co-curated by Oriel Davies Curator, Alex Boyd Jones and Independent Curator, Mandy Fowler. A catalogue publication will accompany this exhibition.
Exhibition supported by the Gwendoline and Margaret Davies Charity and Cyngor Celfyddydau Cymru - Arts Council of Wales
SOLD OUT
Sorry tickets for this event have sold out!
If you would like to be added to a waiting list please contact us: desk@orieldavies.org
The gallery is open:

Tuesday - Saturday 10-4
Cafe closes at 3

Except for special events
Closed bank holidays