Afield
Simon Whitehead
Exhibitions
|
6 February 2010 - 7 April 2010
A retrospective and re-presentation of screen-based and performance artefacts from Simon Whitehead's career, alongside a live, accumulative archive from the new commission Louphole. Made at walking pace, his works are place-sensitive and involve a process of ritual reconstruction through the body, live performance, dance, sound and film.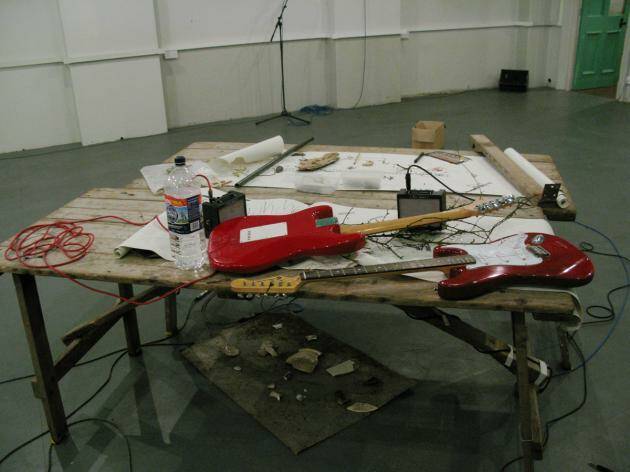 Afield brings together newly commissioned and existing work by renowned Wales-based artist Simon Whitehead. Over the past 15 years Simon has produced work to investigate and expand meaning and understanding within specific locations or environments. Originally trained as a geographer and a dancer, he has developed a body of work which involves a process of ritual reconstruction through the human body to include live performance, dance, sound and film.
The work presented in Afield features video pieces and artefacts to reflect an evolution of the artist's practice and his physical encounters with the landscapes he inhabits and moves through. These processes also reveal Simon's collaborative approaches, both with the public and other artists, and in particular with the sound artist Barnaby Oliver, with whom he has worked consistently over this period.
A newly commissioned piece of work, Louphole is featured within the exhibition as a live archive. This will evolve and grow through the duration of the show. This work developed out of an artist's residency Simon made with artists groups Ointment and Boreal during the winter of 2005, where he spent 2 weeks in Northern Quebec on a hunting reserve. An enduring memory of the place was the wolf packs, audible at night and absent by day, save for their tracks and kills.
Here in Wales, the artist reconstitutes this lost predator through a series of fugitive performances and mysterious visible and audible sightings across Newtown. These culminate in a public gathering and procession through the town on Thursday 4 March, accompanied by the Newtown Silver Band and the first public 'Howl' on Bryn Bank above the town. Simon has commissioned Barnaby Oliver to compose a new musical composition based on wolf calls for the Newtown Silver Band. A short film documenting the event will subsequently be presented in the exhibition.
SOLD OUT
Sorry tickets for this event have sold out!
If you would like to be added to a waiting list please contact us: desk@orieldavies.org
The gallery is open:

Tuesday - Saturday 10-4
Cafe closes at 3

Except for special events
Closed bank holidays