Camp DAG
The Disabled Avant Garde
Exhibitions
|
9 September 2011 - 10 September 2011
The Disabled Avant Garde (aka DAG), comprising artists Katherine Araniello and Aaron Williamson, are staging an 'alien invasion' - a two-day encampment on the banks of the picturesque River Severn, adjacent to Oriel Davies Gallery, Newtown and close to the town's centre.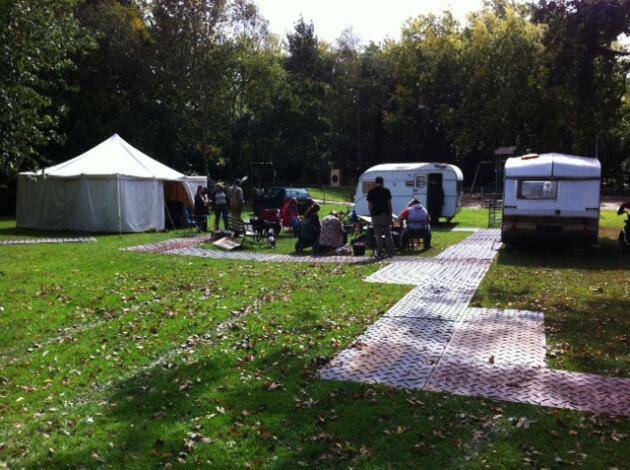 The artists are creating a mysterious occurrence which will appear seemingly out of nowhere and for a short time. CampDAG will 'interrupt' everyday life, taking the local townspeople by surprise, testing perceptions around what makes us 'insiders' or 'outsiders' and who is marginalised from society and the art world.
Araniello and Williamson will 'perform' at the camp with eight other disabled artists from Wales - a gathering of disabled people and their assistants: Joolz Cave-Berry, Helen Clyro, Marion Fletcher, Lindsay Foster, Richard Newnham, Dean Warburton and Amanda Wells. Their 'props' include caravans, an assortment of tents, horses and dogs and a slim plume of campfire smoke.
Curious passers-by may well witness unusual activities amongst the group, provoking a series of questions: Who are they? How did they get here? Where are they from? Together the group will confuse and challenge the public's assumptions about 'what's happening' in their local park. The process of disseminating the performance is viral: rumour and speculations circles the town.
Araniello and Williamson's work is based around performance and video. Documentation from the camp will culminate in a film produced from footage which will be screened at Oriel Davies in September 2012. Candidly filmed, the Newtown people's response to Camp DAG is integral to the work.
Camp DAG forms part of the ambitious visual arts project, Outside In, which focuses on increasing the number of Disabled and Deaf artists working within mainstream galleries. The project is coordinated by DASH (Disability Arts Shropshire) working in partnership with Oriel Davies, The New Art Gallery Walsall and Wolverhampton Art Gallery to commission innovative and original Disability Art for inclusion in their programmes in 2010 and 2011.
SOLD OUT
Sorry tickets for this event have sold out!
If you would like to be added to a waiting list please contact us: desk@orieldavies.org
The gallery is open:

Tuesday - Saturday 10-4
Cafe closes at 3

Except for special events
Closed bank holidays