Crossed Paths
Miranda Whall
Exhibitions
|
21 April 2018 - 13 June 2018
Crossed Paths comprises three projects by Aberystwyth-based artist Miranda Whall, occurring between 2017 and 2021 in Wales, Scotland and France. These bring together film, performance and the body in motion, mountain and upland ecology: each project telling a story of a mountain from a different perspective.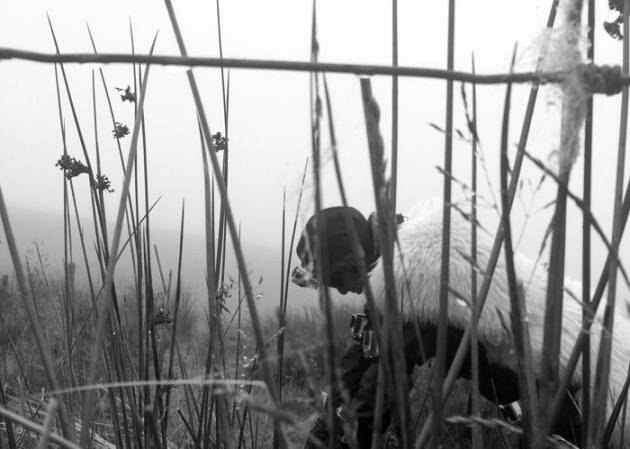 Oriel Davies presents the Welsh component in an immersive multi-media installation and contextual exhibition that offers a non-representational and ecological response to an area within the Cambrian Mountains, West Wales.
In the summer and autumn of 2017, the artist, wearing a sheep fleece and covered in 14 GoPro cameras crawled, in stages, along 5.5 mile of sheep tracks in the Cambrian uplands: from the peat and heather moorlands high up at Pen y Garn, down through acid grassland and peaty Molinia / rush bogs and finally into the improved pastures and managed farmlands to the Pwllpeiran Upland Research Centre in Cwmystwyth. As a kind of cyborg sheep/human she attempted to document, experience and understand the mountain, its inhabitants and its matter, in relation to her body, moving in an altered state through the landscape.
The resulting work and exhibition features discussions by the researchers at Pwllpeiran, alongside creative responses from local musicians including Ric Lloyd, Harriet Earis, Tim Noble, Diarmuid Johnson and Jasper Salmon. Contributions have also been made by poet Zoe Skoulding, writer Phil Smith, photographer Hannah Mann and Rhys Thwaites-Jones of Fforest Films who has made a documentary film about the project.
A publication accompanies the project.
Link to a short documentary film by Rhys Thwaites about Miranda Whall's project.
Events
Opening & Panel Discussion: Crossed Paths | Miranda Whall | Saturday 21 April
*Launch event: Panel Discussion | 4 - 5.30pm
*Exhibition Opening | 6 - 8pm
Field Trip - Crossed Paths | Miranda Whall | Saturday 26 May | 2 - 5pm
Development of the project can be followed on the artist's blog -
http://www.mirandawhall.space/
Supported by the Arts Council of Wales and Aberystwyth University
SOLD OUT
Sorry tickets for this event have sold out!
If you would like to be added to a waiting list please contact us: desk@orieldavies.org
The gallery is open:

Tuesday - Saturday 10-4
Cafe closes at 3

Except for special events
Closed bank holidays