Extraordinary Days
Young Curators 2009
Exhibitions
|
4 July 2009 - 5 September 2009
Extraordinary Days is an exhibition looking at positivity and humour in contemporary art. It has been organised by the Oriel Davies Young Curators - a group of 14 young people based in mid Wales, aged between 16 and 23: Aishah, Becca, Caitlin, Claudia, Kelly, Kirsty, Laura, Nia, Sarah, Stephanie, Sophie, Rachael, Rhian and Rhys.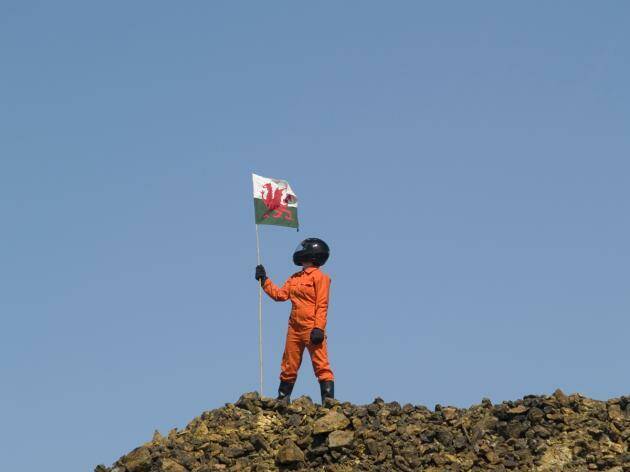 "We have been meeting at the Gallery since autumn 2008 in order to organise this exhibition. We are a diverse group from different backgrounds and with different views. However, we all share a passion for art. Oriel Davies has invited us to organise an exhibition that reflects our concerns, interests and ideas. We have been let loose in the Gallery! The result is a reaction to society, but with a twist.
We decided to confront the abundance of negativity that appears to fill our world. We wanted our exhibition to embody a positive outlook – as an escape from the pessimism that surrounds us. We also wanted to present art that makes us laugh, and much of the work in our exhibition does this through the use of unusual and humorous materials - teeth, biscuits and Elastoplast, to mention a few!
Our exhibition, Extraordinary Days shows work by 15 internationally acclaimed and emerging artists from Wales and beyond: Dave Ball, Jordan Baseman, Oliver Bragg, Maia Conran, Martin Creed, Peter Finnemore, Paul Granjon, Andrew Grassie, Richard Higlett, Hiraki Sawa, Jack Strange, Boyd Webb, Richard Wentworth, Bill Woodrow and Bedwyr Williams. When researching artists for our show we looked beyond face value and discovered that the most unsuspecting things can be inspiring, uplifting and even sublime. We aimed to show that beauty can be found anywhere and in anything. Especially in the current financial climate, beauty need not be expensive.
We have worked hard to create an exhibition that we are passionate about. Many of the artists in this exhibition have taken advantage of everyday objects to create awe-inspiring artworks that we can all relate to: making the ordinary extraordinary. We hope that you enjoy the experience of visiting our show as much as we have enjoyed curating it."
Oriel Davies Young Curators 2009
Extraordinary Days includes loans from the Arts Council Collection, Hayward Gallery, London and from individual artists. With thanks to: Adrian Plant, Young Curators Coordinator, Sean Edwards, Ann Jones, Jill Constantine, Arts Council Collection, Southbank Centre, London, Longside Gallery, Yorkshire, Chris Keenan and the artists.
Council Collection, Southbank Centre, London. Many of the artists have taken advantage of everyday objects to create awe-inspiring artworks that we can all relate to.
Young Curators 2009
SOLD OUT
Sorry tickets for this event have sold out!
If you would like to be added to a waiting list please contact us: desk@orieldavies.org
The gallery is open:

Tuesday - Saturday 10-4
Cafe closes at 3

Except for special events
Closed bank holidays