Lament
Sean Vicary
Test Bed
|
11 February 2012 - 18 April 2012
Sean Vicary's work is primarily concerned with ideas of 'landscape' (internal and external) and our increasingly politicised interaction with the 'natural' world. Found objects and fragments of detritus are manipulated in a virtual space to create animated assemblages.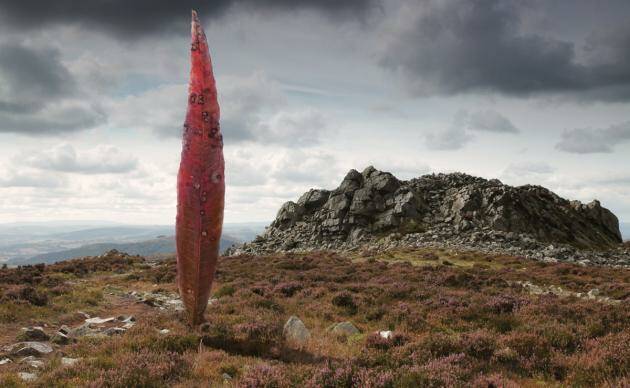 Lament interweaves site-specific found objects, animation, poetry and music to explore a personal narrative of loss, longing and belonging in the Welsh borderlands. Animation and macro photography is used to examine found objects (eg. lichen, flora, animal remains etc) while cinematic compositing techniques visually reintroduce these objects back into the wider landscape and thereby re-contextualise them. Bilingual fragments of spoken word, site-specific recordings and elements of traditional music combine to create an immersive soundscape, achieving a dynamic synergy between sound and image.
The oral audio source material is taken from Stafell Gynddylan (Cynddylan's Hall) and other sections of the 7th Century Welsh poem cycle, Canu Heledd. These poems deal with the fall of the Brythonic Kingdom of Pengwern, in what is now Shropshire. This particular lament originates from the border area describing the silence and ruin of Prince Cynddylan's home after his death. As such, through a composite of oral, visual and technological innovation, Vicary has created a platform for topographical experimentation and improvisation which combines with sensitive autobiographical references.
Sections of Lament are also available to view on a mobile platform using 'augmented reality' software, which through its integration of GPS positioning and user controlled field of view allows access to selective audio-visual material in the landscape. This site-specific process of 're-compositing' the objects back into the landscape allows the viewer to physically interact with the artwork whilst simultaneously raising questions about process and perception.
More about how the Lament augmented reality software works and how it can be experienced, can be found on Sean Vicary's website

Sean Vicary is an artist and filmmaker based in Wales who graduated with a BA in Fine Art from Newcastle Polytechnic. His art practice extends across various digital platforms and media and his work has been broadcast in the UK and shown worldwide. Lament was made in collaboration with musician Ceri Rhys Matthews and Steve Knight, co-director of tinderfarm, a production and marketing company in Wales (tinderfarm.co.uk). This project has been supported by Animate Projects, Small World Theatre and the Arts Council of Wales.
Interview with Sean Vicary about 'Lament' on Animate Projects website.
Supporting new and experimental work by artists based in Wales and the Borders.
SOLD OUT
Sorry tickets for this event have sold out!
If you would like to be added to a waiting list please contact us: desk@orieldavies.org
The gallery is open:

Tuesday - Saturday 10-4
Cafe closes at 3

Except for special events
Closed bank holidays