Mae hi'n bwrw hen wragedd a ffyn | It's raining elderly ladies and sticks
A Foyer Gallery Exhibition celebrating Welsh Ladies
Exhibitions
|
25 January 2023 - 30 April 2023
Ruth Jên Evans - born and raised in West Wales - has a Masters in Fine Art from Aberystwyth University School of Art. We have a great selection of work from her iconic 'Welsh Ladies' series.
Luned Rhys Parri creates a whimsical Welsh world of old-fashioned warmth and humour. Her original 3D scenes are sold at https://welshart.net/artists/6... - we have prints of Luned's quirky work here.
Julie Arkell is from London, though her Welsh-hatted 'Crow Ladies' are so wonderfully unique we had to have some in this exhibition.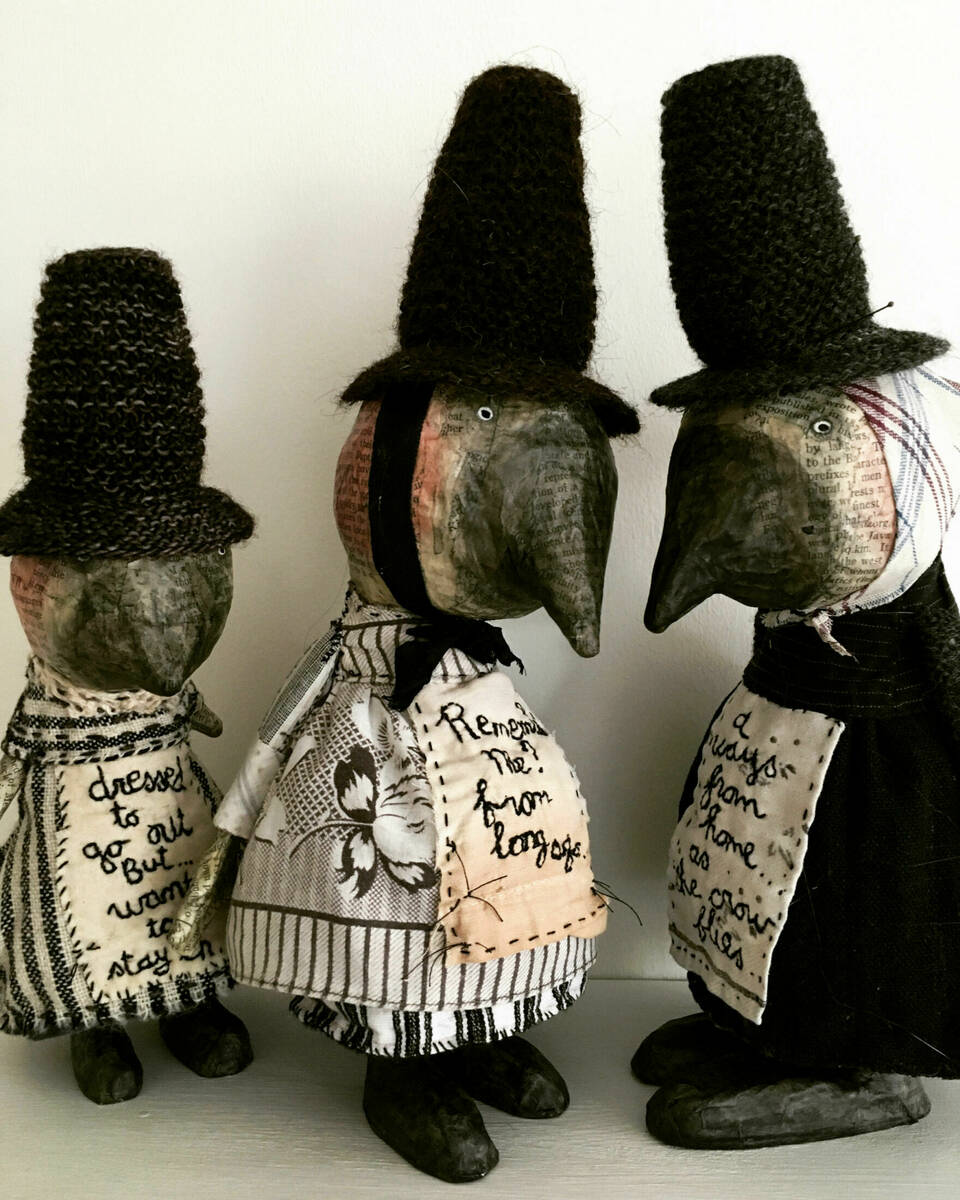 Ruth Jên Evans is a full-time artist based in Ceredigion, Mid-Wales. She has an unquenchable enthusiasm for all forms of printmaking and mark making and has been an active member of the Aberystwyth Printmakers since it was established in 2004 .Although printmaking is an essential part of her practice, recent work has ranged from large-scale installations to delicate ceramic pieces and from spontaneous multi layered silk screens to animation and film. Her work has been exhibited widely, both in the UK and abroad and is represented in several international collections.
"The Welsh lady series are a collection of hand coloured monoprints, the stylized figures that I create allow me to deal with issues and situations in a humorous and provocative way.The fact that I don't offer a translation for the titles is intentional. I am interested in what the viewer brings to the work and how they interpret it and the dialogue that might stem from this. "
Luned Rhys Parri's work is always filled with warmth and humour. While making us smile, and while creating that warm glow inside, she is deft and observant enough to catch the telling details which allow us into her characters' world: A world that is uniquely Welsh, and may be fast disappearing. Her benevolent whimsy is shot through with a keen awareness of the passing of time, and the fragility of the things which once lost or squandered, can never be retrieved. She reminds us to look after the small things, and to remember.
She evokes quintessential everyday occurrences in Wales in her wonderful, quirky, three-dimensional images. Often based on memory of the countryside and towns of Wales in her childhood, Luned loves handling simple materials such as tinfoil, cardboard, paper and wire - these are combined with a painterly surface to create a unique image of tender wit and humour.
Luned has won numerous awards and has shown many times in Wales and on a national basis. She has also lead workshops with young people in many institutions, festivals and schools. Experiences which have regularly brought her into contact with new people and personalities which have inspired new works back in her studio.

Julie Arkell is one of Britain's best recognised contemporary folk artists. She works in papier-mâché and mixed media, using domestic craft techniques in her own distinctly sophisticated way.
Julie makes everything by hand in her London studio, manipulating and painting her papier-mâché figures, stuffing bodies and embroidering clothes. She trims her creations in knitted adornments, curious accessories, ribbons and found objects. The result is her magically appealing little creatures.
The gallery is open:

Tuesday - Saturday 10-4
Cafe closes at 3

Except for special events
Closed bank holidays