Matthew Wood
Matthew Wood
Test Bed
|
8 September 2007 - 20 October 2007
Matthew Wood is fascinated by the theme of landscape which has taken him throughout the UK and Europe. Wood paints on location, challenging himself to capture each scene in one sitting. For this project, the artist has situated himself in Oriel Davies Gallery and approached the interior spaces of the gallery as he would a landscape.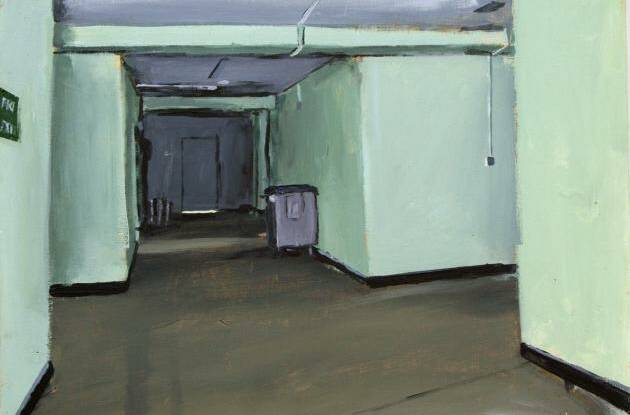 This exhibition features the work of Welshpool-based artist Matthew Wood. Throughout his career Wood has been fascinated by landscape. Over the past seven years he has painted on location in Belgium, Luxembourg, Greece and throughout the UK.
Using acrylic paint on board, the artist paints in the plein air tradition, positioning himself within the landscape and attempting to capture each scene in one sitting. In each painting the artist aims to record the physical details of his surroundings, but also to capture the atmosphere and sense of place. Unlike traditional landscape painters, however, Wood is also interested in the interiors of our man-made environment. It was while painting a disused office block in Shrewsbury that the artist was struck by the similarities between the human construction of the building and the organic environment of the landscape. Wood explores these parallels in his recent paintings of locations as varied as Market Hall, Shrewsbury and Criggion Radio Station, a disused military listening post near Welshpool.
For this project Wood has situated himself in Oriel Davies Gallery. The artist will produce paintings within the gallery throughout the course of the exhibition. By selecting and recording certain viewpoints, Wood allows us to examine the familiar, yet often overlooked, spaces within the building and draws our attention to the distinct character of our man-made environment.
Matthew Wood (b.1973) studied at Shrewsbury School of Art (Foundation in Art and Design, 1995), Middlesex University (BA Painting, 1998), Birmingham Institute of Art and Design (PGCE, 1999) and University of Wales, Aberystwyth (MA Painting, 2001). Wood has had a number of solo shows at Shrewsbury School (2005), The Pickled Onion Gallery, Shropshire (2001) and Madley Court Gallery, Telford (2001). Wood also regularly contributes to group exhibitions including Open End, Waterloo, Belgium (2002) and Fforma, toured throughout Wales (2006). Wood has held an educational post at The European School II, Brussels, and continues to teach fine art at The Shrewsbury School of Art. The artist is currently working on a major painting project titled '110 Views of Wales'

Supporting new and experimental work by artists based in Wales and the Borders.
SOLD OUT
Sorry tickets for this event have sold out!
If you would like to be added to a waiting list please contact us: desk@orieldavies.org
The gallery is open:

Tuesday - Saturday 10-4
Cafe closes at 3

Except for special events
Closed bank holidays