Mobile Tales
a group of talented young artists
Exhibitions
|
9 March 2019 - 30 March 2019
March 2019 is a very special time for a group of talented young artists in North Powys, with two exhibitions of work by past and current Criw Celf participants taking take place at Oriel Davies. The exhibitions will be officially opened by Louise Wright of The Arts Council of Wales, on Saturday 9th March at 3.15, in a special event with the young artists, their families and friends.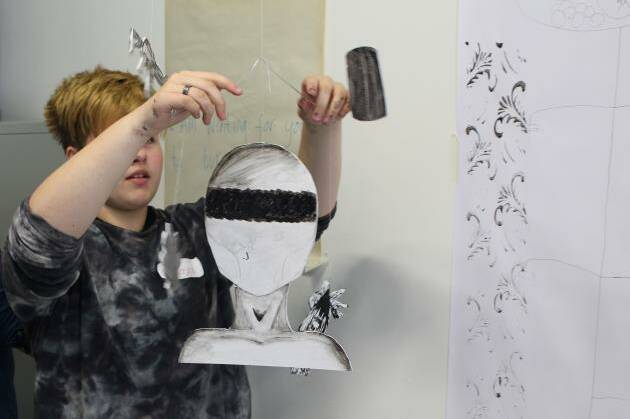 The artworks in Mobile Tales were created by 35 members of the Criw Celf project, in workshops with poet, artist and comic maker Nicky Arscott who lives and works in Llanbrynmair. The workshops involved working with sequential images to tell a story or express an idea on the theme 'Citizens of the World'. They worked collaboratively in small groups to create striking, monochrome mobiles.
Criw Celf is an Arts Council of Wales initiative to nurture young talent in Wales. Criw Celf Oriel Davies is supported by the Arts Council of Wales, Powys County Council and Chester University.
Flexuous and Mobile Tales are showing at Oriel Davies from 9-30th March. Free entry.
(Mobile Tales will be closed to the public for one day on Tuesday 19th March.)
SOLD OUT
Sorry tickets for this event have sold out!
If you would like to be added to a waiting list please contact us: desk@orieldavies.org
The gallery is open:

Tuesday - Saturday 10-4
Cafe closes at 3

Except for special events
Closed bank holidays