Oriel Davies Open 2008
RE:drawing
Exhibitions
|
14 June 2008 - 2 August 2008
RE:drawing is the third Oriel Davies Gallery biennial Open exhibition. This year artists were invited to submit work that explored drawing in its broadest and most experimental sense. The show presents new and recent work by 44 emerging, mid-career and established artists from Wales and the Borders, highlighting the range and ingenuity of current 'drawing' practice.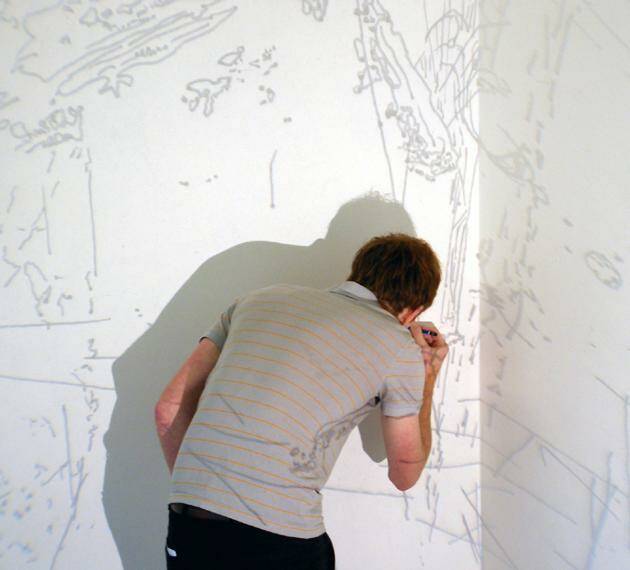 RE:drawing is the third of Oriel Davies Gallery's biennial Open exhibitions. This year, submissions were invited which responded to the practice of drawing in its widest and most experimental sense. The exhibition features new and recent artworks by 44 artists from Wales and the Border counties and represents the strength, diversity and originality of work found in this part of the UK.
The process of selecting work from the 182 entries, all of an extremely high standard, was a challenging task for this year's panel comprising Nigel Prince (Curator, Ikon Gallery, Birmingham), Yvonne Crossley (Artist and previous Jerwood Drawing Prize selector) and Sue Williams (Artist and Artes Mundi 2 shortlisted artist 2006). The selection criteria focused on the artists' response to the subject, their interpretation, use of materials, quality of work, innovation and originality.
The exhibition encompasses a rich array of approaches emphasising and exploring the multifarious ways in which drawing can exist. The exhibition brings together animation, video, sculpture, print, installation, the sketchbook and photography, amongst other media, with the aim of stimulating, challenging and entertaining visitors, whilst promoting the wealth of creativity in this sphere.
Drawing is ancient, prehistoric even, and has been an integral part of human existence across the globe. Whether to illustrate and document the surrounding world, plot the construction of building and monuments, communicate with other worlds, or as part of ritualistic practices, it has been a fundamental aspect of communicating concepts, thoughts, attitudes, emotions and fantasies. The advent of paper production and its general availability in Europe during the 1400s resulted in a surge of drawing activity through the subsequent 300 years. Frequently, these drawings existed as a way to explore composition and perfect anatomical or natural representation in advance of a final piece of commissioned work (often a painting or sculpture).
As artists became free of the traditions of art patronage during the 19th century, they began to create work which pursued individual concerns. This was instrumental in the development of Western art practices and subsequent artistic explorations. Drawing began to exist beyond the sketchbook or as a precursor for a 'final' work, and instead became a subject matter ripe for critical discussion.
RE:drawing offers a glimpse of how contemporary artists are continuing to pursue dialogues surrounding drawing practice including its autonomous existence. Although the works are diverse there are a number of connecting concepts, processes and phenomena present in the show. An exploration of time (whether purposefully or incidentally) features amongst many works, often existing through labour intensive and time-consuming production processes and frequently accomplished by obsessive or repetitive actions, while other pieces refer to the passing of time itself. In terms of production, the exhibition contrasts work which has been produced using sophisticated, technological tools and materials with pieces that have been created from everyday, ubiquitous objects, each contributing to discussions surrounding mark-making, line, form and composition.
In addition to the exhibition there are two accompanying prizes awarded by the selection panel including a 1st Prize and a Student 1st Prize. Both include the opportunity for the winning artists to exhibit in the main gallery spaces in 2009. Alongside this, a People's Choice prize allows visitors to select their favourite work.
Oriel Davies warmly thanks the generosity of the following for their support of RE:drawing: Whittingham Riddell, Imprint, Newtown Station Travel, the Arts Council of Wales and the Esmée Fairbairn Foundation
Oriel Davies also thanks the Selectors and Judges of RE:drawing: Nigel Prince, Curator, Ikon Gallery, Birmingham; Yvonne Crossley, Jerwood Drawing Prize Selector 2006; Sue Williams, Artist and Alex Boyd, Curator,
Oriel Davies Gallery
Prize-winners
1st Prize (£1000): Gaia Persico
2nd Prize (£500): Nina Ogden
1st Student Prize (£500): Richard Monahan
2nd Student Prize (£250): Joseph Fletcher
Peoples Choice Prize sponsored by Newtown Station Travel (£200)
Richard Monahan for Wallpaper Composition on Blue
The following artists were been highly commended
Nichola Hope, Andrea Cotton, Jeanette Orrell, Sharon Crew, Boris Tietze and Simon Leahy-Clark
Exhibiting Artists
Ian Aitken Smith, Caroline Ali, Keith Ashford, Anna Barratt, Kate Bassett, Bateson & Young, Alan Bicknell, Stephen Colson, Jill Cope, Andrea Cotton, Sharon Crew, Heather Eastes, Dale Evans, Joseph Fletcher, Andy Fung, Tom Gilhespy, Tom Goddard, Sarah Haxby, Virginia Head, Richard Higlett, Nichola Hope, Lois Wynne Hopwood, Rose Jollands, Owen King, Simon Leahy-Clark, Lee Lewis, Robert Mason, Richard Monahan, Robert A. Newell, Nina Ogden, Jeanette Orrell, Flora Parrott, David Parry, Gaia Persico, Timothy Pugh, Jude Roberts, Boris Tietze, Gwen Vaughan, Gwyn Vaughan Williams, Catrin Webster, Stephen West, Darren Williams & Jason Davies
SOLD OUT
Sorry tickets for this event have sold out!
If you would like to be added to a waiting list please contact us: desk@orieldavies.org
The gallery is open:

Tuesday - Saturday 10-4
Cafe closes at 3

Except for special events
Closed bank holidays