Oriel Factory
Paul Granjon
Exhibitions
|
10 September 2011 - 16 November 2011
Oriel Factory presents new robotic installations by one of Wales' foremost artists. Describing his practice as "the co-evolution of humans and machines", Granjon constructs robots, automata and musical instruments, showing them in performances and exhibitions internationally.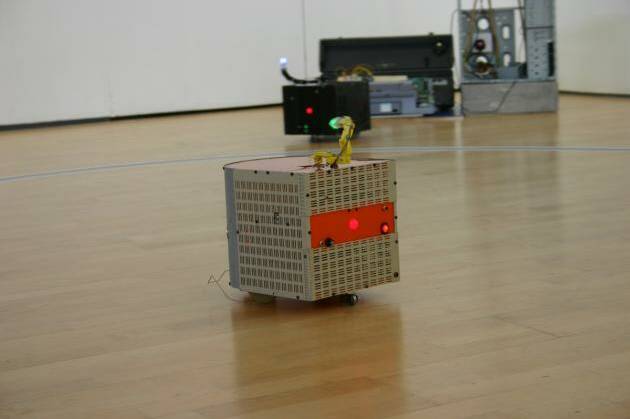 Many of the extraordinary objects in Oriel Factory have been created by volunteers* working with Granjon in the Gallery's 'factory' environment. Using electronic waste – discarded printers, VCRs, speakers, toys, computer circuit boards – as raw material, yesterday's technology has been deconstructed and re-configured as new prototypes and artificial intelligence. An accompanying film documents the process. The exhibition also presents Granjon's latest technological devices and drawings in which he explores the possibilities offered by home-manufacturing equipment and the high-tech devices of tomorrow's world.
Humorous and fun, Granjon's practice triggers serious reflection upon our relationship with technology. In Oriel Factory he capitalises on the abundance of technological waste and creates an open space for playing, making, learning, thinking and sharing in a way that firmly belongs to the 21st century.
Click below for a documentary by Chris Keenan about the process of 'Oriel Factory' from start to finish. With commentary from Paul Granjon and the 'Factory Workers'.
* Oriel Factory Workers: Sean Olsen, Patrick Hurst, James Boardman, Leah Edwards, Joel Hembury, Millie Gardener, Margaret Sharrow, Chris Kinsey, Kieron, Hilary Clarke, Alan Stroud, Aldwyn Eyers, Gwilym Kuiper, Sue Walker, Sean Fetherstonhaugh, Sammy Fetherstonhaugh, Sophie Fetherstonhaugh, Richard Robinson, Helen Kennedy Julie Wem, Ryan Parkinson.
More information on Paul Granjon's work at www.zprod.org
Oriel Factory has received funded from the Art Council of Wales and the Welsh Assembly Government. The materials recycled in this exhibition have been supplied by Potters Recycling and Powys County Council.
SOLD OUT
Sorry tickets for this event have sold out!
If you would like to be added to a waiting list please contact us: desk@orieldavies.org
The gallery is open:

Tuesday - Saturday 10-4
Cafe closes at 3

Except for special events
Closed bank holidays