Painting in Another Dimension
Megan Wyatt
Test Bed
|
28 June 2014 - 27 August 2014
Focusing on the potential of contemporary painting, Chester-based artist, Megan Wyatt looks at the medium's associated formal mechanisms, conventions and existence both historically and in contemporary practice.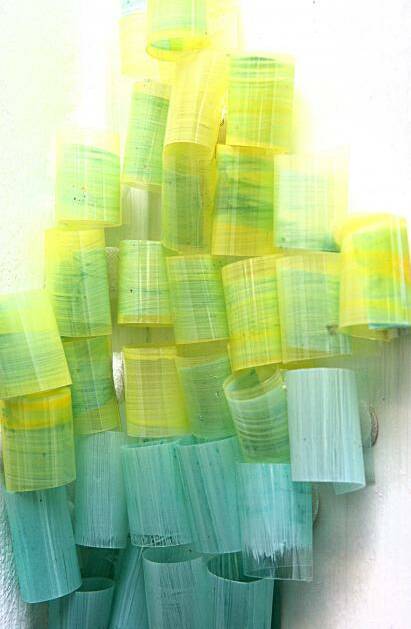 Working traditionally with raw pigments, Wyatt systematically attempts to control colour, the opacity of the paint and its appearance when applied onto different materials (in this instance layers of acetate). Responding to and integrating the work with the architecture of the space, she applies loops of painted and layered acetate to form compositions free of the convention of the frame and the two dimensional surface. The quality and aspect of light, as it shifts through the day, both informs and completes the work according to its situation.
Megan was mentored by Oriel Davies as part of the Axis initiative Out and Beyond from 2012-2013 and is currently undertaking a practice-led PhD at Glyndwr University.
Supporting new and experimental work by artists based in Wales and the Borders.
SOLD OUT
Sorry tickets for this event have sold out!
If you would like to be added to a waiting list please contact us: desk@orieldavies.org
The gallery is open:

Tuesday - Saturday 10-4
Cafe closes at 3

Except for special events
Closed bank holidays