Song for Newtown
Yvonne Buchheim
Offsite Projects
|
23 February 2007 - 22 April 2007
'Song for Newtown' is the latest addition to Yvonne Buchheim's Song Archive. This project is an ongoing investigation into the connections between song and identity, singing as means of expression and engagement, and what the process of filming people singing actually reveals about them.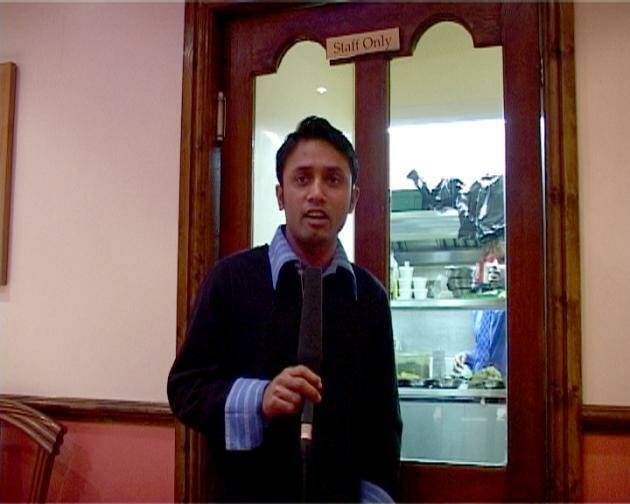 Yvonne began her investigations in 2003. Her initial starting point was a response to the 18th century philosopher Johann G Herder's song collection and his related theory, which suggested that the cultural peculiarities of a people were reflected in its songs. Yvonne's work explores how Herder's idea relates to contemporary culture, and whether particular songs can define a specific place, country, culture or people. It is a project that has now taken Yvonne to towns and cities in the UK, Germany, Ireland, France, USA and Iran, and Newtown is her latest and most ambitious project setting to date.
In March this year, Yvonne was invited to work as artist-in-residence at Oriel Davies Gallery for two months, to explore what the different songs sung by the people of Newtown reveal about them, and about the town itself.
Yvonne approached people all over Newtown and invited them to sing in front of a video camera. She had a huge response, resulting in performances by 144 individuals. These were made into a set of revealing and very personal video portraits. The process of filming the singers was crucial, creating a fascinating exploration of the relationship between singer, Yvonne as camera operator, and the camera itself. The participants were asked for spontaneous performances without preparation, creating raw depictions of self-assuredness, embarrassment, dignity, skill, enjoyment, solidarity, and vulnerability: singing as an often private act made into public performance, unrehearsed, revealing and touching.
As the residency progressed Yvonne began to explore people's relationships with songs in a broader context. She collected views about singing through questionnaires in Newtown's Indoor Market, where she ran a stall inviting people to exchange comments for cake. Some of these views were then used to create an original song I Took My Song To Market in collaboration with local composer Iris Gordijn, and the Vox Orbis choir. Yvonne also developed a relationship with Parti Cut Lloi, a Welsh choir from the Banw Valley, who in the exhibition present a formidable reminder of the inherent tradition of Welsh singing.
Yvonne's residency finished on 21 April 2007, and for the following four weeks she worked to bring together the different elements of the project as the exhibition Song for Newtown. The show presents video projection, photography, sound recordings and a toffee installation, The Impossible Fiction of Tradition, which references a local tradition that is now almost forgotten. Together these works give framework and roots to the more disparate aspects of contemporary culture and identity that make up Newtown today.
Oriel Davies Gallery and Yvonne Buchheim would like to thank all the people who have contributed to the project and exhibition, and helped to create this vibrant portrait of a diverse Mid Wales town. Special thanks are given to all singers featured in Song for Newtown, Parti Cut Lloi, Iris Gordijn and the Vox Orbis choir.
Yvonne Buchheim was born in 1972 in Weimar, Germany. She is currently based in Bristol where she is lecturing at the University of the West of England. Song for Newtown has been generously supported by Public Art Wales (formerly Cywaith Cymru.Artworks Wales and CBAT), the Esmée Fairbairn Foundation, and the Millennium Stadium Charitable Trust.
SOLD OUT
Sorry tickets for this event have sold out!
If you would like to be added to a waiting list please contact us: desk@orieldavies.org
The gallery is open:

Tuesday - Saturday 10-4
Cafe closes at 3

Except for special events
Closed bank holidays