Talking to Gwen
Anna Falcini
Test Bed
|
14 November 2015 - 27 January 2016
During a residency in Aberystwyth, Anna Falcini discovered the letters of Gwen John (1876–1939), at the National Library of Wales. Written around 1915, John's draft letters record intimate, joyous, mundane scenes and the frequent struggles of John's life as an independent Welsh, female artist living in Paris.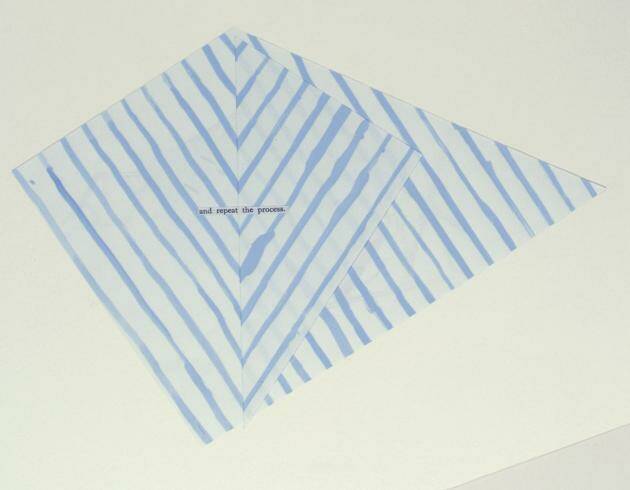 Many of the issues were relevant to Falcini's experience as an artist - despite a century of time between them. As she referenced her own diaries she encountered similar moments of doubt and insecurity. What began to emerge was a remote dialogue, separated by time, between two female artists: the development of which we see in Falcini's TestBed exhibition at Oriel Davies.
Her response to the letters, has not only been to explore their content but also the physical materiality and archival preservation of them. She is, for example, fascinated at how the individual sheets of paper and envelopes in the Library are arranged into book form through the archival method of 'tipping in' which supports the delicate papers in a central spine.
At the same time, Falcini reflects upon the journey of these letters, how they passed through the fingers of different people and places and how these humble notes about John's cats, paint colours and her affair with Rodin have become nationally significant archival materials, embedded in Welsh culture.
The feeling of an absented presence unfurls in Falcini's work where she contemplates perceptions of time that reveal themselves in landscapes and material objects, provoking a personal narrative and remembered past to surface.
Anna Falcini lives and works on the Welsh/English border. She was awarded an M.A. by Goldsmiths College in 2002 and is currently a Ph.D. Reader in Fine Art Practice at the University for the Creative Arts. In addition to her art practice she produces critically engaged articles and essays for selected arts organizations.
Talking to Gwen has been supported by Arts Council of Wales.
Supporting new and experimental work by artists based in Wales and the Borders.

SOLD OUT
Sorry tickets for this event have sold out!
If you would like to be added to a waiting list please contact us: desk@orieldavies.org
The gallery is open:

Tuesday - Saturday 10-4
Cafe closes at 3

Except for special events
Closed bank holidays