That morning he watched the dawn
Carwyn Evans
Exhibitions
|
21 February 2009 - 25 April 2009
'That morning he watched the dawn' reflects Evans' personal experiences while exploring broader social and political shifts in rural Wales. Much of his practice has focused on his 'migration' from an upbringing in rural Ceredigion to the Welsh capital Cardiff. The work utilises found and specifically produced and often highly crafted objects and images.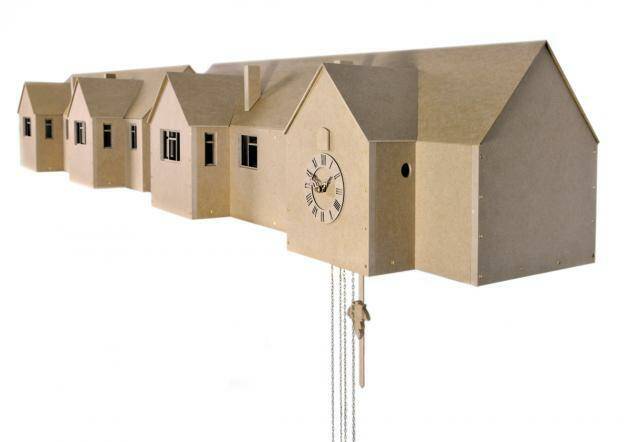 Oriel Davies Gallery proudly presents this first major show of newly commissioned work by Welsh artist Carwyn Evans. The exhibition brings together sculpture, drawing and lens based works to reveal his innovative articulation of ideas.
The artist skilfully uses a minimal sculptural approach throughout his practice, working with both existing and specifically produced (and often highly crafted) objects and images to reference personal experience and understanding, while at the same time examining broader social political changes in rural Wales.
Human migration is commonplace across the globe but has always had a presence throughout history. People have moved from their homelands (villages, towns, cities, or countries) to follow a desire or a necessity in securing work to support themselves, their families or communities. This results in permanent shifts in the cultural makeup and identity of countries, cities, towns and rural communities. Much of Evans' practice has focused on his transition from an upbringing in rural Ceredigion to the Welsh capital, Cardiff in order to pursue his artistic career. That morning he watched the dawn builds on that examination, reflecting the impact of his leaving, the subsequent void left behind (both physical and cultural), and the consequence of change. At the same time, the show encompasses work which gives voice to individuals who have recently relocated to the artist's homeland, allowing space for alternative perspective.
Carwyn Evans graduated from University of Wales Institute, Cardiff in 2001. In 2000 he was awarded the Young Artist Scholarship at the National Eisteddfod in Llanelli. He became the first recipient of the Ivor Davies Award at the Eisteddfod in Meifod in 2003 and again in 2007 when it was based at Mold. He took part in Locws 3 in 2007 and has exhibited in group shows across Wales as well as in Denmark, Austria and Mexico.
A fully illustrated catalogue with essays by artist and curator, Louise Short and writer Mike Parker accompanies the exhibition.

Essays & Reviews
That Morning he Watched the Dawn
Review by Wanda Zyborska from 'Interface'
Zoom
Essay by Mike Parker from 'That morning he watched the dawn'
Ploughing the Furrow
Essay by Louise Short from 'That morning he watched the dawn'
SOLD OUT
Sorry tickets for this event have sold out!
If you would like to be added to a waiting list please contact us: desk@orieldavies.org
The gallery is open:

Tuesday - Saturday 10-4
Cafe closes at 3

Except for special events
Closed bank holidays