The Scenery is Very Wonderful. The Weather is Good.
Stuart Whipps
Exhibitions
|
6 February 2010 - 7 April 2010
Combining original photographic works with archival postcards, walking guides, archived textual material and general ephemera, the artist investigates the manufactured nature of the Snowdonia National Park and its boundaries to expose the inherent myth of 'natural beauty'.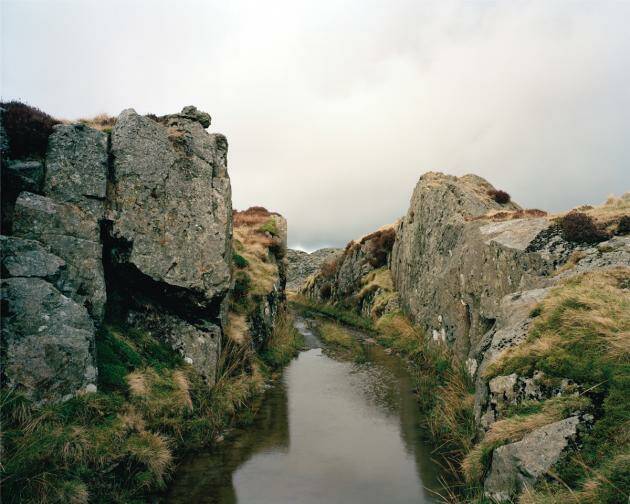 In this exhibition, Stuart Whipps combines original photographic works with found and re-worked objects, texts and information he has sourced from archives, secondhand book shops and antique fairs. The artist's intentions are to explore and bring to the foreground questions surrounding the manufacture and myth of 'natural beauty' in the landscape, with reference to Snowdonia National Park / Parc Cenedlaethol Eryri and its relationship with Blaenau Ffestiniog.
Both historically and today, representations and perceptions of Britain's landscapes are complicated. Pastoral and pictorial descriptions, alongside ideas of the sublime within the tradition of painting and photography have often been produced in contrast to the reality of living and working within the environments they depict. Often any poverty and challenges of country life have been overlooked, omitted or distorted so that instead, they present the impression of rustic idyll, with mankind and nature existing in perfect harmony.
Blaenau Ffestiniog is set in an elevated natural bowl on the southern fringes of Snowdonia and grew from a few isolated farmsteads solely as the result of slate quarrying. In 1951 the Snowdonia National Park was created, its borders designated on the basis of 'natural beauty'. This action was part of a larger campaign to protect and promote British landscapes for the nation whilst securing access for predominantly recreational visits. Despite being in the National Park's centre, the grey slate waste tips that surround Blaenau Ffestiniog prevented it from being officially included within the boundaries and as such, it is represented cartographically separate from the Park.
Drawing inspiration from the minutes of council meetings held in Gwynedd before Snowdonia was officially opened in 1951, Stuart used a portable GPS device to walk the border separating Blaenau Ffestiniog from the Park, taking photographs along his route. In addition, found postcards, archival maps, minutes from meetings, letters, newsprint articles and transcribed telephone conversations have contributed to the exhibition installation allowing us to unpick and question historical and contemporary perspectives and decision-making processes as well as our own relationship to, and visual understanding of, the landscape.

SOLD OUT
Sorry tickets for this event have sold out!
If you would like to be added to a waiting list please contact us: desk@orieldavies.org
The gallery is open:

Tuesday - Saturday 10-4
Cafe closes at 3

Except for special events
Closed bank holidays