Things That Move
CAI TOMOS
Projects
|
1 April 2023 - 15 April 2023
'Things that move' is a research residency; a space to explore and share the themes and threads of Cai Tomos' current work. His work is about movement and the body. He works with film, spoken word, drawing, writing, and dancing as part of his practice.
Cai will be rehearsing a performance with elders on Thursday 13th April from 2pm.
Cai will be sharing his research with an informal performance on Friday and Saturday (14+15 April) from 2pm - all welcome.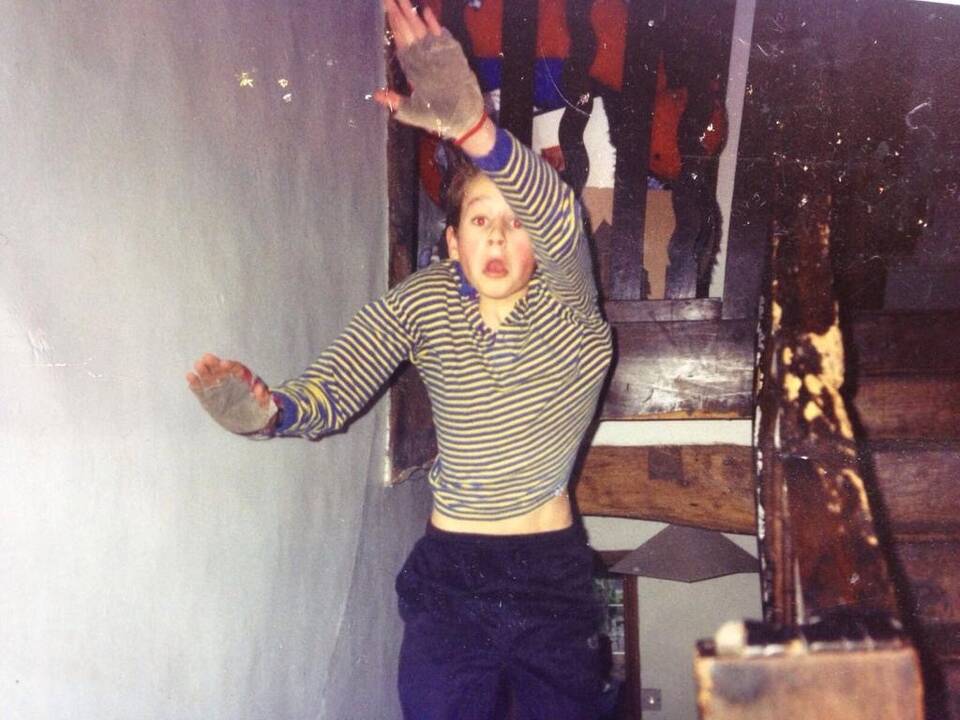 RESEARCH STUDIO
Open to visitors to discuss ideas, themes and threads.
I have always danced, always had a deep curiosity about movement and the sensing body as far back as I can remember. Moving was linked to the feeling of vitality as a young boy. When I was 10 I was given a camera on my birthday, this camera had a 10 second timer, and curious as I was about feeling movement, I was also fascinated with seeing it. I set my intention to try and catch an image of myself suspended in flight, as close to flying as I could. I lay down the mattress of my bed on the stairs, in preparation for my landing. I would set the timer of the camera, run to the top of the stairs, and then jump into the freedom of my body in flight.
In a way I was trying to catch the impossible, trying to hold time, to lengthen time, and stop time. This image represents the seed of my preoccupations as a dance artist. I have kept this image with me as a totem and comfort. It is always there as reminder of the hunger I have for a mind of innocence, a mind of wonder, perhaps always seeking an impossible purity of expression. The image of jumping serves a poetic metaphor for the creative act, this quality of being suspended. This feeling of perpetual suspension, inside a deep unknown place, a place that is nowhere, the in between place, neither arriving, nor leaving, a place of mystery,
It's a place of feeling, not of thought.
A place in the body that knows waiting
And has a reverence for waiting.
Cai's work is influenced by his preoccupation with the psychological and psychosocial aspects related to dance and dancing, producing work in the form of performance, installation, film and writing.His interest lies in a fluidity of working with both professionals and 'non-professionals'.

Cai's interest lies in challenging the aesthetics of what constitutes dance and uncovering peoples' own movement styles are part of his preoccupations.
Cai works within various contexts in participatory arts – offering workshops in dance for those in hospitals, mental health settings, those with addiction, older people, as well as professional actors and dancers in the UK and across Europe. His work is deeply rooted in exploring notions of energy and memory within the body with reference to the personal and the collective stories, which the body holds. Improvisational dance practices are the foundation of his creative process. His workshops are based on a creative process that supports the development body-mind awareness.