Transient Residence
Gaia Persico
Exhibitions
|
2 May 2009 - 27 June 2009
Gaia Persico shows a range of compelling drawings, animations and installation work as part of her continued investigation into tracing memory and place, using subtle, poignant and often amusing interpretations of the immediate world and how we connect with it. Drawn 'snapshots' of urban infrastructures are shown alongside those of her rural homeland in Sardinia.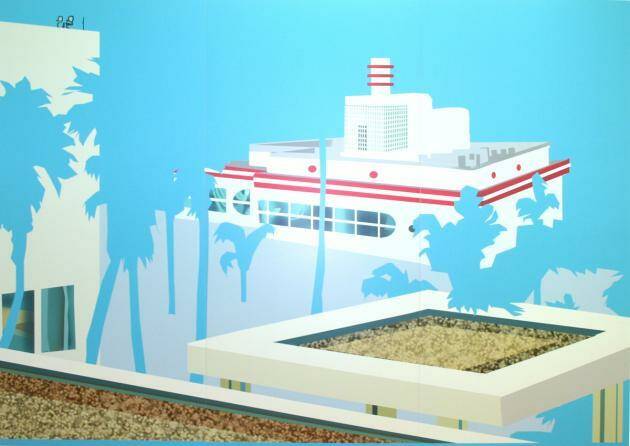 Transient Residence brings together new and recent drawings, animations, large digital prints, objects and installation work by Gaia Persico. The artist uses subtle, poignant and often amusing interpretations of our immediate world as part of her continued exploration in tracing fleeting connections with place.
Persico works directly from observation whilst travelling, both in relation to a specific journey and while she is briefly located in hotels across the world. Working as a long haul air stewardess means that the artist often uses the company's flight destination as her focus. For these works, drawings are produced in-situ and reference the cityscapes viewed day and night from the window of her allocated hotel room. This space becomes her provisional studio while the supply of hotel stationery, including headed paper and logo-stamped biros and pencils, become her tools. As well as utilising these simple and immediate materials, she also draws directly using software on her laptop which she then re-works as prints or as animations upon her return to the UK. Drawn, aerial 'snapshots' of these urban infrastructures reveal the non-monumental aspects of daily life within each specific location. She approaches her subjects by stripping away superfluous details, and uses simple lines or blocks of colour to offer up the real character and identity of a place. Rather than being confronted with the 'exotic', associated with these tourist destinations, we are able to observe the essence and beauty of the everyday. Human presence is only hinted at, leaving us to 'fill the gaps' and thereby emphasising every city dweller's voyeurism, day-dreams and time spent behind a window looking onto the world outside.
Alongside these works, Persico also presents her most recent installation, The tower and the well which reveals an attempt to reconnect with the artist's memory of specific places in her homeland, Sardinia, during the 1970s. Real working objects such as a fisherman's viewing tower or reed boat are separated from their natural environment and theatrically re-contextualised as museum pieces or 'heritage' artefacts in the gallery space. Digital
animations of viewpoints overlooking the family home and a number of journeys across the island, traced in line by the artist, create a dissonant, artificial, cinematic effect which perhaps points to the impossibility of an authentic connection with the past.
Gaia Persico lives and works in London and Wrexham. As last year's 1st prizewinner in the Oriel Davies Open exhibition, RE:drawing, the artist was offered this exhibition as part of her prize. She has also exhibited in Oriel Davies' Test Bed space in 2007.
Gaia Persico is represented by Monika Bobinska Gallery
SOLD OUT
Sorry tickets for this event have sold out!
If you would like to be added to a waiting list please contact us: desk@orieldavies.org
The gallery is open:

Tuesday - Saturday 10-4
Cafe closes at 3

Except for special events
Closed bank holidays