Wallpaper
Richard Monahan
Exhibitions
|
2 May 2009 - 27 June 2009
From the repetition of figures upon generic wallpaper backgrounds to intricate drawn 'wallpaper' pieces, Richard Monahan's work takes us on a journey where varying narratives develop and unfold. These sometimes suggest otherworldly, mythological or dream-like events, but are based on the memory of a particular wallpaper from the artist's childhood home.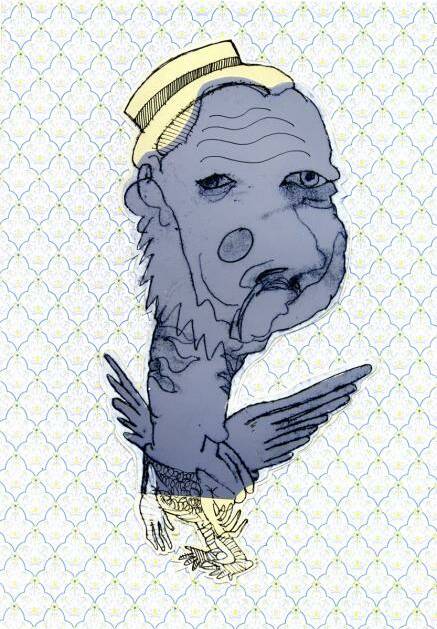 Richard Monahan presents a new body of complex, large scale drawings and a grid-series of smaller framed collages. From the repetition of figures upon generic wallpaper backgrounds to intricately drawn 'wallpaper' pieces, Monahan's work takes us on a journey where intriguing narratives unfold and curious characters attempt to negotiate and understand the environments in which they find themselves. His work, often comprising dark humour, empathy and pathos, explores human existence and specifically humankind's difficulty in dealing with a world which the artist considers, "it seeks to understand and yet does not seem ready to do so".
Monahan's characters are strange and peculiar, sometimes unsettling and at other times comical. Their large heads on small, distorted or animal-like bodies often seem vulnerable and old before their time.
As viewers we might feel concern or empathy for them. They embark on seemingly individual journeys despite occasionally being presented in couples or small groups. They endeavour to navigate or embed themselves within the systems, codes and structures of their environments while remaining exposed to the ultimate truth that their existence will be solitary and their search for meaning potentially futile.
At the artist's childhood home a corridor, stretching ten yards from the front door towards the kitchen, was a seething mass of trees, ponds and animals. This wallpaper was, and is, uniquely imprinted in his mind and often used as a reference point for his work.
Monahan considers the idea that a pattern, when encountered on a regular basis, may have some kind of effect upon the way we think and his experiments with particular wallpaper designs have stemmed from this notion. His intricate wallpaper compositions allow the journey of life itself to be played out and questioned in and amongst the detail of the pattern.
The pattern of this wallpaper is used as a device to unify each of the works but at the same time it has been subverted in some way within each piece to suit the particular story. In the large drawings, various scenes unravel across the surface – activities and events played out by a host of characters are described through line inscribed in oil paint. Aspects of the surface are highlighted bygloss or a metallic lustre to reveal or obscure aspects of the
composition as the viewer moves around the work. Here, the artist plays with space, illusion and reality to emphasise the idea that change is a constant and flux is guaranteed.
Richard Monahan is based in Swansea. He is currently undertaking a PhD at Swansea Metropolitan University. He was awarded 1st Student Prize and also the People's Choice Prize in last year's Oriel Davies Open exhibition, RE:drawing. This exhibition was offered as part of his prize.
SOLD OUT
Sorry tickets for this event have sold out!
If you would like to be added to a waiting list please contact us: desk@orieldavies.org
The gallery is open:

Tuesday - Saturday 10-4
Cafe closes at 3

Except for special events
Closed bank holidays