Weaving Through Tradition
Mai Thomas
Test Bed
|
17 November 2012 - 23 January 2013
This exhibition presents examples from a new body of sculptural works by Welsh artist Mai Thomas. The inspiration for the works comes from Thomas' interest in specific natural environments, materials and craft techniques which can be found in Wales.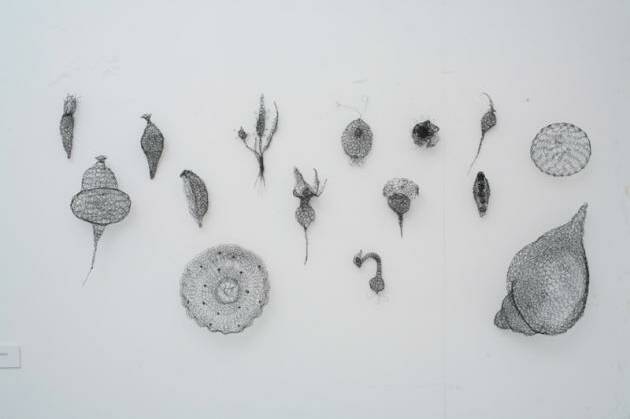 These range from the use of willow and fleece, the shapes of organic forms found on the banks of the River Dee (Afon Dyfrdwy) and industrial materials associated with fishing, farming and domestic life. Thomas skillfully interweaves these influences to create intriguing forms that live both in and outside the natural world.
Exhibition Opening alongside 'Look West', Saturday 17 November, 2-5pm
2 - 3pm Panel Discussion with Hywel Pontin, Director and
David Lee, Exhibitions Assistant, Llantarnam Grange Arts Centre,
Hannah Kelly, Gallery Development Officer, Mission Gallery,
Amanda Farr, Director and Alex Boyd Jones, Curator, Oriel Davies Gallery.
The panel will lead and invite informal discussion on the importance of exhibiting and promoting new talent in Contemporary Craft.
3 - 5pm Exhibition Launch. Refreshments.
Oriel Davies Cafe will be open for meals and light snacks
Supporting new and experimental work by artists based in Wales and the Borders.
SOLD OUT
Sorry tickets for this event have sold out!
If you would like to be added to a waiting list please contact us: desk@orieldavies.org
The gallery is open:
Tuesday to Sunday 11-4 March - October (BST)
Tuesday - Saturday 11-4 October - March.
(Open Sundays over the Summer)
Closed bank holidays