Who lives in a hole like this?
Katie Surridge
Exhibitions
|
20 May 2017 - 19 July 2017
Following a call out for early career artists based in Wales and the Welsh Borders to develop and present new work as part of the Litmus programme at Oriel Davies, we're delighted to announce a new commission by Katie Surridge.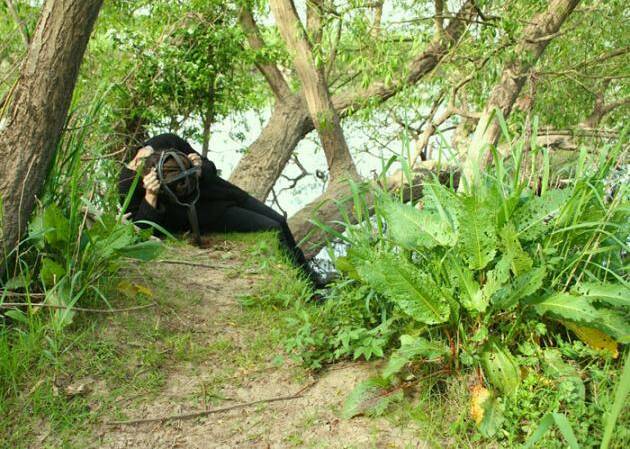 Responding to the history of coal mining in Wales, from the Iron Age through to the 20th century, Katie Surridge is investigating her own form of mining. Though rather than the coal mine, Katie's area of research is the animal burrow; a tunnel or hole that an animal digs for a place to live, a place of protection, or as the byproduct of moving from one place to another.
Drawing on the tool making skills Katie has developed at the National School of Blacksmithing in Hereford, she will hand forge a collection of mining tools. With spades attached to her arms, or a mask with a spiral, drill bit nose, she will dig to leave her own marks in the earth, playfully attempting to become an animal herself. Approached as a form of practice-led research to investigate the action of mining, and the relationship between artist and tool, Katie will be exhibiting strands of this research at Oriel Davies.
Katie Surridge works in object making, sculpture and installation to explore everyday materials and dormant techniques, highlighting the value of the hand made in a time where we make less and less by hand. She graduated with a BA in Fine Art from The Slade School of Fine Art in 2010 and is currently studying at The National School of Blacksmithing in Hereford. Recent exhibitions/commissions include: The Observatory Residencies Exhibition at St Barbe Museum (2016) and Buckland Rings, Lymington, New Forest National Park (2017).
Litmus is an exhibition and development programme offering curatorial and practical support for early career artists in Wales and the Welsh Borders to research, develop and present new work at Oriel Davies. Litmus is curated by Louise Hobson and supported by Oriel Davies Curator Alex Boyd Jones, alongside the wider gallery team.
Audio Description
SOLD OUT
Sorry tickets for this event have sold out!
If you would like to be added to a waiting list please contact us: desk@orieldavies.org
The gallery is open:

Tuesday - Saturday 10-4
Cafe closes at 3

Except for special events
Closed bank holidays