Colourfelt
Andreas Rüthi
Exhibitions
|
9 December 2017 - 27 January 2018
colourfelt brings together five bodies of work by Swiss-born painter Andreas Rüthi: joint prizewinner for Oriel Davies Open 2016. Andreas, who lives and works in Monmouthshire, has exhibited his still life paintings in over twenty solo exhibitions worldwide. Oriel Davies is delighted to present colourfelt, his first one-person show in Wales.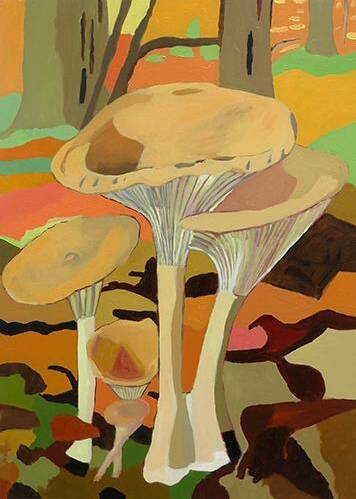 The work is a constant investigation in new possibilities held within the traditions of painting: from colour and form to the notion of 'likeness' and the gaze. Much of his subject matter originates from magazines, prints, books and found objects
and plays with the nature of reproduction and re-presentation.
Showing for the first time and throwing the gallery into riotous colour is Field. Consisting of 64 paintings portraying every reproduction in a mushroom guidebook the work celebrates the hallucinogenic power of colour, while representing the potential held within each reproduction.
The title of the show colorfelt refers to both the experience of colour and the German word for field which is Feld, pronounced felt.
SOLD OUT
Sorry tickets for this event have sold out!
If you would like to be added to a waiting list please contact us: desk@orieldavies.org
The gallery is open:

Tuesday - Saturday 10-4
Cafe closes at 3

Except for special events
Closed bank holidays