Flexuous
Sophie Kumar-Taylor
Exhibitions
|
9 March 2019 - 30 March 2019
Flexuous is a specially commissioned artwork by Sophie Kumar-Taylor. This Criw Celf commission celebrates Sophie's accomplishments as an early career artist and provides her with an opportunity to create a site-specific piece at Oriel Davies, the largest and most significant visual arts venue in the region, and a key gallery of Wales.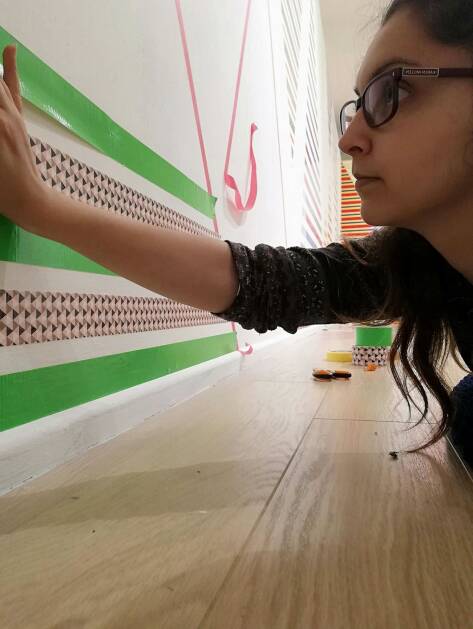 Sophie was a participant in Criw Celf in 2012-13 while she was a 6th Form pupil at Welshpool High School. She went on to gain her degree in Fine Art at the University of Wales Trinity Saint David's Carmarthen and is now a practicing artist. Throughout this time Sophie has returned regularly to Oriel Davies to assist at Criw Celf workshops, and has presented at a Criw Celf Arts Careers event. She will be leading her first Criw Celf workshops alongside this exhibition, to explore tessellated shapes, an aspect of geometry that Sophie has explored in depth in her artwork.
Flexuous responds to the gallery space by creating flowing lines full of bends and curves in an entirely geometric room. This brightly coloured, and vigorous foliage-like artwork brings colour and energy to the white walls. Sophie's inspiration for this commission evolved from making origami-like forms to create geometric patterns. These were contorted with great care to create curved edges giving the work an almost organic look, which adds to their energy as they flow around the gallery walls.
Criw Celf is an Arts Council of Wales initiative to nurture young talent in Wales. Criw Celf Oriel Davies is supported by the Arts Council of Wales, Powys County Council and Chester University.
Flexuous and Mobile Tales are showing at Oriel Davies from 9-30th March. Free entry.
(Mobile Tales will be closed to the public for one day on Tuesday 19th March.)
SOLD OUT
Sorry tickets for this event have sold out!
If you would like to be added to a waiting list please contact us: desk@orieldavies.org
The gallery is open:

Tuesday - Saturday 10-4
Cafe closes at 3

Except for special events
Closed bank holidays