This summer Oriel Davies is showing a masterpiece The House of Cards by Jean-Siméon Chardin, on loan from the National Gallery, alongside exciting new work. Join our summer workshops to create your own works of art inspired by Chardin and contemporary artists Charlie Cook and Alyn Smith.
Wednesday 11th August 11am – 1pm
Room For Everyone with Nicky Arscott
Using a range of unusual techniques and art materials, participants will collaborate on the creation of a 'deck' of portraits inspired by the ideas behind the exhibition.
Wednesday 18th August 11am – 1pm
Make Time To Play with Clara Lloyd Construct a town using natural materials and resources, storytelling and your imagination. This sensory experience will focus on exploring and building emotional literacy and wellbeing.

Wednesday 25th August 11am – 1pm
House of Cards with Elin Crowley
Print workshop in response to Alyn Smith's work in the gallery. Participants will have the opportunity to build stunning images using various shapes and colours.

Sign up for one, two or all three workshops. Places are limited so please book in advance. Full details will be sent once booking have been made. The workshops will take place under cover outdoors at the gallery.
About the artists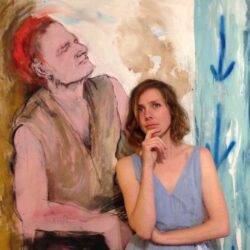 Nicky Arscott is a poet and visual artist from Llanbrynmair. She is inspired by stories from all over the world and has loved working with writers in different languages (including Welsh, Spanish, Latvian, Bakweri and Bengali) to create graphic narratives ranging from big painted canvas pieces down to small DIY comics. Nicky has exhibited work at Oriel Davies, MOMA Machynlleth and The Royal Academy. She runs the arts education company Ennyn CIC with Elin Crowley.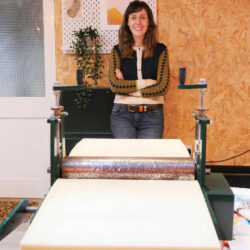 Elin Crowley is a Machynlleth artist specializing in printmaking. She is a director of Ennyn CIC, a community interest company offering creative activities in schools and communities. Elin is a Printmaker who has had various jobs over her career, including working on education and online websites at the BBC, being part of a TV production team working on lifestyle programmes for S4C, and as part of a creative team at Arad Goch Theatre Company. Birds, mountains, lakes and rivers ignite her imagination.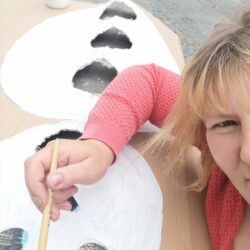 Clara Lloyd is a Play and Creative Arts Therapist from Machynlleth. Her passion is play in all its forms, alongside supporting connection and emotional wellbeing for people in a range of settings including schools and childrens centres as well as in the natural environment. She once represented Britain in the sport of vaulting - gymnastics on horseback!
SOLD OUT
Sorry tickets for this event have sold out!
If you would like to be added to a waiting list please contact us: desk@orieldavies.org
The gallery is open:

Tuesday - Saturday 10-4
Cafe closes at 3

Except for special events
Closed bank holidays