In Between the Folds are Particles
Anna Falcini
A compelling body of new work tells of an ongoing conversation between contemporary artist, Anna Falcini, and the late Welsh artist, Gwen John (1876 -1939), through the archive of John's draft letters and diaries at the National Library of Wales, Aberystwyth.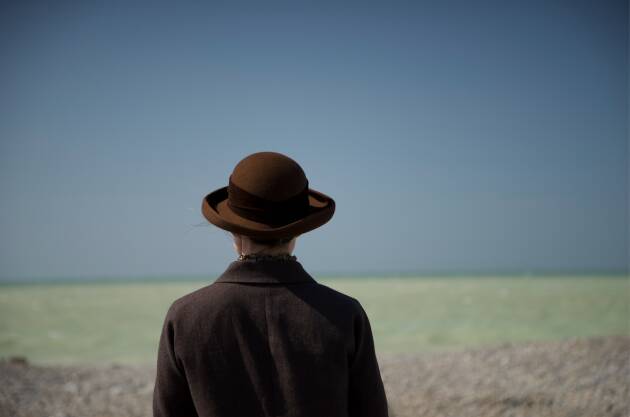 Bound within the archival materials, are the particles of John's life; her vulnerabilities, passions, doubts and artistic concerns. As Falcini began researching the Gwen John Papers in 2014, she discovered that John's experiences as a female artist closely mirrored her own despite being divided by a century of time.
Through film, sound, photography and drawing, Falcini traces the compressions of Gwen John held in the archive, mapping the complexity of both her artistic and personal journey. In her quest to unravel the episodes of John's life, Falcini travelled to the locations that were key places shaping John's story; Tenby, Paris and Dieppe. Far from gaining clarity, however, Falcini became immersed into the 'multiplicities of meanings'* that emerged from the narratives and spaces inhabited by John. The late Welsh artist, became simultaneously absent and present, hovering like an aura, in the guise of 'a shadow.'**
In Between the Folds are Particles has been supported by the Arts Council of Wales and the Eaton Fund
*Maria Tamboukou, Nomadic Narratives, Visual Forces: Gwen John Letters and Paintings (New York: Peter Lang, 2010) 3
**Sue Roe, Gwen John: A Life (London: Vintage, 2001) p34
SOLD OUT
Sorry tickets for this event have sold out!
If you would like to be added to a waiting list please contact us: desk@orieldavies.org
The gallery is open:

Tuesday - Saturday 10-4
Cafe closes at 3

Except for special events
Closed bank holidays