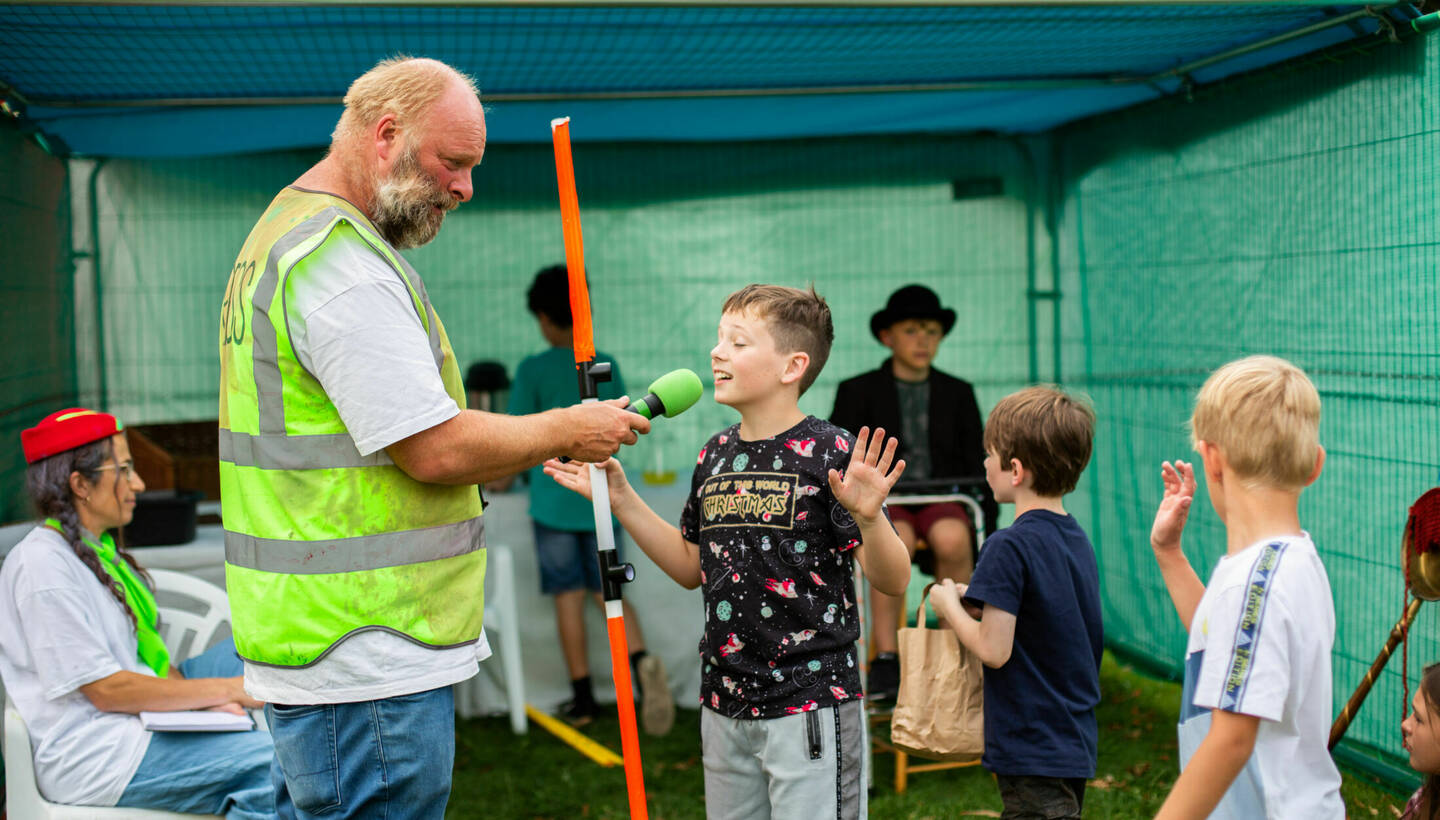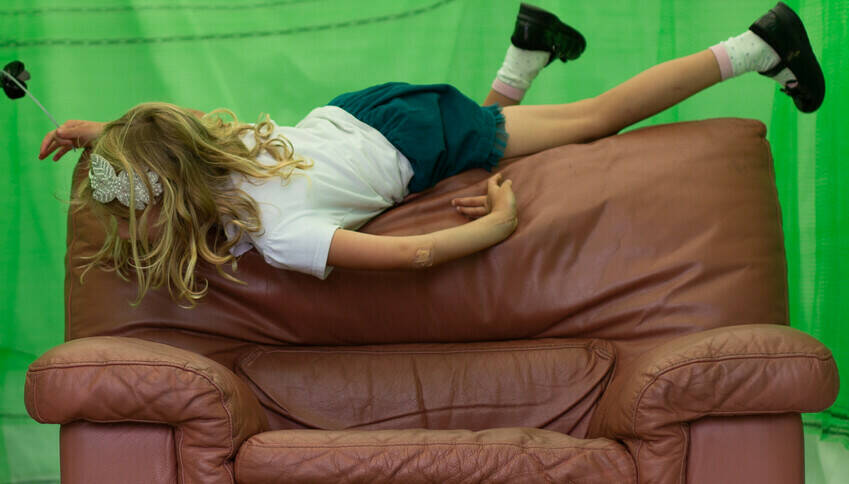 After being handed a passport, kids will enter the giant outdoor arena. Here, they'll find stuff to play with, build and wear. Assistants will be on hand to help them realise their imaginings.
Grown-ups are invited to take a seat outside, relax and listen to the rolling news being broadcast of what's happening inside. Our Cafe is open 10-3pm.
Time: 11am - 4pm
Price: Pay what you feel, from £0 to £10.
No booking needed, just turn up.
Age: 6-11 years old

Join us at Kidstown:

26-29 July, Newtown
Outside Oriel Davies Gallery, The Park, Newtown, Powys SY16 2NZ
5-12 August, Eisteddfod Genedlaethol Cymru / The National Eisteddfod of Wales
Ar y maes, Llŷn ac Eifionydd, Boduan, Gwynedd LL53 6DW
At the Eisteddfod, Treantur (Kidstown) will be delivered in Welsh.

18-21 August, Ebbw Vale
Beaufort Colts Football Club, Brynteg Terrace, Ebbw Vale, Blaenau Gwent NP23 6NE
Accessibility

We're offering sign-supported English, live illustrators, radio aid support, relaxed sessions, and touch tours. Each site has step-free access and is wheelchair accessible.
We're working hard to make Kidstown accessible for all children through sign-supported English, live illustrators, radio aid support, relaxed sessions and touch tours. Use the toggles below to see what's on offer at each location.
If you'd like to reserve a spot at any of these sessions, let us know at kidstown@nationaltheatrewales.org. Although booking isn't required, this will enable us to save space for your child. We'll follow up with a short form you can fill in to share extra details. Any information you share will help us make your experience better.
28 July
Sign-supported English by Hafwen Parry, Charlotte Coley and Laura Smith from 13:00 - 16:00
Live illustrator from 13:00 - 16:00
Radio aid transmitters from 13:00 - 16:00

29 July
Relaxed session from 09:30 - 11:00
Touch tour by sighted guides at 13:00
Sighted guides on site from 13:00 - 16:00
Meet Nigel & Louise
Kidstown is a project NTW has dreamed up with Nigel Barrett & Louise Mari.
If you don't know Nigel & Louise, they make "wild, bold, visual performances for people who don't really like theatre and unusual theatrical experiences for those who do".
Their recent work includes Dog Ballet (dogs included) and Party Skills for the End of the World.
NTW laid the foundations of Kidstown in Newtown in August 2022. Over two weeks, local artists and the community helped them prototype the idea.
Over summer 2023 at Newtown, the Eisteddfod and Ebbw Vale, they're collecting interviews and stories from the young participants of Kidstown in order to create an epic show in 2024.