Shared Space
Shani Rhys James + Stephen West
Exhibitions
|
2 August 2022 - 5 November 2022
Shani Rhys James and Stephen West have lived together for over 45 years, for the most part in Wales. They have shared their home and studio spaces, and their work often reflects the people, places and things around them.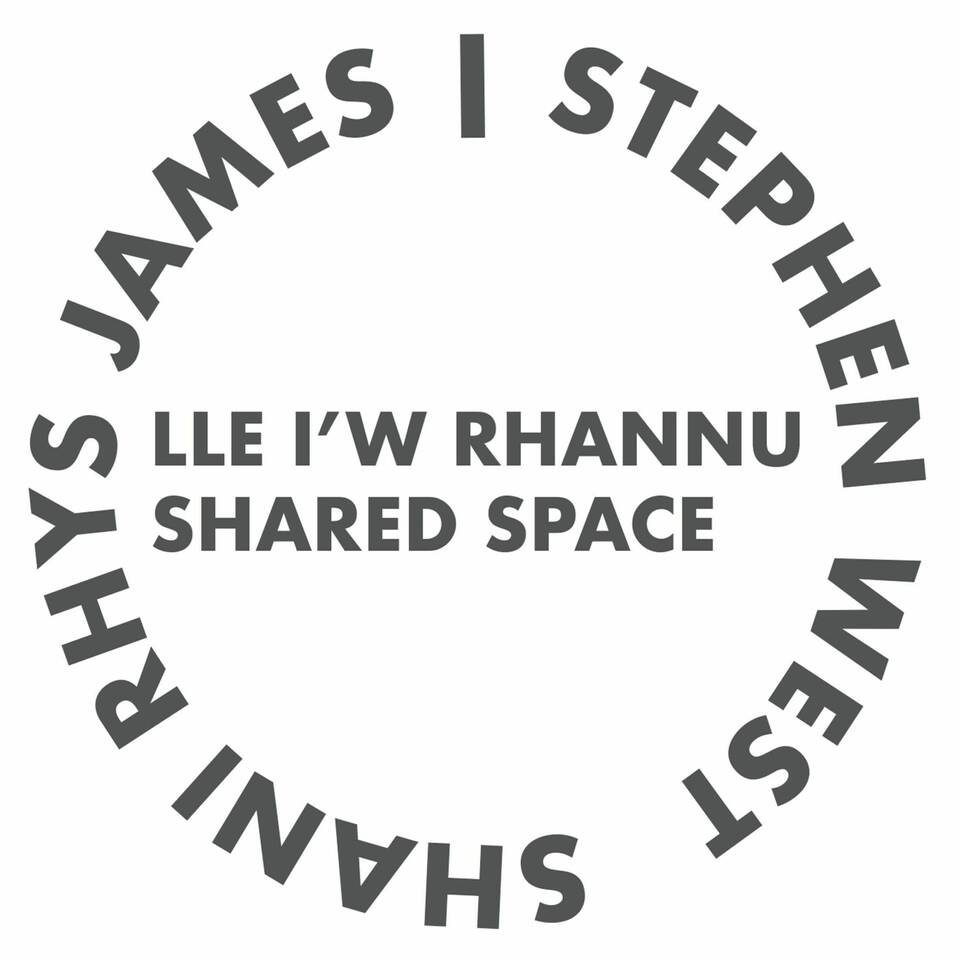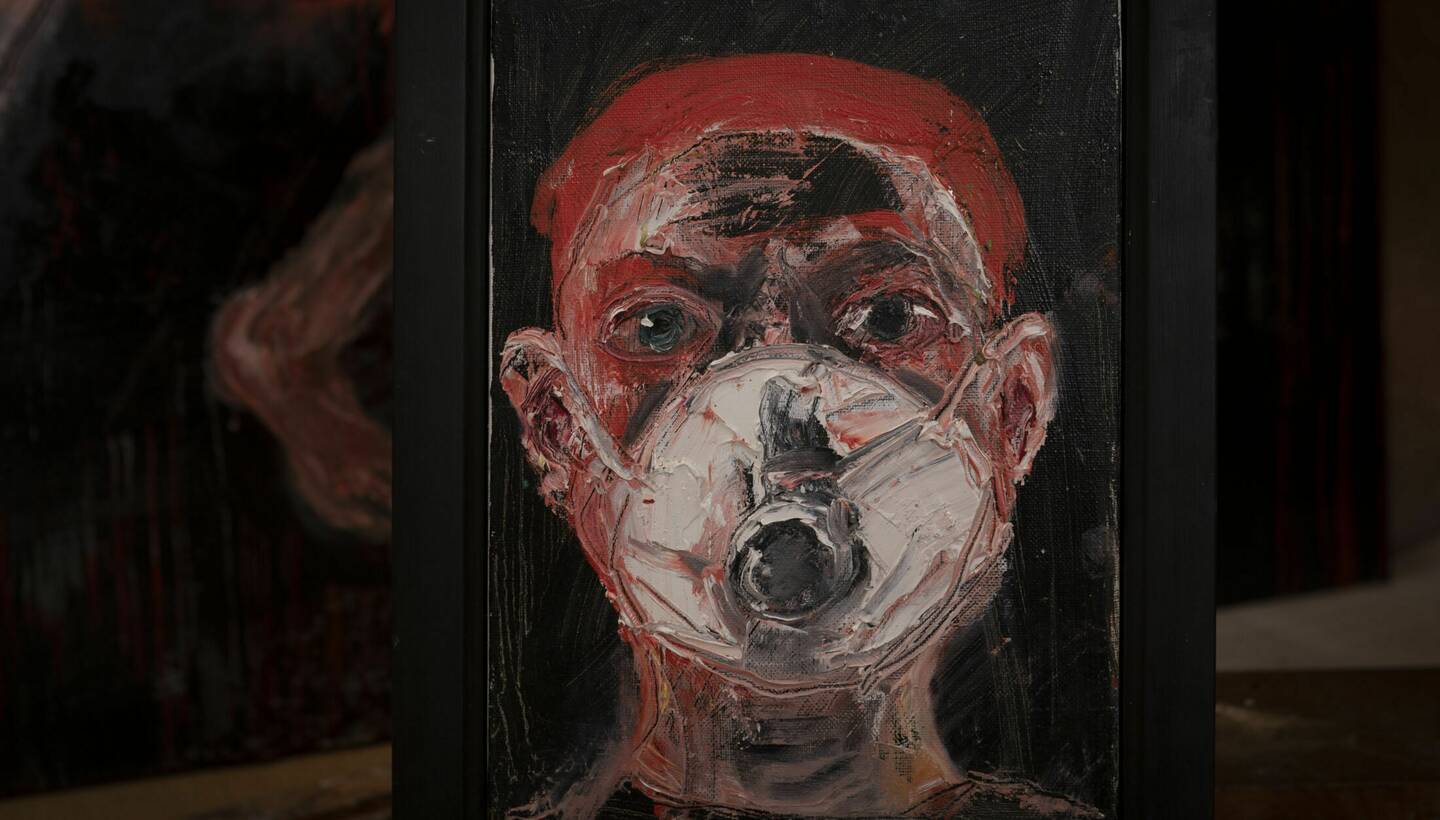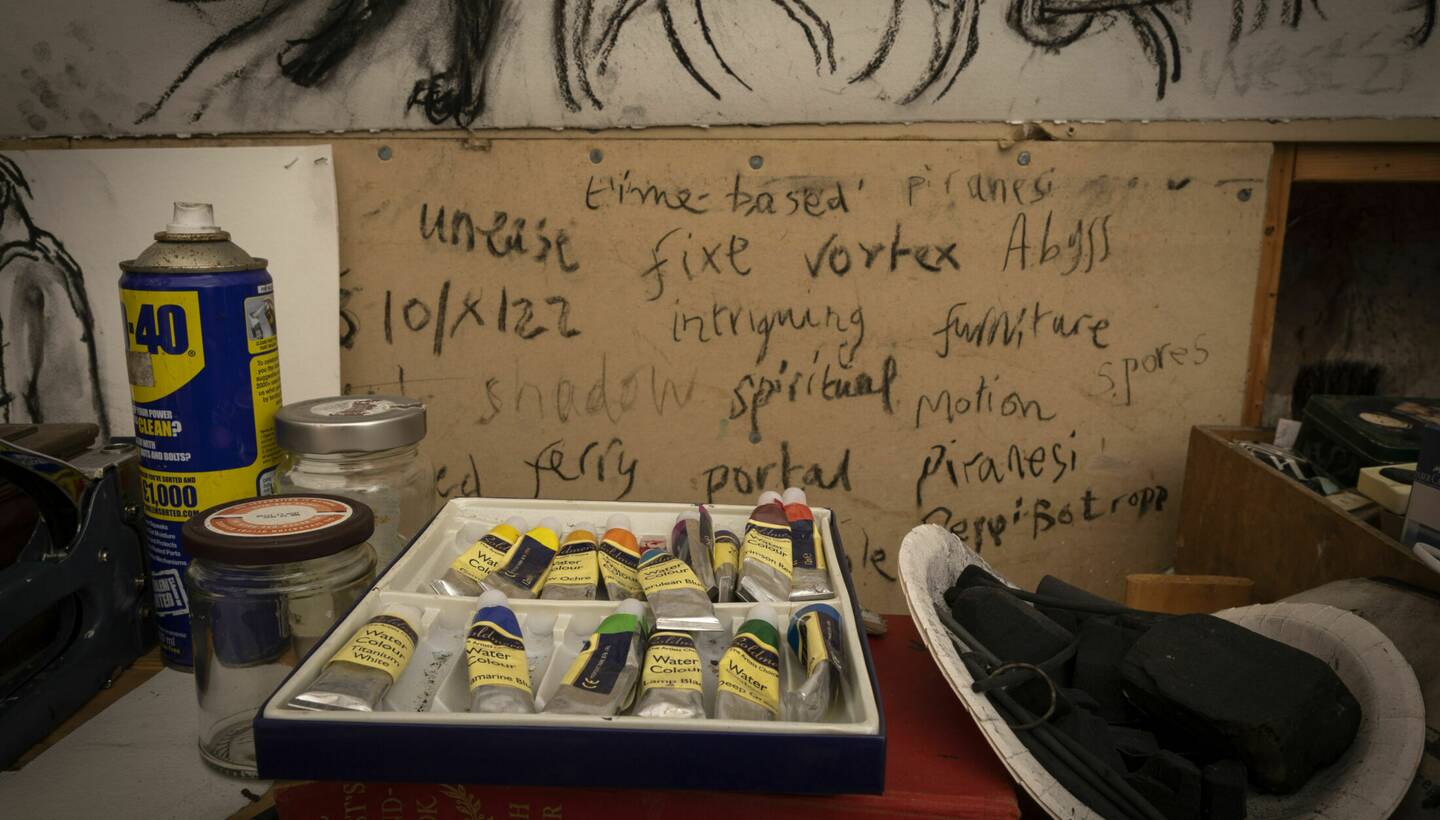 Oriel Davies is delighted to present this show of work by artists Shani Rhys James and Stephen West. Living and working together as artists is something that I find fascinating, coming from a family of artists, and it's something we don't often see in exhibitions. Naturally when two artists spend a lot of time together there will be a conversation of ideas, influences, inspiration and emotions.
The bed in a painting by Shani will turn up in a drawing by Stephen, or the ladder from the garden will appear in different guises in multiple drawings. The Angle-poise lamp is in the cosy sitting room of their home in Mid Wales, the ceramic vase is part of a collection that may be in the studio, or the kitchen. A tree may be a view from the window of their home in Charente, France, where they have established additional studios for the past decade, but it might equally be an Ash tree in their garden in Montgomeryshire.

Both artists tell stories in their work, the narrative not always clear, sometimes sparked by an event that has taken place in their lives, other times referencing historical fact or mythological fiction. There are references to other artists; to Degas, to Sickert, to Guston, however that isn't to imply derivation, far from it, both artists clearly have their own strong and distinct voice. The interests of each complementing the other. The conversations and shared experience pushing the work forward all the time.
Artists are drawn to one another. Maybe it's the same with teachers, or solicitors, or accountants? Whether as friends, lovers, or partners, relationships are formed and because their work is shared publicly we, as viewers, get an insight into a life lived in a certain place, at a certain time. I was thinking the other day about Braque and Picasso, working from the same still life, or Monet and Renoir, working side by side. Gauguin and Cezanne did the same, however Gauguin and Van Gogh shared a room for 63 days in 1888, during which time Van Gogh cut off his ear resulting in a huge row, which led to them never seeing each other again, ever… such is the intensity of artists living together and working together.
The three key artists at the heart of the Bloomsbury group, Duncan Grant, Vanessa Bell and Roger Fry met while Bell was studying at the Slade School of Art. She established The Friday Club as a place for artists to share ideas and and support one another. It was here that she met Duncan Grant. Cezanne, Gauguin, Van Gogh, Matisse and Picasso were shown together for the first time in London 1910 in "Manet and the Post Impressionists" curated by Roger Fry. A romantic affair between Fry and Bell led to the establishment of the Omega Workshops in 1913 with Fry, Bell and Grant as co-directors, however as the relationship between Bell and Grant became increasingly intense Fry wrote in a letter "I find it difficult to take place on the outside of the circle instead of being, as I once was, rather central". Bell and Grant moved to Charleston Farmhouse in 1916. Fry was left as the only regular member of the Omega Workshops, which closed in 1919. Charleston Farmhouse allowed Bell and Grant to decorate the interior with hand painted surfaces and furniture, and invite artists, writers and intellectuals to stay. Grant generally had relationships with men and Bell had romantic connections with other people, but early on at Charleston they had a child, Angelica, together. Their partnership was to last for 50 years, and they both remained friends with Roger Fry.
I was also thinking how interesting that Gwen John and her brother, Augustus, and her lover Auguste Rodin shared little in terms of subject matter, and yet she felt comfortable to work alongside her friend Dorelia McNeill. Rodin also had an intense affair with Camille Claudel (which is said to contributed negatively to her mental health) while in a relationship with his long term partner, Rose Beuret, who he eventually married… after living together for 53 years. (She died two weeks after the wedding, Rodin died in the same year.) Lucian Freud and Francis Bacon spent twenty five years scrutinising each other and their work, and despite a mutual love of drink and gambling their friendship broke down due to a perceived lack of admiration for each others later work. It is often hard to accept criticism from those closest to us, it is almost the ultimate betrayal. We are often attracted to people with whom we share mutual respect. People who can give us an insight into our personal creative output, but it's a thin line between constructive criticism and destructive comment.
Often the dark side of the subject matter has been the focus for attention when Shani's work is presented in solo exhibitions or publications, but there is also incredible joy in the work, a celebration of the vitality of making a drawing or a painting that says, "I'm here, I exist". In Stephen's work you can see the direct connection between hand and eye, in Shani's you can sense an emotional charge in the use of paint. The work of both artists exists in isolation, but they also benefit from being seen together for the first time since 1977. There is a compatibility, a sensitivity, an intimacy that you can only see when two artists are working and living together. There is also a contrast and, as in many partnerships, the relationship plays on the strengths of one partner complementing the other.
Since winning the National Eisteddfod gold medal in 1992, followed by the Hunting and Observer Art Prizes in 1993, then the Jerwood Prize in 2003 and an MBE for services to art in 2006, much has been written about Shani Rhys James. She is rarely out of the spotlight. Stephen West has continued to produce work alongside his partner throughout this public attention. Stephen's work often expands space, exploring perspective. It often includes trees or animals. Sometimes he is portrayed falling out of bed, either at home, or on a cross-channel ferry.
There's a sense of mutual love and support, admiration and awe between the two artists. To visit the artists' studio spaces you get an insight into their personalities, one space is measured with contemplative lists written on the wall to consider, the other has palettes with paint carefully mixed but with an urgency, a pace to get the mark applied to the canvas. One has a selection of drawings pinned up, the other is immersed in a studio full of large scale paintings. Both work directly, making changes on the surface. There is a clear sense of the studio being an intensely personal space.
Photography by Dewi Tannatt Lloyd
Shani Rhys James is shown courtesy of Martin Tinney Gallery & Connaught Brown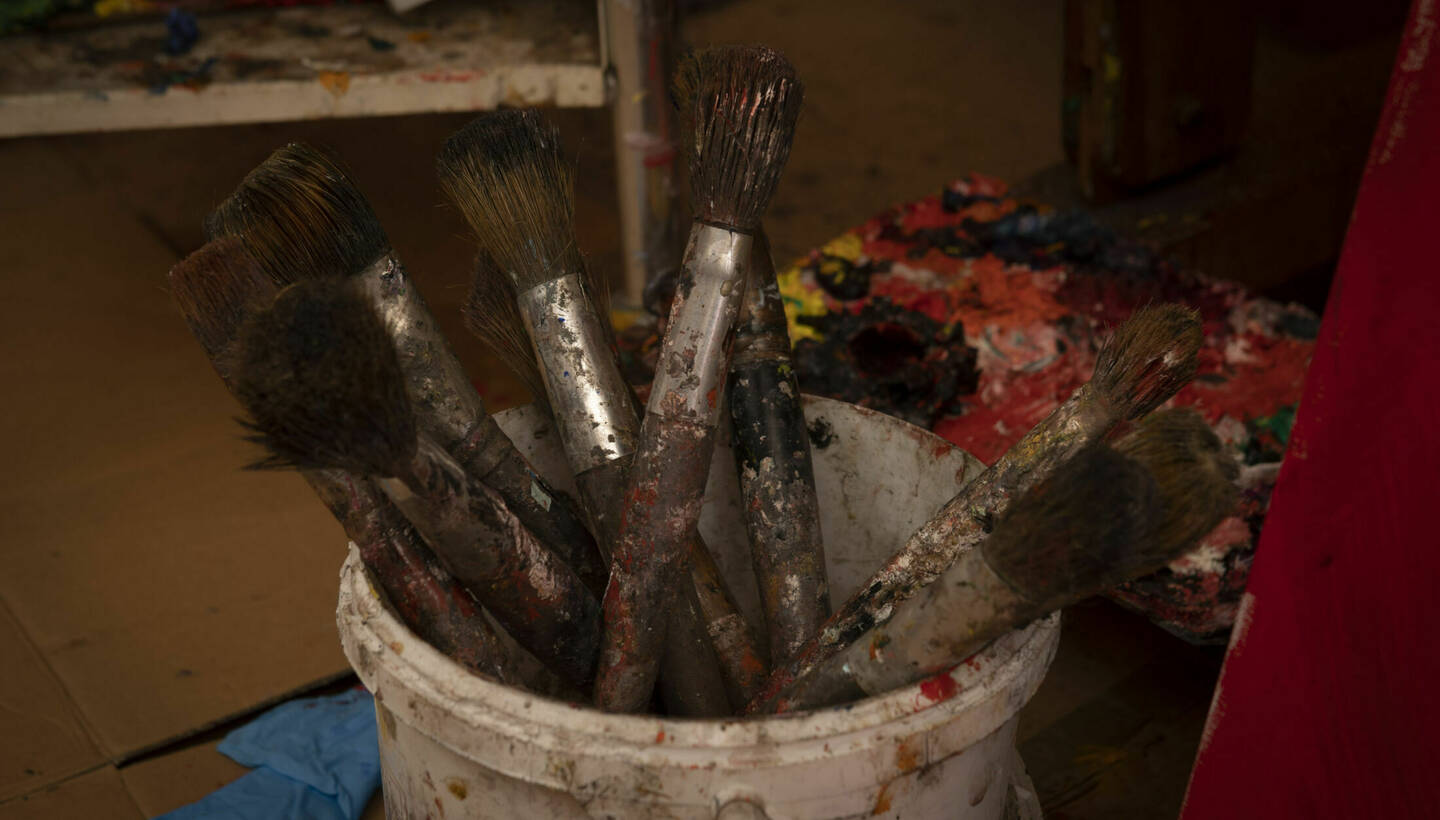 Stephen West is an experienced artist, drawyer, sculptor, lecturer, curator and writer working in Llangadfan.
Born 1952 Henley-on-Thames UK.
He is a member of the Royal Cambrian Academy.

Trained as a painter at Reading College of Art, St Martins School of Art London and Royal College of Art, he has also been a fine art lecturer, gallery education officer, exhibition curator and public art commissioner. He has been a regular exhibiting artist, sculptor and painter, with several one-person shows and group shows such as 56 Group, Royal Cambrian Academy, National Eisteddfodiau of Wales, Jerwood Drawing prize, Hunting/Observer prize exhibitions, Spectator/Adam prize exhibitions etc. A review of 'Draw Breath' at Oriel Theatr Mwldan is published by Culture Colony.

He was Director Creative Development for Safle, the public arts organisation for Wales, from 2007 to 2008 and previously Co-Director for Cywaith Cymru Artworks Wales and Head of the Artist-in-Residency Programme.

As an artist he explores the dynamics of mark-making, vision and narrative with paint, charcoal, ink, chisel or by hand in clay or wax. He responds to the world as seen and in response to the challenges and occurrences of life.
Shani Rhys James was born in Melbourne, Australia in 1953. Her father was a Welsh surgeon and her mother was an Australian actor and artist. She arrived in UK in 1963 with her mother. She attended Parliament Hill Girls School and trained as an artist at Loughborough School of Art and St Martins School of Art receiving a BA honours in Painting (1976). She married the artist Stephen West in 1977 and they have 2 sons.

Initially she lived in Whitechapel and had a studio at Butlers Wharf near Tower Bridge. She moved with her family to a derelict farm in Mid-Wales in 1984, converting the barns into studios. She began exhibiting in Wales and at the RA in London, winning the Aberystwyth Open in 1992, the Mostyn Open, the Gold Medal at the National Eisteddfod, the Hunting Observer Art Prize (1993) and second prize at the BP National Portrait Award. She was BBC Wales Visual Artist of the Year 1994.
​She exhibited in the 90s in important touring exhibitions such as Disclosure(s) from Oriel Mostyn and one-person exhibitions Blood Ties from Wrexham Arts Centre, Facing the Self from Oriel Mostyn and The Black Cot from Aberystwyth Arts Centre.
​A Creative Wales award from the Arts Council of Wales in 2006 enabled her to realize a long-held ambition to make sculptural automata, kinetic and sound-based versions of childhood memories of the theatre her parents ran in Australia. A further award in 2013 led to the creation of Florilingua, an installation of paint, sound and video collaborating with seven contemporary poets, which formed the centerpiece for her one-person touring exhibition The Rivalry of Flowers showing in Kings Place London, Northumbria University and the organising venue, Aberystwyth Arts Centre.
Storm in 2020 by Stephen West
A closer look at Stephen Wests charcoal drawing ' Storm in 2020 described by Deborah Dalton