The Modes of Al-Ikseer
Harminder Singh Judge
Exhibitions
|
18 June 2010 - 18 June 2010
'The Modes of Al-Ikseer' is a live performance installation which fuses contemporary pop culture, the aesthetics of advertising, tongue-in-cheek humour and epic symbolic imagery. It observes and locates the place of ancient religious symbolism and mythology within a world obsessed with capitalism, the celebrity and marketing gimmicks.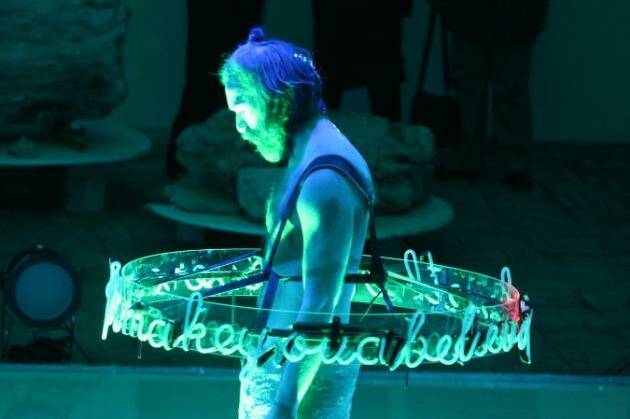 The Modes of Al-Ikseer is a new performance project by Harminder Singh Judge, touring the UK during 2010. This is a stunningly visual narrative performance that hybridises live art and musical spectacle, featuring a remix of the classic Depeche Mode track Personal Jesus with live Dhol drumming.
The work examines the artist's fascination with contemporary pop culture and Hindu myth, taking the 'Churning of the Ocean' as a platform for the development of an original work. The artist revolves on a slowly moving aluminium platform, surrounded by a pool of milk, to bring to life the ancient Hindu story of the 'Churning of the Ocean'. This mythical story recounts how the elixir of life was created when the Devas (gods) and the Asuras (devils) allied to churn the ocean. Vasuki, the King of the Serpents, was employed as a rope and wrapped around Mount Mandaranchal in order to create the elixir. The first attempt failed, but as the mountain began to sink into the ocean, the god Vishnu appeared as a turtle supporting the mountain on his back.
The Modes of Al-Ikseer is produced by Simon Poulter and funded by the Arts Council England, National Initiatives Fund.
See film made at Oriel Davies >
SOLD OUT
Sorry tickets for this event have sold out!
If you would like to be added to a waiting list please contact us: desk@orieldavies.org
The gallery is open:

Tuesday - Saturday 10-4
Cafe closes at 3

Except for special events
Closed bank holidays