The Once and Future Wild | Hefin Jones
new work in the green spaces
What's On
|
5 July 2021 - 3 February 2022
"Birdsong crept in its stead, the soft crick-crick of insects, the far-off lowing of wild longhorn cattle. Through the mist, a thousand silver butterflies flitted round a lichen-strewn branch, setting down for the night. The bushy tail of a red squirrel twitched and a small brown bird hopped in a patch of scrub. Wings sailed by- a nightjar scooping moths in the breeze. Somewhere, an owl hooted, and more cried in answer. The rhythm of a long-ago wild, a lost wild, a restored wild. The sound slipped in through cracks and corners, everywhere."
Extract from 'The Once and Future Wild' written by Daisy Dunn for the ODG Assembly, 2021.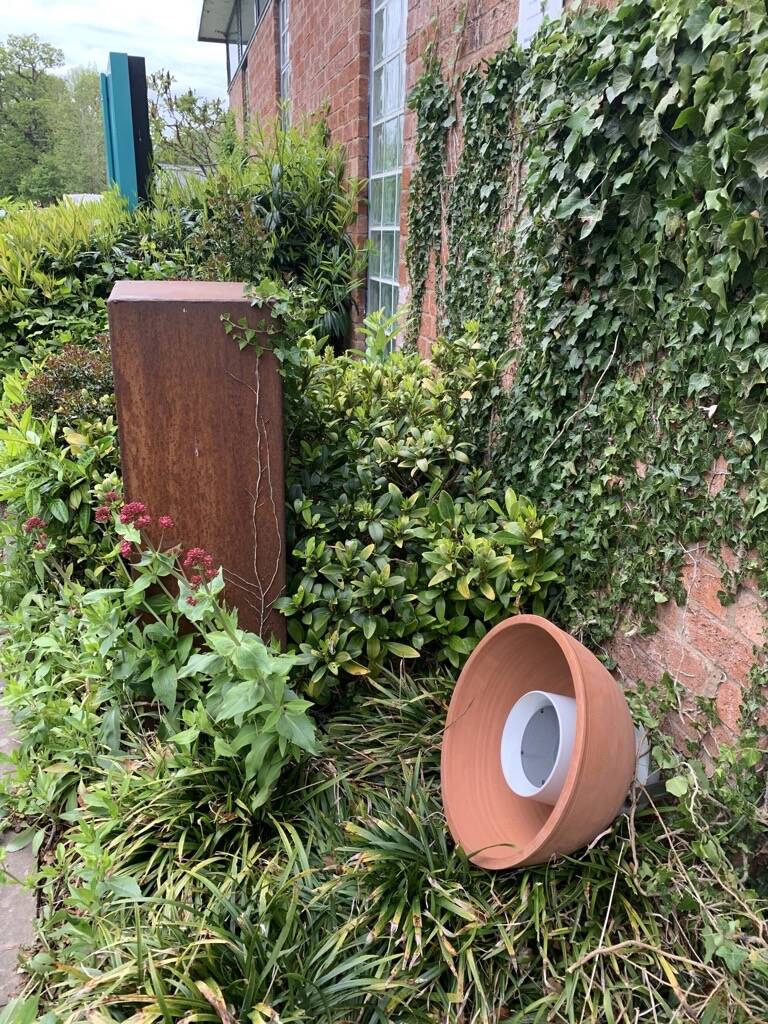 This piece of creative writing was commissioned as part of a young writers open call, which invited young people aged 14-25 in Powys, Wales, to use creative writing and fiction to explore what an Oriel Davies youth assembly could be, what it could do and how it could do it.
Daisy's text imagines a re-wilded Newtown; it's a place that she feels has got it right, with an ecologically driven economy, thriving populations of once rare birds, and longhorn cattle grazing outside the gallery.
Following on from the open call, Daisy has selected audio clips from Knepp Wildland's archive of film and audio recordings. This has been edited into a looping audio piece that transforms the landscape outside of the gallery into the place imagined in her text. The audio will be played through a ceramic speaker outside the gallery, which takes its form from an object described in the same text - "The first piece of moulded clay was placed on a table to the side with a damp thud. It rolled to the side on its rounded surface, a hollow sphere cut in half. At one end a circular hole nested through the clay."
Alongside this audio piece, an ODG Assembly printed publication designed by Midge Press brings together young writers' texts, work from the online workshops, interviews, ideas, and it features in the 'We are Commoners' touring exhibition together with an audio recording of the writers reading their texts.
The ODG Assembly has been developed as part of Hefin Jones' residency with Oriel Davies Gallery, funded by Arts Council of Wales which took place intermittently between May 2020 and March 2021. The residency was devised by Craftspace for We Are Commoners – a touring exhibition highlighting acts of creative communing.
Oriel Davies is developing the Assembly for and with young people as a place, physical and virtual, for young people to share ideas and issues and to play an active part in shaping the future of the gallery and it's creative programming.
With special thanks to:
Tony Hall, Castle Hill Arts for creating the ceramic speaker dish.
Knepp Wildland for their kind permission to use the recordings.
"Knepp is a 3,500-acre estate just south of Horsham, West Sussex. Since 2001, the land – once intensively farmed - has been devoted to a pioneering rewilding project. Using grazing animals as the drivers of habitat creation, and with the restoration of dynamic, natural water courses, the project has seen extraordinary increases in wildlife. Extremely rare species like turtle doves, nightingales, peregrine falcons and purple emperor butterflies are now breeding here; and populations of more common species are rocketing."
SOLD OUT
Sorry tickets for this event have sold out!
If you would like to be added to a waiting list please contact us: desk@orieldavies.org
The gallery is open:

Tuesday - Saturday 10-4
Cafe closes at 3

Except for special events
Closed bank holidays