Warning Notes
A Powerful Immersive Sonic Experience Of Suspense And Shifting Sounds
What's On
|
29 September 2023 - 30 September 2023
By Mark Anderson, created in collaboration with Liam Walsh.
Free entry - booking essential - choose your 30 min slot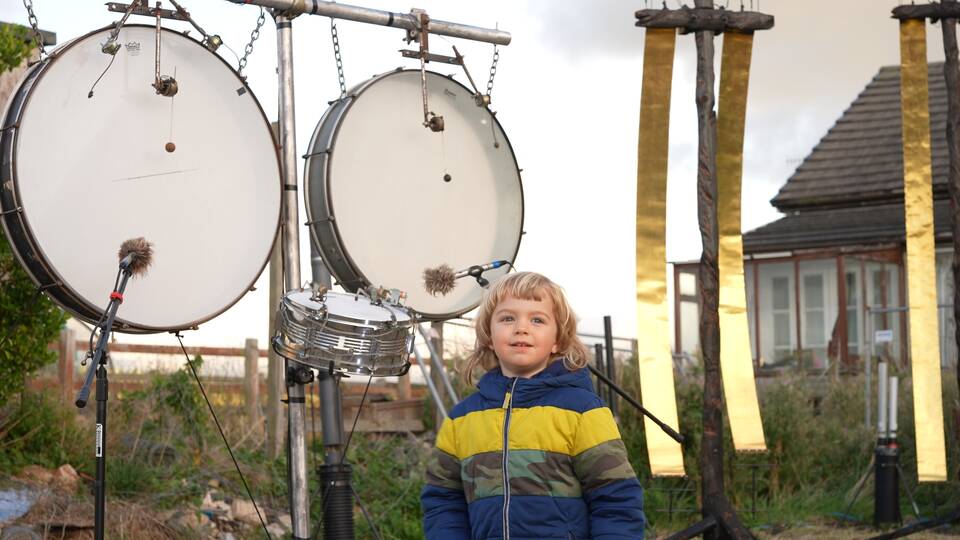 "There are so many things that should be causing alarm: war, climate change, inequality, social injustice, personal situations and here it is given a voice, a clarion call, from a whisper to a roar. At times a volatile mix of energy and sound, at others a reflecting meditative tranquility we possibly all seek" - Mark Anderson
As day turns to night, immerse yourself in a captivating sound world and ever changing outdoor live performance. Using an ensemble of visually striking mechanical 'instruments' - gongs, bells, whistles and explosive events - Warning Notes creates a rich and powerful soundscape that gives voice to the current social and ecological alarm that ripples across our world.
A new show by international artist Mark Anderson that is improvised and responsive to audience and environment, Warning Notes is playful and hypnotic, inviting us to listen to the present and contemplate both personal and global stories - and our future together.
"A pulsing, gorgeous and threatening world woven out of sound sculptures and beautiful, rhythmic notes" - Audience
"The future has become uninhabitable. Such hopelessness can arise, I think, only from an inability to face the present, to live in the present, to live as a responsible being among other beings in this sacred world here and now, which is all we have, and all we need, to found our hope upon." - Ursula Le Guin
ABOUT WARNING NOTES
Warning Notes is a medium-scale outdoor production for up to 500 people per show that takes place over 4 hours from day to night, with audiences able to come and go over that period, staying for as long as they like, on a greenfield or hard standing site. An ecologically sustainable outdoor sound installation performance, it works in a diversity of public areas - from common land, and parks to courtyards and venue grounds - ideally with low ambient sound and light conditions. Warning Notes uses an ensemble of mechanical, kinetic sculptural 'instruments' set in a circular arena, including gongs, bells, whistles and explosive events that creates an ever changing unique composition of rich, dense visceral sound. Many components in the show reference non-art, the hand-built, using recognisable recycled and re-used elements. It is a show that is part installation and part live performance - improvised and responsive to the audience and the environment.
AUDIENCE

At the heart of Warning Notes is our shared and growing anxiety for the future, on many levels: personal, social, cultural, economic and ecological.

The show provides a safe, playful and reflective space to sense, sit, and discuss this - a space for everyone - from children to adults. Warning Notes therefore works best in familiar public spaces which a diverse audience can access free of charge.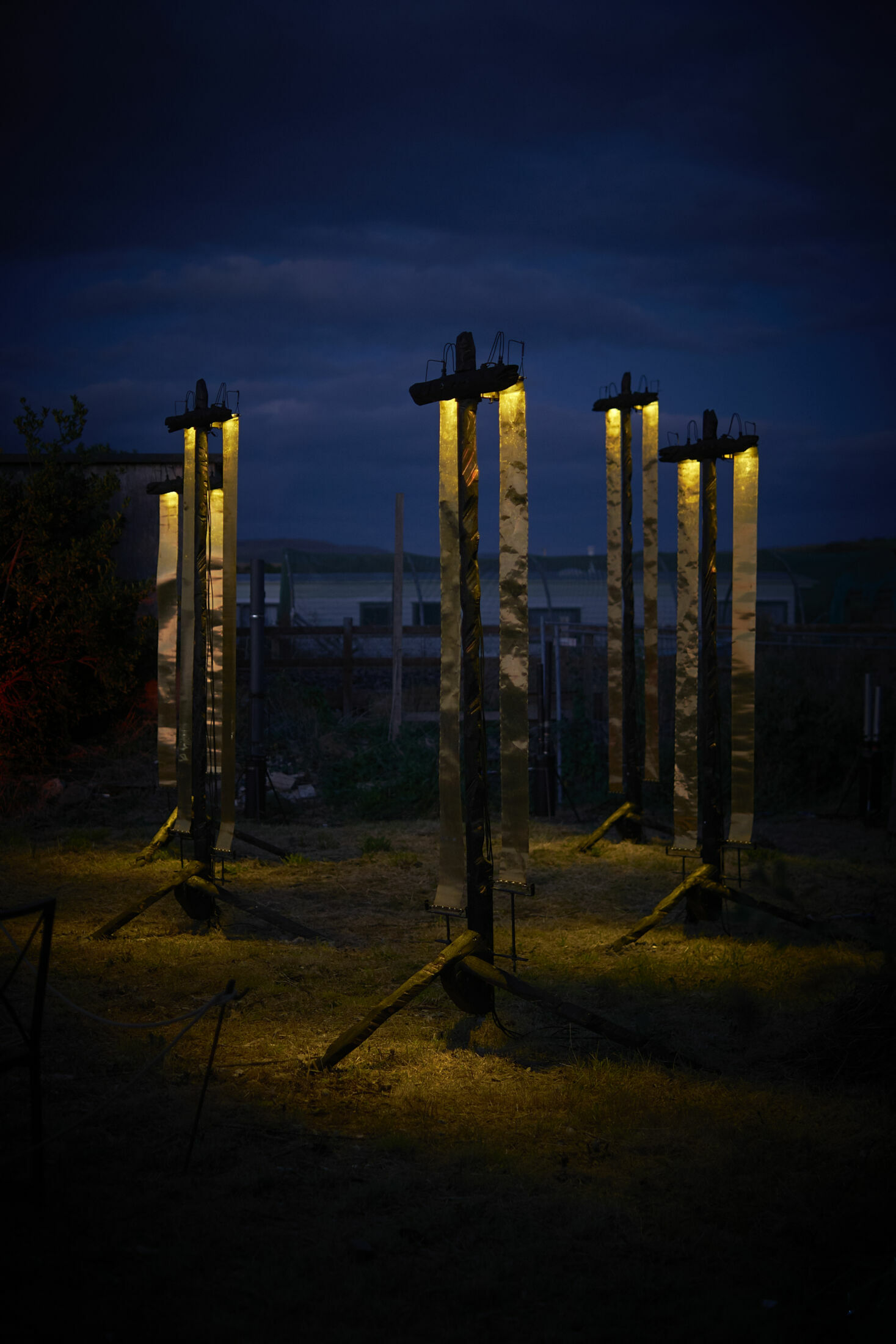 Wheelchair access and seating
Warning Notes is an outdoor show on grass or hard standing. It is laid out in a circle with one place that is both an entrance and exit. There is plenty of space for a wheelchair to move around. A specific viewing position for wheelchair users will be provided if grass/mud is too hard to move through. Different types of seating will also be available for those who would like to sit during the show. A person can be available at the show entrance to greet you, listen and take note of what you need, and guide you around the show space if required.
Relaxed Performance
A relaxed performance is available to those who wish to experience the show in daylight, in a quieter, less busy way, and at your own pace. The relaxed performance must be booked in advance and will take place during the first half an hour of the show on both days. A person can be available at the show entrance to greet you, listen and take note of what you need, and guide you around the show space if required.
Touch Tour
A touch tour is available for those who are partially or fully Blind or D/deaf. Tours must be booked in advance and will take place during the hour of daylight 45 minutes before the show starts on the Saturday. One of the Artists will greet you at the show entrance. They would then take you on a short tour of Warning Notes - it's sensory experiences and stories. You can also touch and stand closer to some of the show's 'instruments', with some rope barriers removed to enable this.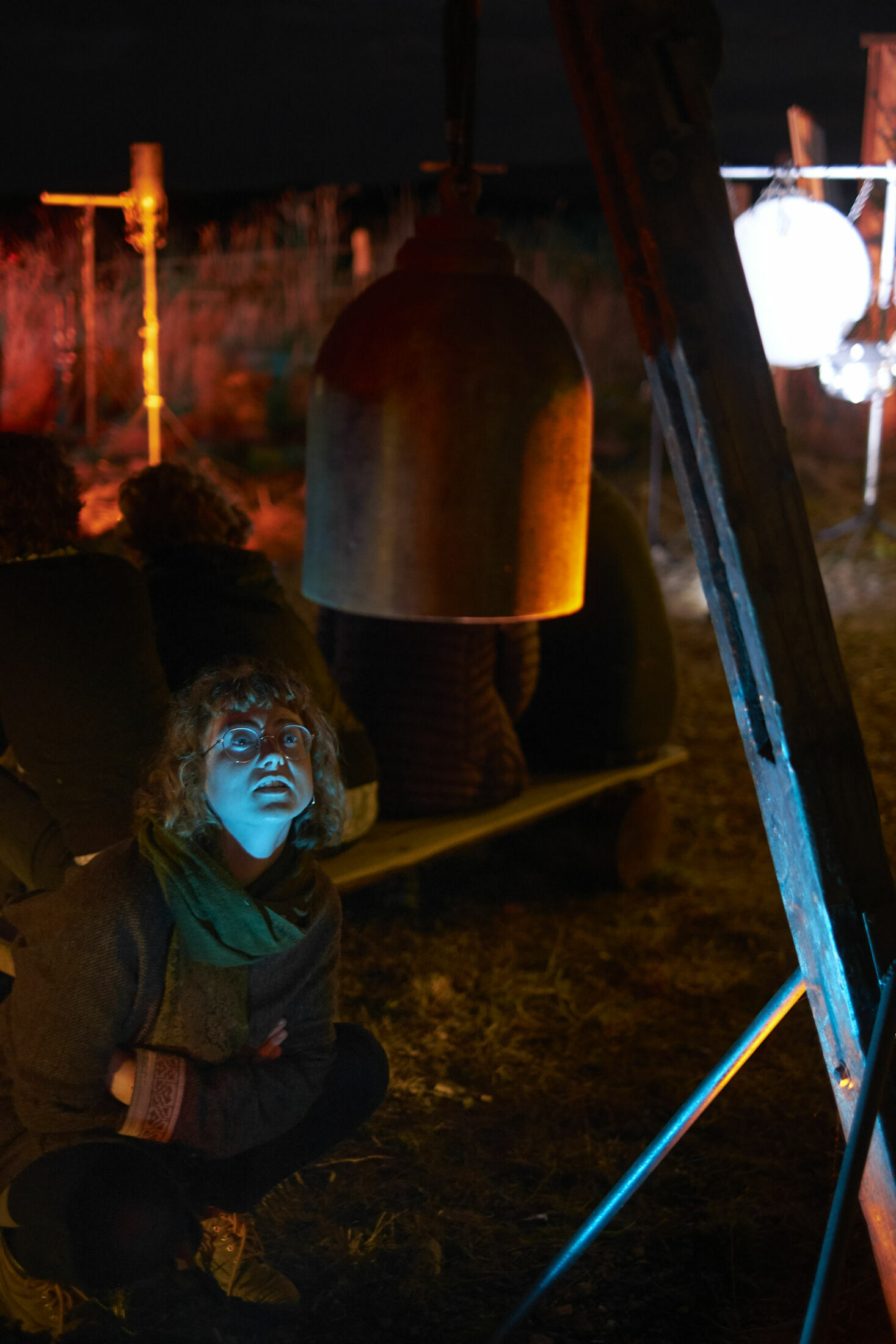 MARK ANDERSON BIOGRAPHY
Mark Anderson is a visual sound artist and pyrotechnician, working almost exclusively outside. He makes compelling site specific temporary installations and performances, often in collaboration, drawing inspiration from the natural, industrial and technological world. His work includes internationally acclaimed touring shows 'Power Plant' and 'Furious Folly'. He is an Oxford Contemporary Music Associate Artist.
WARNING NOTES TEAM
The Warning Notes production team is an accomplished team of specialists. It is led by lead artist Mark Anderson who is based in Eryri National Park in Wales and has worked internationally over the last 30 years to create multi-media and site specific performances. On Warning Notes Mark is working with long-time collaborator Liam Walsh. Together their previous projects have included 'Power Plant', an immersive sound and light show that has sold 100,000 tickets worldwide as part of the programme of leading international festivals, and 'Furious Folly' - a large scale show about the futility of war. They will be working with Mathew Olden, who will be creating bespoke software for the show, and Ezra Gray, a sound designer, who will lead on the workshop element.
Audience reactions to WARNING NOTES
"Visually the work was beautiful, but walking through the continually evolving, never repeating soundscape was enthralling, at times soothing, then tense, then invigorating, then calming again"
"Crossing the threshold into the show was an instant immersion into another dimension....throwing the audience into a pulsing, gorgeous and threatening world woven out of sound sculptures and beautiful, rhythmic notes"
"Listening for the Warning Notes' appears to tell a very clear story whilst allowing imaginations the freedom to create their own"
Tickets
Venue Info
Ticket Info
The gallery is open:

Tuesday - Saturday 10-4
Cafe closes at 3

Except for special events
Closed bank holidays




Most events at Oriel Davies are free to attend but we suggest making a voluntary donation here to support our continuing work delivering accessible workshops, events, activities and projects.