A deep deep dive
Creative writing at Oriel Davies
Industrious, fast-paced and full of laughter, these writing workshops have meaningfully connected a group of strangers.
Writer and creative facilitator Emma Beynon delivered a series of weekly workshops in late spring, leading participants through a wealth of poetry to provide inspiration for the participants own writing. The workshops are part of a nature based community project called Wellbeing in Green Spaces.

About the project
Oriel Davies is working in partnership with Open Newtown, Cultivate Newtown and Montgomeryshire Wildlife Trust to deliver a programme of interconnected workshops for the community with a focus on the natural world – community gardening, nature conservation and creativity. Wellbeing in Green Spaces is part of a larger project managed by Open Newtown, funded through the Welsh Government Rural Development Programme.
Post- pandemic, the project hopes to enable people to get back out into the community, to make connections with one another, and to enrich their quality of life by meeting others in a natural environment. Sessions take place in Newtown's expansive green spaces.
This has been such a fantastic 6 weeks. I suffer from social anxiety and whilst attending the course I have made steps in my writing voice and social anxiety. So thanks!!
Background

In this project Oriel Davies is exploring creative processes with a deep connection to nature. We work closely with creative practitioners from Wales and the Welsh borders to devise workshops that are inclusive and mindful, introducing new approaches to creativity and bringing people together.
Oriel Davies aims to build sustainable and exciting connections with creative practitioners, supporting careers and the creative industries.
We aim to work with our communities in meaningful ways, enabling people to find value and enjoyment in creativity and contemporary art, connecting to ourselves, each other, and to place.
Participants learn new skills and creative approaches that can be woven into everyday life. Workshops give participants time out for relaxation and reflection and to positively engage people with nature, biodiversity and the climate crisis. They include drawing, writing, weaving and working with charcoal and wood. They focus on exploring materials and new ways of working.
These workshops made me feel accomplished and educated. Emma has provided me with some new ideas on writing and finding my voice. However, the most rewarding thing is how much more confident I feel in both my writing and my person.
About Emma Beynon
"I was brought up on a mixed farm in Wales. My Dad, a dedicated farmer, expected his children to help. He took pride in teaching us to farm, to hang gates, chase sheep and read the landscape. From a very early age I understood how exciting it is to share and learn skills with others. After gaining a degree in English and PGCE I taught at Gorseinon College, Swansea before studying for an MA, so I could pursue what I saw in the classroom: the power of creative writing to unlock young people's creativity and confidence.
All this time I was writing myself - diaries, poems and short stories about my life on the farm, walking in the hills, being late for work.  I learnt to appreciate the way writing can help you reflect upon your actions and your surroundings".
Emma has collaborated on projects with Oriel Davies since 2021, just as Wales came out of lockdown, running online workshops and later face-to -face sessions under the trees in the front of the gallery in the summer. We have worked with multi-generational groups included retired people, students and home educated teenagers.
What do you value about the workshops? Emma, obviously. The setting, my fellow poets and the new skills we learn from each other. Emma is super welcoming and encouraging. The setting and its environment are perfect for inspiration and my poet friends are lovely and learned.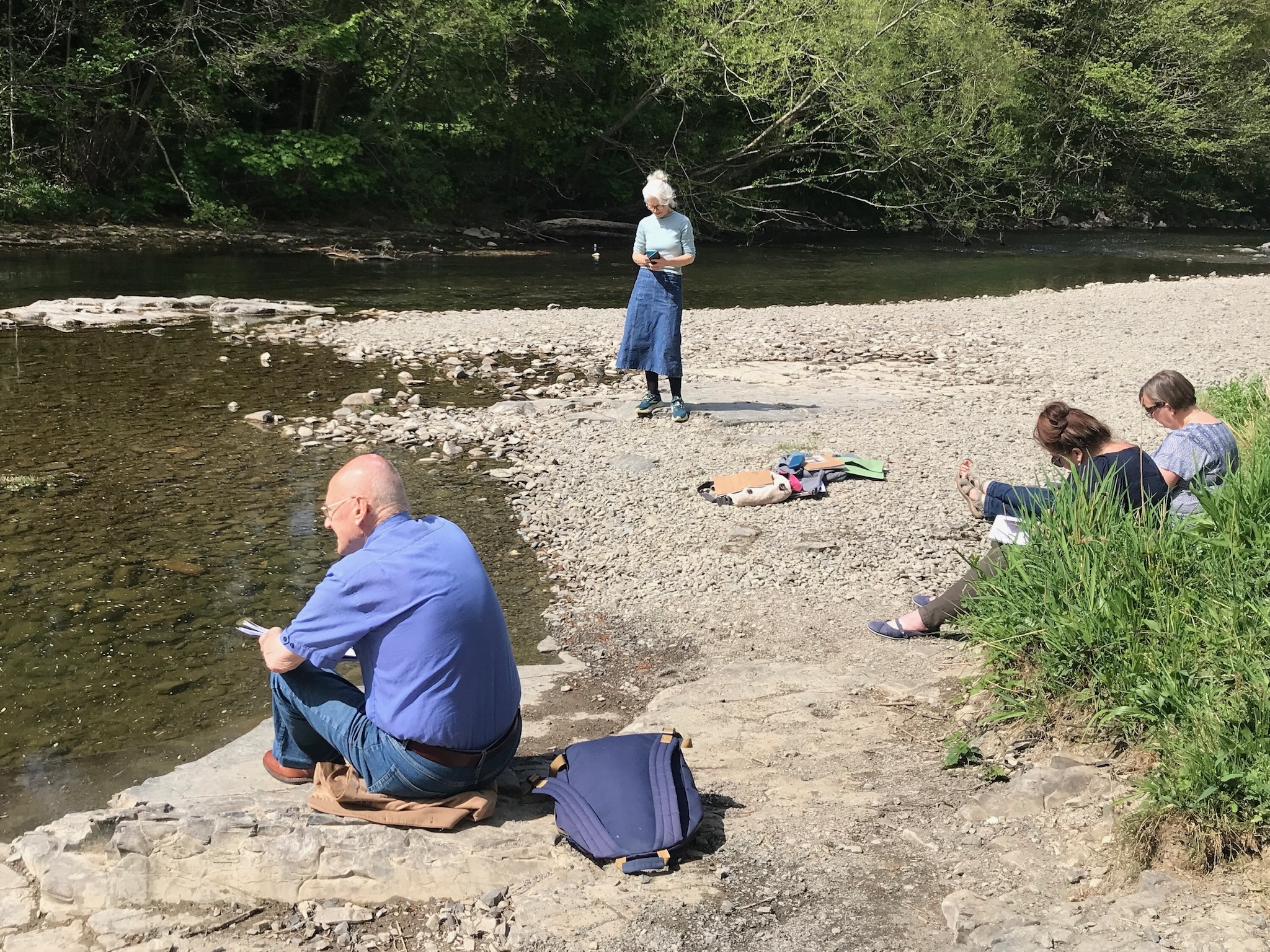 The Workshops
Some participants have been writing for a while – others had no previous experience – Emma's direct approach left no time for participants to worry if they hadn't written before and very soon participants felt confident to write – creating four or five poems each week.
The group worked indoors and outside, reading selected poetry before diving into their own writing. Their poems were matter of fact, every day, abstract, philosophical, rude, funny, raw and touching. Long and short. Work was always personal, poignant, and closely observed. The group spent time on the banks of the Severn 'word fishing'(a phrase coined by Emma) - listening, looking, breathing in the environment and responding as they sat on the rocks and stools from the gallery. Emma and gallery staff worked with participants to support their access needs each week, providing enablers for example.
Workshops lasted for two hours, with a break for coffee and tea. Participants committed to come to every workshop and although not always possible they turned up regularly, travelling from all around the local area.
I'd like it to be an hour longer. I really value the time I spend with the group as I have social anxiety and this is a calm environment that is helping me gain confidence with people again.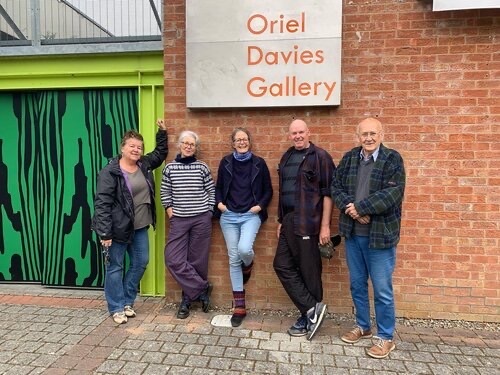 Outcomes
The workshops brought a group of strangers together who, through the process of writing and Emma's dynamic, warm and supportive approach became, for these six weeks, prolific poets. The group have decided to meet once month to continue with their exploration into poetry and their own writing. Three of the participants continued with the project, signing up for subsequent Wellbeing in Green Spaces workshops. The majority of participants said they felt more connected to the local environment and community, as well as feeling more at ease following the sessions. Some people experiencing social anxiety noticed a marked improvement in their mood. They felt more self-confident, more connected to others and happier as a result.
Nervous, open, like minded , 

happy, content, engaged.

Well being-ed.
Nerfus, agored, o'r un meddwl,

hapus, bodlon, ymgysylltu.

Lles.
You might also be interested in...