Tŷ Unnos Artists Residency, The Park, Newtown
Antonia Dewhurst
Prosiectau
|
20 Gorffennaf 2012 - 5 Medi 2012
This summer will see Antonia Dewhurst undertaking an Artists Residency in Powys. The climax of this residency will be a piece of pop-up vernacular architecture, a Tŷ Unnos or 'One Night home' constructed in the Newtown parkland adjacent to the gallery.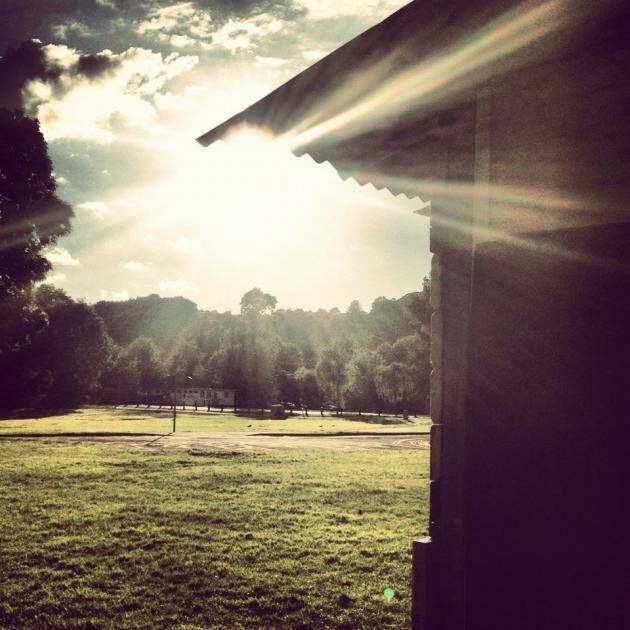 Antonia will spend part of her residency based at a studio at the Mid Wales Arts Centre, Caersws, where she will research and collect materials for the creation of an extraordinary project, Tŷ Unnos, or 'one- night house'.
Tŷ Unnos is an old Welsh tradition dating back to the 17th century: if one could build a house between the hours of sunset and sunrise and have smoke rising from the chimney by dawn, the ownership of the land could be claimed. While Antonia does not lay claim to Newtown's park on 19 July she will build a Tŷ Unnos - literally overnight - in the town's parkland opposite Oriel Davies. This will be a temporary structure made from recycled materials - wooden pallets, tarpaulin and corrugated iron. After a night of feverish building the structure will be in place by the morning of 20 July, complete with smoke rising from the chimney.
Antonia plans to furnish her Tŷ Unnos, and visitors will be encouraged to enter the dwelling when the artist is present and talk to her about her residency and project. Tŷ Unnos launches on 21 July and will then stay in situ in the Park until early September. The shelter will resemble a shanty dwelling or favella, questioning ideas of displacement and homelessness.
Antonia Dewhurst's residency is part of the Arts Council of Wales Residency Programme. The artist has been invited as part of Oriel Davies' exploration into the relationship between art, design and architecture.
Antonia is also exhibiting inside Oriel Davies' Gallery during this period, in a Test Bed exhibition, gimme shelter, which shows a series of the artist's micro designs for Tŷ Unnos structures. Her show offers an array of construction possibilities and prompts consideration of the notion of 'dwelling' and global feelings of prevailing rootlessness and cultural dislocation.
Antonia Dewhurst's Tŷ Unnos will be in situ in The Park, Newtown, 20 July – 5 September 2012. On July 21 there will be an exhibition launch from 5pm - 8pm, beginning with an in-conversation event with the Bathing Beauties project Curator, Michael Trainor, Artist Antonia Dewhurst, Heidi Day from the Welsh School of Architecture and Oriel Davies Curator Ruth Gooding.
Audio Visual
Tŷ Unnos
Antonia Dewhurst constructed a full scale 'Tŷ Unnos' or 'One Night Home' overnight on the 19th/20th July in the parkland beside the Oriel Davies Gallery to compliment her exhibition in the Test Bed space. watch >
2 minutes

Tocynnau
Gwybodaeth am y Lleoliad
Gwerthu Allan
Mae tocynnau ar gyfer y digwyddiad hwn i gyd wedi'u gwerthu :(
Os hoffech gael eich ychwanegu at restr aros, cysylltwch â ni: desk@orieldavies.org
Mae'r oriel ar agor:

Mawrth - Sadwrn 10 - 4
Caffi yn cau am 3
Ac eithrio digwyddiadau arbennig
Gwyliau banc ar gau