Steve Attwood Wright + BLANKET COVERAGE
Contemporary Weaving
Exhibitions
|
9 October 2021 - 24 December 2021
An opportunity to see some of Wales's leading textile artists in this celebration of craft and colour brightening up our autumn days. Newtown was once the centre of hand loom weaving in Wales, you can find out more at Newtown Textile Museum.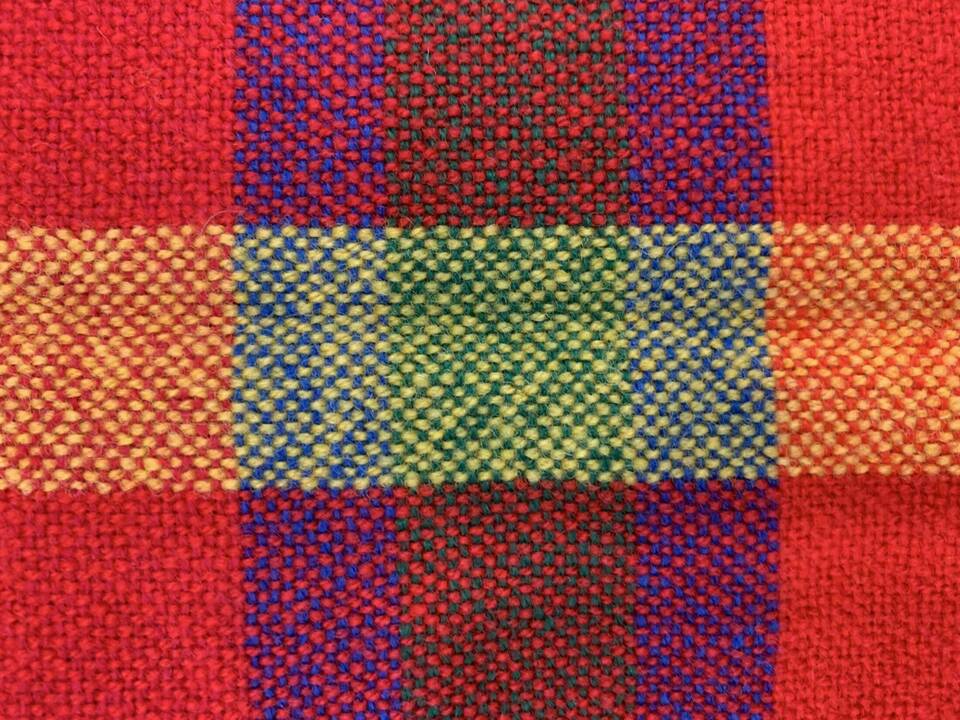 This autumn we'll be celebrating weave at the gallery with two exhibitions. Steve Attwood Wright is one of our foremost hand loom weavers. Based less than 10 miles from the gallery, this will be the first time that we have shown a major body of his work. Oriel Davies is pleased to be able to share with you a body of work that spans decades and includes new work created specifically for this exhibition.

Blanket Coverage is a Llantarnam Grange touring exhibition curated by Laura Thomas featuring contemporary woven blankets by makers from across Wales, the UK and internationally.Their interpretations of the blanket push the boundaries of traditional hand weaving, designing for commercial production as well as address issues of sustainability.
Featuring: Llio James, Beatrice Larkin, Angie Parker, Eleanor Pritchard, Sioni Rhys Handweavers, Catarina Riccabona, Margo Selby, Maria Sigma, Wallace Sewell, Meghan Spielman, Laura Thomas & Melin Tregwynt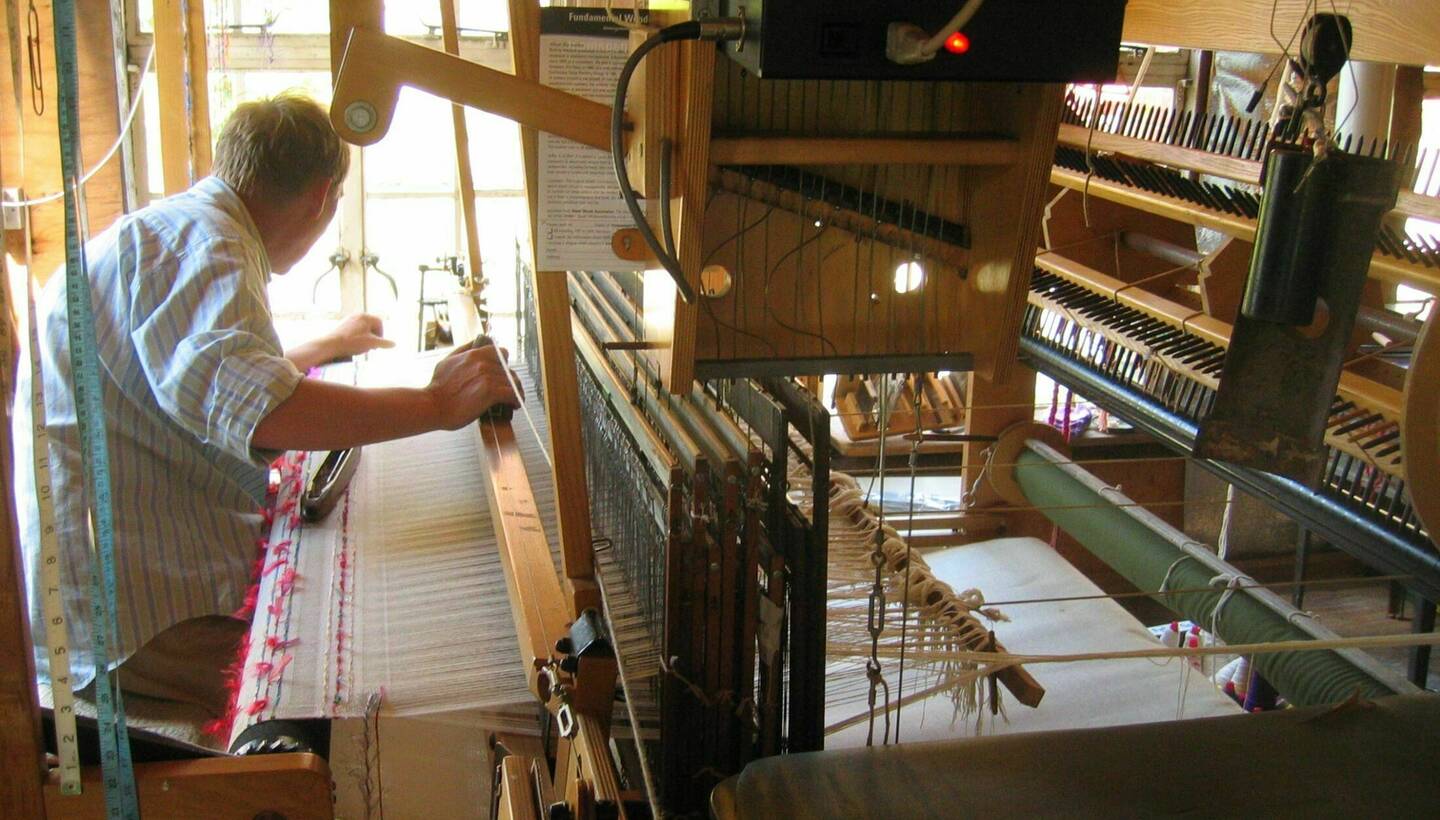 You are welcome to drop in to visit us during our opening hours, however there may be a queue if we are at capacity.
We therefore advise using our Free booking system to avoid queuing and book a 1-hour timed visiting slot.
PLEASE NOTE: APOLOGIES FOR THE ACCESSIBILTY ISSUES FOR SOME PEOPLE. THE FILMS WERE SUPPLIED BY LLANTARNAM GRANGE FROM INTERVIEWS CONDUCTED BY LAURA THOMAS. NO SUBTITLES ARE AVAILABLE DUE TO THE FORMAT IN WHICH THE FILMS HAVE BEEN SHARED.
Weavers in Conversation
A conversation between Laura Thomas, Llio James and Steve Attwood Wright led by Helen Rees-Leahy.
The event took place on 29/11/2021 at Oriel Davies, Newtown, Powys, Wales.
It coincided with Steve Attwood Wright + Blanket Coverage, two exhibitions of Contemporary Weaving 9/10/2021 - 24/12/2021
https://orieldavies.org/whats-...
Steve Attwood Wright is curated by Steffan Jones-Hughes for Oriel Davies.
Blanket Coverage was curated by Laura Thomas for Llantarnam Grange Arts Centre and presented in this form by Oriel Davies.
Laura Thomas
Laura Thomas is a woven textile artist, designer and maker specialising in producing unconventional textiles for contemporary spaces.
Since her first experience of weaving in 1996, Laura has been thoroughly absorbed by its infinite scope for exploration and experimentation. She has a first-class degree from Birmingham City University, an MA from the Royal College of Art and two research fellowships under her belt, all in the weave discipline. Laura established her studio practice in South Wales in 2004 and has worked on an extremely diverse range of projects spanning public art, commercial textile design, curation, artist residencies and creating work for exhibition. Laura 'knows' weaving inside out, back-to-front, and this expertise is her currency.
Laura has work in the permanent collection of The Victoria & Albert Museum, The Powerhouse Museum (Australia), The Crafts Study Centre and the National Wool Museum, as well as numerous private collections.
Llio James
Llio James is a weaver based in Cardiff. Her interest in textiles began at a very young age having been raised in a small village by the sea in West Wales that had two traditional weaving mills. After a few years studying, and overseas employment in the textile industry in New York and Scotland she returned home to further her craft in Wales.
One of her main interests is to develop the relationship between hand weaving and the traditional woollen industry within Wales. The feeling of belonging to country and culture is important to her and one way of expressing this is through her work. She sees weaving as a way to bring together industry and culture.
Steve Attwood Wright
Steve Attwood Wright lives in the hills to the east of the gallery, above the village of Sarn. This area has been his home since 1986. Steve studied at Carmarthen School of Art, before setting up as a weaver at the Seren Craft Centre, Bala in the mid Seventies. Here he worked alongside a potter, a jeweller and a leather worker until it closed in 1979. He then made kilims and tapestries and worked as a drystone waller.
Following their graduation from Middlesex Polytechnic in Constructed Textiles, Steve and his partner Lisette de Mont set up a textile studio and workshop in Newtown with support from the Development Board for Rural Wales. In 1988 they moved to their current home and set about renovating the house, building a studio / workshop and creating a garden. Steve returned to Middlesex Polytechnic as a Lecturer, quickly progressing from teaching academics and technicians how to use computer looms to become Head of Weave. At the same time the studio was selling designs at trade fairs around the world including New York until the mid 1990s when Lisette decided to focus on music, teaching piano. Steve took early retirement from Higher Education in 2006 and has been weaving ever since. They own and manage an adjoining woodland and meadows that are home to six species of native orchids and many rare butterflies, insects and wildflowers.
"I just like making things. I'm intrigued by fabric structure."
Helen Rees-Leahy
Dr Helen Rees-Leahy is Professor Emerita in Museology at the University of Manchester, where she taught and wrote about art and museums for twenty years. Before that she worked as a curator and museum director, and has organised many exhibitions of art and design. She has been a board member of a number of educational and arts charities, including Yorkshire Sculpture Park and Cornerhouse, Manchester and is currently co-Chair of Oriel Davies Board of Trustees.
She lives in Conwy and combines her interests in the arts with her personal textile practice as a weaver. She is also learning Welsh, the language of her ancestors.
Helen has Multiple Sclerosis and is involved in advocacy on behalf of people with MS.
Oriel Davies Gallery is revenue funded by the Arts Council of Wales and Powys County Council.
© Oriel Davies Gallery 2021.
The gallery is open:

Tuesday - Saturday 10-4
Cafe closes at 3

Except for special events
Closed bank holidays