After Cravan
Ian Giles
Test Bed
|
2 Mai 2009 - 27 Mehefin 2009
Arthur Cravan, the celebrated Dadaist artist, was last seen alive in Salina Cruz, Mexico, in 1918 and by all accounts drowned in the Pacific the same year. Ian Giles' After Cravan replays the ending to his demise. Giles' work is humorous and often highly laborious.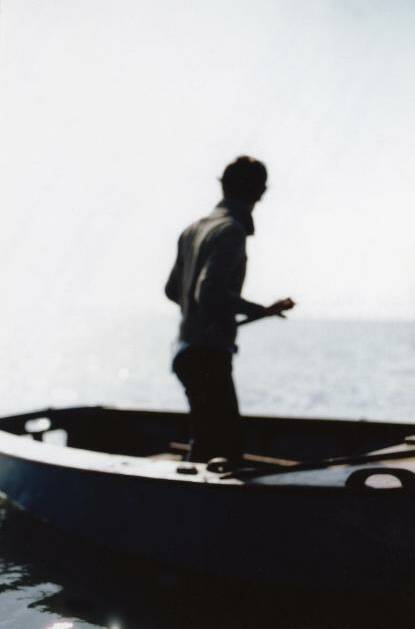 "...I must surely be the king of something." Arthur Cravan
After Cravan by Ian Giles is inspired by the last 'performance' of Arthur Cravan - a cultural provocateur, boxer, Dadaist and famous deceiver. It is a filmed performance, (9 minutes 35 seconds), in which Giles, armed with an axe, proceeds to hack holes in the hull of his boat, leading to an eventual submersion. The tranquil blue walls of the inFOCUS space merge with the serene seascape on the monitor, highlighting the visual beauty of the work. Amongst the calm of the glittering sea we are left to witness a violent episode of self-sabotage.
Born Fabian Avenarius Lloyd in 1887, Arthur Cravan travelled the world under false names and forged documents, he was revered by Surrealists and Dadaists for his exuberant writings and actions. It is said that Cravan died off the coast of Mexico, after rowing a boat out to sea. This act, took place after the many claims or threats from Cravan to publicly commit suicide (and retrospectively labelled as a 'performance'). Giles' film affirms what can only be a fictional ending to Cravan's life. It is an imaginary finale because Cravan's death is mysterious, unconfirmed, unwitnessed and undocumented, only mentioned fleetingly in texts.
After Cravan, consists of a physical action; an adaptation of a tale where Giles inhabits the physicality of Cravan's poetic yet destructive act. The work is a task of endurance as well being conceptually rich in its imagery. We are compelled to witness the repetitive movement of the axe hurtling towards the boat while each swing further fragments it. We watch as the curious eventual meeting of water with blade leads the boat to its final descent, axe and artist into the sea. Appearing as a silhouette against the pale sky, Giles and the boat become more than tools for the re-telling of a story and plunge into the realms of myth as man battles with and destroys that which is keeping him afloat. After the sinking, the artist emerges from the sea in a silent conquering reflection. It is interesting to consider Cravan alone out at sea performing this act and whether Giles' performative homage brought him any closer to understanding this elusive man.
The artist has worked closely with the footage of the performance in order to create a filmic work. The element of documentation is perhaps forgotten as the action exists and evolves in front of us. Giles works with filmmakers and editors, to shape his performances for the viewer to understand. He presents us with a highly visual work, which continues to entice long after the original act. As the audience, we find different elements of beauty and humour within the work, creating a strong visual impression and emotional response.
Ian Giles' work is primarily based in performance and documented action. His performances often engage with actions, which intend to allow equal space for cynicism and humour, existing between sincerity and absurdity. He studied at Chelsea College of Art and has developed a series of performed works since his graduation in 2008. He has shown and performed work at Arnolfini Gallery, Bristol, Paradise Row, London and for the Live Art Development Agency, London. In 2007 he gained a travel bursary from Chelsea Arts Club Trust to make work in response to a journey he took on the Trans-Siberian Railway.

Supporting new and experimental work by artists based in Wales and the Borders.
Tocynnau
Gwybodaeth am y Lleoliad
Gwerthu Allan
Mae tocynnau ar gyfer y digwyddiad hwn i gyd wedi'u gwerthu :(
Os hoffech gael eich ychwanegu at restr aros, cysylltwch â ni: desk@orieldavies.org
Mae'r oriel ar agor:

Mawrth - Sadwrn 10 - 4
Caffi yn cau am 3
Ac eithrio digwyddiadau arbennig
Gwyliau banc ar gau