Alieni Iuris
Doug Jones
Arddangosfeydd
|
15 Medi 2012 - 7 Tachwedd 2012
Alieni luris is a diverse multimedia exhibition of works by London based artist Doug Jones. Jones' working method engages with the world of objects, through collections, diversions, recreation and counterfeiting, to analyse different cultural phenomena; from consumer culture to commemorative events, social structures to the production of heritage.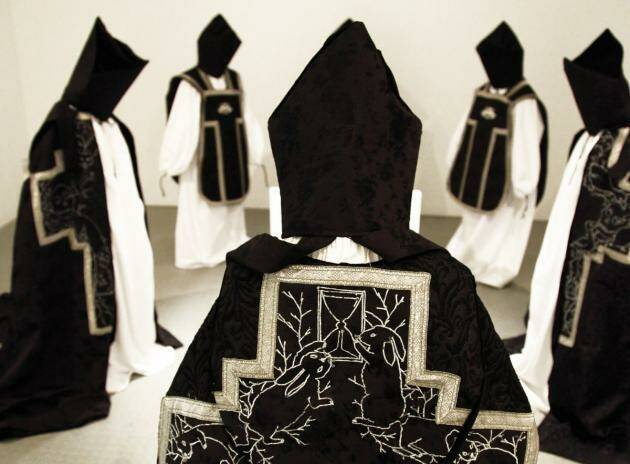 Audiences are invited to walk among a fictional Brotherhood of Saints and admire their ecclesiastical vestments in the dramatic central installation In Servi Deo et Laetare (Serve God and be Cheerful) 2008. These intricately handcrafted robes reference serious social issues, though as typical with Jones' practice, are rendered with dark humour and bathos.
The complex installation and event Coena Pro Viginta (Dinner for Twenty) 2010, presents a formal dinner table, laden with commemorative tableware, celebrating different institutions and events; from Coal miners' strikes to pancake races, from banking through to Wesley's Methodist Movement. Visitors to the exhibition are invited to enjoy this melancholic homage to disappearing practices, and to the tradition of the pottery industry itself.
Through interweaving domestic craft and consumable goods with humour and insightful contemplation, Doug Jones captures humanity's endless search for meaning and offers a snapshot of the past and present human condition.
You and your guests are warmly invited to the exhibition launch on
Saturday 15 September 5pm - 8pm
Artist and Curator in conversation 5 – 6 pm
Doug Jones will be giving an illustrated talk on his work and discuss with Curator Indra Khanna, his conceptual, aesthetic and technical approaches and consider some of the key themes running through the exhibition.
The Gallery Cafe will be open for the launch from 5.30 - 7.30pm serving a Mezzeplatter and a Glass of Wine for £7
Exhibition produced by mac and curated by Indra Khanna
The exhibition is supported by Ceri Hand Gallery, www.cerihand.co.uk
Tocynnau
Gwybodaeth am y Lleoliad
Gwerthu Allan
Mae tocynnau ar gyfer y digwyddiad hwn i gyd wedi'u gwerthu :(
Os hoffech gael eich ychwanegu at restr aros, cysylltwch â ni: desk@orieldavies.org
Mae'r oriel ar agor:

Mawrth - Sadwrn 10 - 4
Caffi yn cau am 3
Ac eithrio digwyddiadau arbennig
Gwyliau banc ar gau