And so it goes
Artists from Wales at the Venice Biennale of Art 2007
Arddangosfeydd
|
15 Rhagfyr 2007 - 2 Chwefror 2008
The exhibition's title 'And so it goes' comes from Kurt Vonnegut's sci-fi novel 'Slaughterhouse-Five', in which the phrase describes a period of transition from life to death. This notion of transition - between fact and fiction, interior and exterior, formed and unformed, the real and imagined - is explored by Richard Deacon, Merlin James and Heather & Ivan Morison.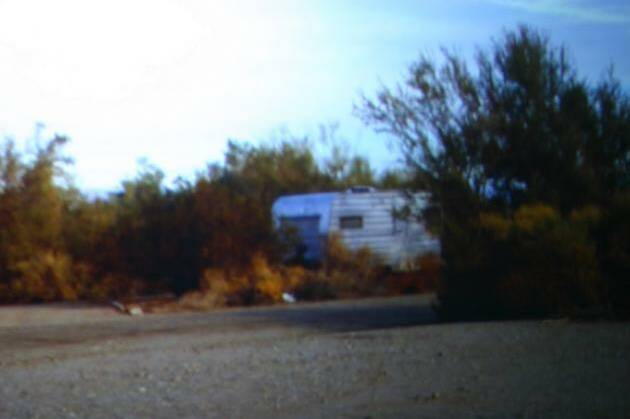 Richard Deacon, Merlin James and Heather & Ivan Morison were selected to represent Wales at the 52nd Venice Biennale of Art in 2007 and we are delighted to bring the critically acclaimed exhibition to audiences in Wales through shows at Oriel Davies Newtown and Chapter Cardiff.

The exhibition draws together some of the common threads that run through the work whilst celebrating each artist's individual practice.The title of the exhibition takes its inspiration from Kurt Vonnegut's novel Slaughterhouse 5 throughout which the phrase 'so it goes' is used to mark a period of transition – from life to death.
It is this notion of transition or of crossing a threshold that connects the artists' work. The threshold or point of entry might be literally depicted in the work as is often the case with Merlin James' paintings, where the building, doorway, hut or hole, for example, embodies some sort of notion of penetration and entry and has psychological resonance. But it also makes reference to marking or determining a boundary: between fact and fiction; past and present; enterable and impenetrable; interior and exterior; self and other; formed and unformed, the real and imagined. Relationships that are, in one-way or another, explored by all of the artists in this exhibition.
The works also connect through the artists' interest in the fundamentals of art production; the nuts and bolts of making and exhibiting work, and how the viewer is implicated in the process.
Merlin James' paintings are playful, gestural and unpredictable. They can be punctured or textured with hair and dirt and their imagery might include interiors, figures, buildings and doorways which also evoke different points of art historical reference.
Heather & Ivan Morison record, collect and re-present the beauty and detail of the natural world. Taking inspiration from temporary desert cities inhabited by New Age American gypsies, their artwork takes the form of Dark Star, a film installation first shown in Venice, and Fantasy Island, a sculptural structure in their arboretum at Coed Gwynant, North Wales.
Richard Deacon's practice has consistently challenged and extended notions of what sculpture is and might be. His work communicates an aesthetic freedom that comes from an understanding that art can be made out of anything. The exhibition includes seven ceramic sculptures that have been carved from solid blocks of clay and glazed so that the sensual experience of sculpture is emphasised.
Tocynnau
Gwybodaeth am y Lleoliad
Gwerthu Allan
Mae tocynnau ar gyfer y digwyddiad hwn i gyd wedi'u gwerthu :(
Os hoffech gael eich ychwanegu at restr aros, cysylltwch â ni: desk@orieldavies.org
Mae'r oriel ar agor:

Mawrth - Sadwrn 10 - 4
Caffi yn cau am 3
Ac eithrio digwyddiadau arbennig
Gwyliau banc ar gau