Beyond Pattern
Various Artists
Arddangosfeydd
|
21 Tachwedd 2009 - 27 Ionawr 2010
An exploration into the cultural meanings of 'pattern', through exhibition, commission, publication and debate, with work that utilises 'pattern' as a social, cultural and political commentator. With new commissions by Steve Messam, Catherine Bertola and Angharad Pearce-Jones and work by Michael Brennand-Wood, Nisha Duggal, Leo Fitzmaurice, Doug Jones, Adam King, Pamela So, Henna Nadeem and Andrea Stokes.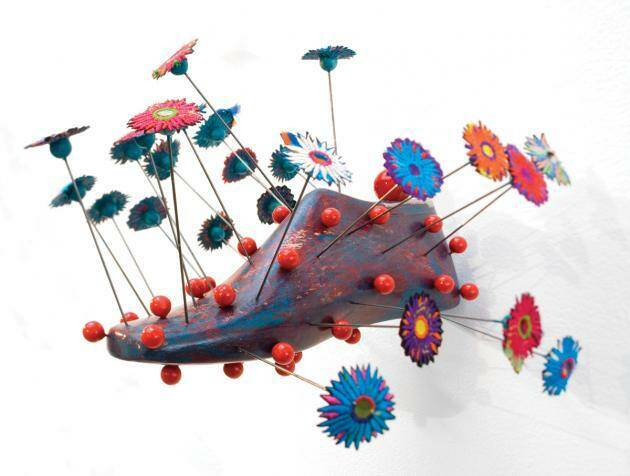 Pattern is all around us, whether we are conscious of it or not. It penetrates every aspect of our lives and can be found in the home, workplace, street, garden or in the landscape. Pattern's existence is not confined by our own manufacture as it forms the foundation for many aspects of the natural world. However, it is the manner in which we utilise pattern in our lives that forms the basis of this exhibition.
We often think of pattern simply as an adornment or perhaps even as a form of disguise, but it can also reflect a desire to communicate through a specific visual language. It might be that it represents cohesion and a sense of balance, thereby providing visual stimulation or a space for meditation. It can symbolise status or even be a device to convey ideas, express identity or specific ideologies, as well as presenting political beliefs or maintaining cultural traditions.
Work by eleven artists take us on a journey to explore these ideas and highlights how pattern can be, or has been, used as a social, cultural and political commentator that reaches beyond ornamentation and decoration. Whether these artists reference the domestic or public space, draw on contemporary or historical situations, comment on or observe aspects of society, subvert the familiar and question perception, they present a diverse reflection on the subject of pattern.
Beyond Pattern represents both conceptual and craft focused practices whilst reflecting an array of media; from metalwork to embroidered textiles and temporary public installation to hand cut collages. Individual works have been carefully selected to create intriguing, profound and sometimes surprising departure points for conversation.
Artists: Catherine Bertola, Michael Brennand-Wood, Nisha Duggal, Leo Fitzmaurice, Doug Jones, Adam King, Steve Messam, Henna Nadeem, Angharad Pearce-Jones, Pamela So, Andrea Stokes.
Oriel Davies is delighted to commission work by Catherine Bertola and Angharad Pearce-Jones for the exhibition and also to commission the temporary site-based work titled Clad by Steve Messam. A full colour publication accompanies this project with essays by Laura Mansfield and Lesley Millar. An Oriel Davies Touring exhibition curated by Alex Boyd. This project has been made possible through an Arts Council of Wales Beacon Company Award 2008-10. Supported by the National Lottery through Arts Council England and The Laura Ashley Foundation.
Are you a teacher? Oriel Davies has produced an Educational Pack for Beyond Pattern Download Education Pack >

Essays & Reviews
Beyond Pattern
Review by Elisabeth Mahoney from 'guardian.co.uk'
Beyond Pattern - Part 1
Review by Christopher Collier from 'interface'
Beyond Pattern - Part 2
Review by Christopher Collier from 'Interface'
Tocynnau
Gwybodaeth am y Lleoliad
Gwerthu Allan
Mae tocynnau ar gyfer y digwyddiad hwn i gyd wedi'u gwerthu :(
Os hoffech gael eich ychwanegu at restr aros, cysylltwch â ni: desk@orieldavies.org
Mae'r oriel ar agor:

Mawrth - Sadwrn 10 - 4
Caffi yn cau am 3
Ac eithrio digwyddiadau arbennig
Gwyliau banc ar gau