Conspicuity
Philip Cheater
Test Bed
|
19 Ebrill 2014 - 18 Mehefin 2014
The fabric of society is a complex web of communication and physical encounters, information and instruction - a matrix infiltrated and managed by signs and symbols of health and safety culture. It is with the semiotics of safety, its language of vibrant geometric forms and luminous graphics, and our responses, that Philip Cheater's practice is most concerned.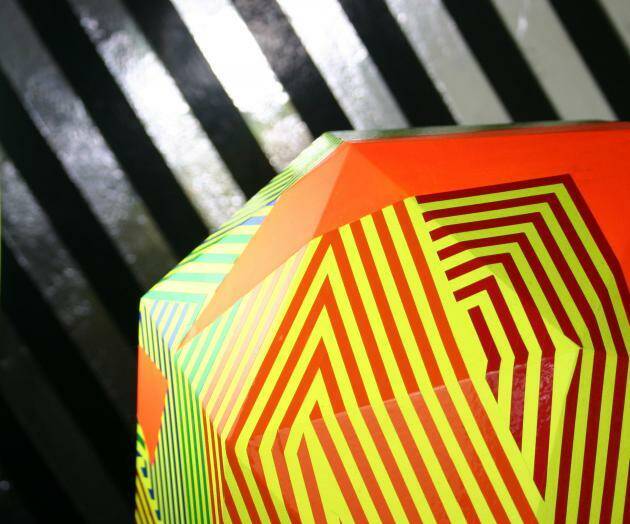 Cheater draws on the physical response to and effect of colour and pattern. He masks surfaces in tape until they pulsate, to the point where shifting optical illusions distort, overpower and frustrate the viewer's encounter with form.
Having graduated from Swansea Metropolitan University in 2011 Philip Cheater has since produced work for LOCWS International 2013 and is currently developing work for Colony Projects and Elysium Gallery's From Here and There, an exchange between artists in Wales and Colorado.
Supporting new and experimental work by artists based in Wales and the Borders.
Tocynnau
Gwybodaeth am y Lleoliad
Gwerthu Allan
Mae tocynnau ar gyfer y digwyddiad hwn i gyd wedi'u gwerthu :(
Os hoffech gael eich ychwanegu at restr aros, cysylltwch â ni: desk@orieldavies.org
Mae'r oriel ar agor:
Dydd Mawrth i ddydd Sul 11-4 Mis Mawrth i Mis Hydref.
Dydd Mawrth i Ddydd Sadwrn 11-4 Mis Hydref i Mis Mawrth
(Ar agor Dydd Sul dros yr hâf)
Gwyliau banc ar gau
02.06.2022 – 03.06.2022