Dear Olivia ...
Craig Wood
Arddangosfeydd
|
7 Mawrth 2015 - 13 Mai 2015
For his latest solo show, Dear Olivia … Craig Wood presents striking new works which range from large-scale sculptural installation and video projection, to delicate paper necklaces and painted maps. Running throughout the exhibition are threads of communication, the individual and the multitude, nationalism and shifting power structures.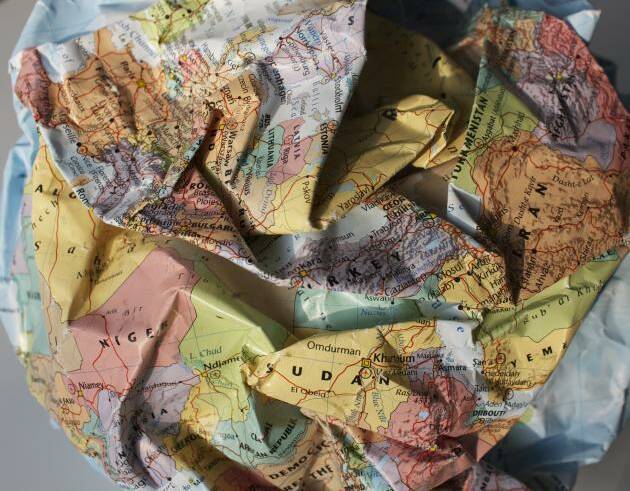 Wood's Mapping works offer geo-political worlds where whole continents are vanished beneath the seas, countries are upended from their usual coordinates, or the earth's surface is disrupted. His Transplant installations, both startling and humorous, reference dominant global issues: the dislocation of communities worldwide through urbanization and mass migration. In the artwork, Dear Olivia… the artist moves from a world-view to focus on the voice of the individual, unseen and apparently unreachable.
Originally from Scotland, Craig Wood has been based in South West Wales for 25 years. He exhibits widely across the UK and abroad, and also curates and writes. Craig Wood lectures at UWTSD, Swansea Campus.
Exhibition launch with talk by Craig Wood
Saturday 7 March, 5-8pm
Tocynnau
Gwybodaeth am y Lleoliad
Gwerthu Allan
Mae tocynnau ar gyfer y digwyddiad hwn i gyd wedi'u gwerthu :(
Os hoffech gael eich ychwanegu at restr aros, cysylltwch â ni: desk@orieldavies.org
Mae'r oriel ar agor:

Mawrth - Sadwrn 10 - 4
Caffi yn cau am 3
Ac eithrio digwyddiadau arbennig
Gwyliau banc ar gau