En Route
Andrew Smith
Arddangosfeydd
|
14 Gorffennaf 2007 - 1 Medi 2007
'En Route' presents large-scale paintings by Andrew Smith. Over recent years the artist has immersed himself in an exploration of colour and form, pushing beyond painting's usual frame. This exhibition shows paintings that were made at Otwarta Pracownia, Krakow in Poland, together with a major new work titled Negotiation.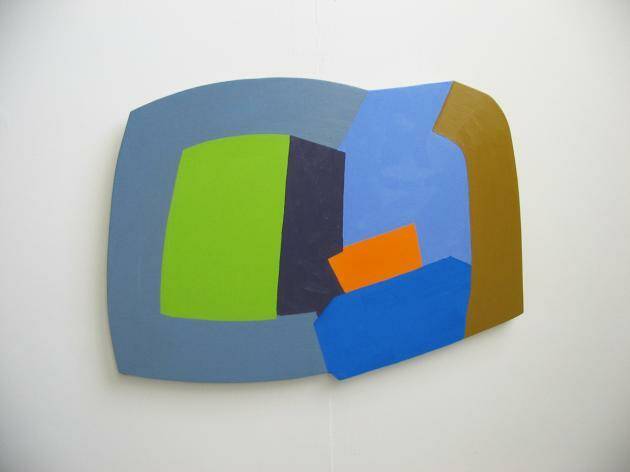 En Route presents large-scale paintings by Andrew Smith. Over recent years the artist has immersed himself in an exploration of colour and form. In these vibrant canvases, Smith pushes beyond painting's usual frame, constructing shapes of vivid colour to extend beyond conventional boundaries. They are not built of random shapes, but draw inspiration from, and are a response to, the tessellating blocks of colour that make up the painted surface of the work. It is actually the colour areas, more usually contained and restrained within the rectangular canvas in traditional abstract painting, that in Smith's work take on a leading role, defining the shape of the final image, and demarking its overall profile. As a result, the paintings begin to relate and interact more markedly with the wall area on which they are hung; they have a more active relationship with the environment outside the confines of the canvas.
As Smith describes:
'My painting has evolved into a new way of defining pictorial space. The shapes, once contained within a rectangular space, now themselves define the perimeter of the painting. The shapes realise their full dynamic and penetrate the wall space; my motifs have extended the conventional line and evolved into a painted mobile surface.'
The painted surfaces of the works are similarly charged with intense energy. The paintings embody a sense of movement, each shape appearing to take on a different direction and vigour through variations in brush stroke, pattern and hue. The paintings are always constructed in Smith's studio in Harlech, and are influenced by the revolving and animated light from Tremadog Bay spilling in through the studio windows. The significant movement and dynamism in the painted image of Smith's work is also reflected in the painting's mobility on completion, as implied in the exhibition's title En-Route. While the works have all been created in the studio, it is very important that the works travel after their completion, exploring new contexts and environments, moving outside the studio walls in the same way that the paintings move beyond the constraints of the canvas. In the summer of 2006, Smith had a solo exhibition of his En Route paintings in Otwarta Pracownia in Krakow, and many of the works from that exhibition can be seen here today.
Andrew Smith is based in Harlech, North Wales. He studied MA Fine Art Printmaking at Camberwell College of Arts (1994-96) and BA Fine Art Painting at Norwich School of Art (1983-86). He currently works as the Fine Art Academic Co-ordinator at the School of Lifelong Learning, University of Wales Bangor, North Wales.
Smith has exhibited widely both in the UK and internationally, and recent solo exhibitions include: En Route: Poland and Wales, Galerie Otwarta Pracownia, Krakow, Poland (2006); and The Surface of Colour, Amgueddfa Ceredigion Museum, Aberystwyth (2001). His work is held in numerous private and public collections including Secretario de Difusion Cultural de la Universidad Michoacána, México; Fundació Casa Museo "A Solaina" de Piloño; Museum of Contemporary Art, Skopje, Macedonia; Frazer & Watson, London; Clifford Chance Solicitors, London; and Zeckler & Co, London.
Tocynnau
Gwybodaeth am y Lleoliad
Gwerthu Allan
Mae tocynnau ar gyfer y digwyddiad hwn i gyd wedi'u gwerthu :(
Os hoffech gael eich ychwanegu at restr aros, cysylltwch â ni: desk@orieldavies.org
Mae'r oriel ar agor:
Dydd Mawrth i ddydd Sul 11-4 Mis Mawrth i Mis Hydref.
Dydd Mawrth i Ddydd Sadwrn 11-4 Mis Hydref i Mis Mawrth
(Ar agor Dydd Sul dros yr hâf)
Gwyliau banc ar gau
02.06.2022 – 03.06.2022