Eocene
Alex Duncan
Test Bed
|
21 Tachwedd 2009 - 27 Ionawr 2010
Alex Duncan's inspiration comes from the fragility and power of the natural world. Through a variety of materials he creates work with a hyper-realistic quality, questioning what is real and what has been constructed. The artist adopts the aesthetic of model-making or film-set replicas.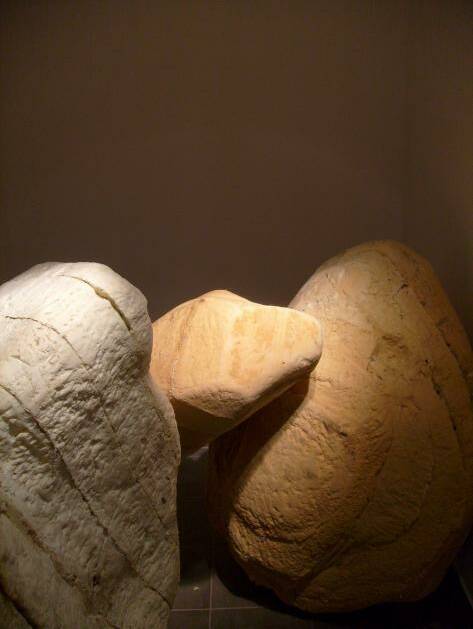 Alex Duncan's work Eocene is literally wedged within the confines of the Test Bed space. Its position may remind us of peering into gaps between rocks at the beach and finding pebbles and flotsam stuck there after the sea has retreated. Eocene represents an in-between space and at the same time is presented in an in-between space for a specific time.
Duncan plays with scale. Drawing us into illusionary worlds he often devises spaces that take on a new history: a space which might tell the story of an ecological disaster or of an often overlooked moment in nature. He leads us to question whether what we see is real, art or something more complex that sits in between. He creates detailed and precise work, highlighting environmental and ecological issues and often confronts the viewer with an environment more akin to a film set. Instead of conforming to the expectations of a gallery space his work invites us to view it in a way we might if we had 'discovered' a meteor.
Our attention is drawn to a foam facsimile of a pebble the artist discovered. These 'pebbles' inhabit the inlets and rocky coves of our coastline, resting amongst their naturally occurring counterparts. Within Duncan's practice all manner of materials are utilised as the artist attempts to capture moments within nature. By juxtaposing the man-made with the natural, and substituting the natural for a man-made equivalent, he highlights the disconnection between real and fake and the complexities of contemporary experiences of the real and the fake.
Eocene is carved and created from found foam (polyurethane). Duncan utilises a man-made material bound for landfill to create a work that questions our relationship with the environment and our acknowledgment (or not), of our responsibilities.
"Within these sought spaces, events and objects can exist that can take us somewhere else; whether they are artworks that look found or found objects that look artist-made." Alex Duncan
Alex Duncan is based in South Wales and spends as much time in the landscape as in his studio, choosing a poetic gesture of humour or focusing on detail to address a concern and connection between the world and the environment.
The title, Eocene refers to a major geological period in the history of the earth.
This is a Test Bed exhibition, supporting new and experimental work by artists based in Wales and the Borders.

Supporting new and experimental work by artists based in Wales and the Borders.
Tocynnau
Gwybodaeth am y Lleoliad
Gwerthu Allan
Mae tocynnau ar gyfer y digwyddiad hwn i gyd wedi'u gwerthu :(
Os hoffech gael eich ychwanegu at restr aros, cysylltwch â ni: desk@orieldavies.org
Mae'r oriel ar agor:

Mawrth - Sadwrn 10 - 4
Caffi yn cau am 3
Ac eithrio digwyddiadau arbennig
Gwyliau banc ar gau