Fantasy is a Place Where it Rains
Patrick Farmer and Sarah Hughes
Test Bed
|
17 Ebrill 2010 - 9 Mehefin 2010
Patrick Farmer and Sarah Hughes work both individually and collaboratively in response to the environment to develop and enhance our awareness of it. Their placement of poetic gestures encourage the viewer to reassess their habitual relationship with familiar environmental elements.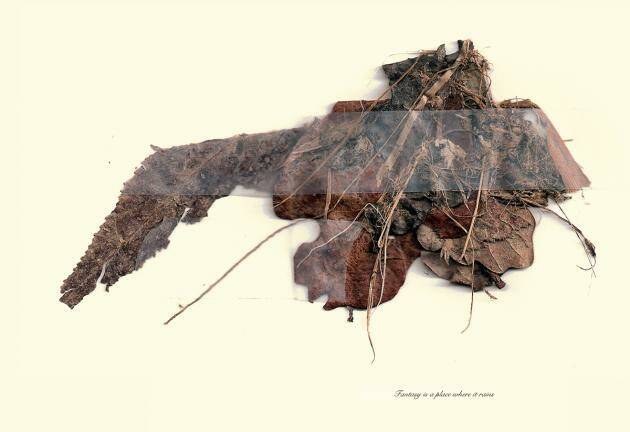 Working collaboratively, Newtown based artists Patrick Farmer and Sarah Hughes attempt to capture the shifting life cycles of the River Severn. These are made visible through a combination of drawings, hydrophonic sound recordings and physical material, revealing the rivers' self-governing course from its birthplace in the Hafren forest through to its conclusion in the Bristol Channel.
We are presented with a series of 'river drawings' which expose a multitude of textures akin to the river. These might not be immediately recognisable as components of a fluid entity, though it is apparent that the static drawings are only part of the story. The diversity of the rivers' texture is most distinguishable along its course. Its polar opposites provide the most dramatic example - the remote, boggy beginning and swift industrial ending.
The river is perceived entirely differently in its audible form. Sound is created by obstructions on the riverbed and although we begin to piece these fragments together the river still remains elusive.
A diverse range of media reflects the artists' individual responses to the river while the assembling of these works offers the audience a complex insight into the transitory existence of this natural phenomenon. The multi-disciplinary approach also allows a more realistic view of the rivers' multi-faceted traits and its rhythmic movement. Geographic and cultural histories are a further consideration, as is the way the river might be represented. Through these works the artists' hope that the audience will slowly begin to appreciate the need for an increased awareness, and that we might start to question our position in relation with our surroundings.
Oriel Davies is grateful to the Esmée Fairbairn Foundation for their generous support of this initiative.
Supporting new and experimental work by artists based in Wales and the Borders.
Tocynnau
Gwybodaeth am y Lleoliad
Gwerthu Allan
Mae tocynnau ar gyfer y digwyddiad hwn i gyd wedi'u gwerthu :(
Os hoffech gael eich ychwanegu at restr aros, cysylltwch â ni: desk@orieldavies.org
Mae'r oriel ar agor:

Mawrth - Sadwrn 10 - 4
Caffi yn cau am 3
Ac eithrio digwyddiadau arbennig
Gwyliau banc ar gau