In Guise of the Rock
AJ Stockwell
Arddangosfeydd
|
29 Gorffennaf 2017 - 20 Medi 2017
Following our second open call for early career artists based in Wales and the Welsh Borders to develop and present new work as part of Litmus, we're delighted to announce the development of new commission by AJ Stockwell.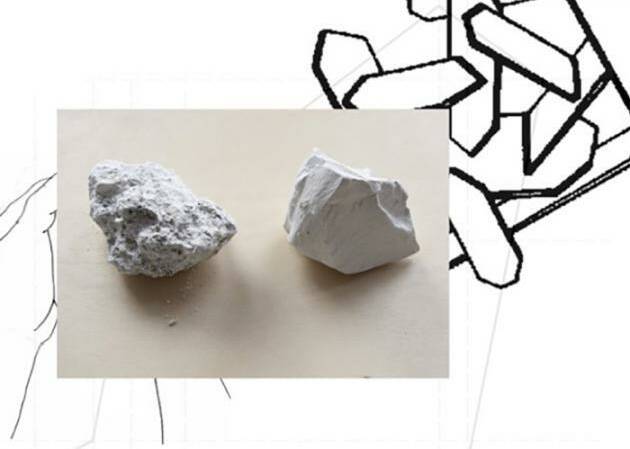 Focusing on an excerpt of AJ's ambitious project White Rock, which exists through an imagined society fixated on the production and preservation of porcelain objects, AJ is developing In Guise of the Rock; an installation on the ancient material of kaolin, as it comes into being. Kaolin is a fine soft white clay formed over centuries as hard lumps of granite break down and decompose, and it's pivotal in the history of porcelain. In Guise of the Rock draws on the legacy of the porcelain industry in Europe, its aspirations to elevate society through producing the most desirable of objects and the parallels with our contemporary western attitudes towards consumer goods.
AJ Stockwell has lived across Scotland, England and Wales and is currently based in Cardiff. Fascinated by the slippage of materials through time and place and our shared 'material' culture, AJ interprets our human relationship with objects through borrowing languages and processes from fields such as ceramics, dentistry, mining and dance. Rooted in sculpture, AJ's practice incorporates performance, video and text, which often form the basis for installations with re-constructed scripts or narratives. Recent exhibitions and residencies include: Standpoint Futures at Chisenhale Art Place, London; 3 day residency in The Drawing Room at Oriel Davies; UNIT(e), g39, Cardiff; Artist in Residence, elysiumgallery, Swansea; When Then is Now, The Lantern, University of Worcester partnership with Worcester Museum.
Litmus is an exhibition and development programme offering curatorial and practical support for early career artists in Wales and the Welsh Borders to research, develop and present new work at Oriel Davies.
Audio Description
​Exhibition Narrative - In Guise of the Rock >
Exhibition Audio Description - In Guise of the Rock >
Find out more about Litmus here.
Litmus is supported by the Arts Council of Wales.
Tocynnau
Gwybodaeth am y Lleoliad
Gwerthu Allan
Mae tocynnau ar gyfer y digwyddiad hwn i gyd wedi'u gwerthu :(
Os hoffech gael eich ychwanegu at restr aros, cysylltwch â ni: desk@orieldavies.org
Mae'r oriel ar agor:

Mawrth - Sadwrn 10 - 4
Caffi yn cau am 3
Ac eithrio digwyddiadau arbennig
Gwyliau banc ar gau