Lines of Desire
Young Curators 2010
Arddangosfeydd
|
28 Awst 2010 - 3 Tachwedd 2010
An exhibition which brings together artists who explore ideas connected with journeys, maps and routes, borders, timelines, songlines, narratives and story lines. This rich and ambitious show includes drawing, photography, moving image, sound and installation by 20 national and international artists.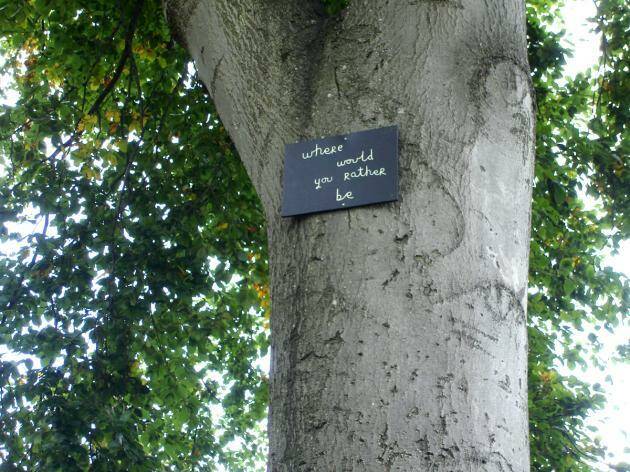 Lines of Desire is the third exhibition in the Gallery's Three-Year Young Curators Programme and brings together 20 national and international artists in a stunning show that has been conceived, selected and displayed by young people aged between 15 and 24.
The term 'line of desire' describes a pathway worn away by people or animals in finding the shortest distance between two points. The Young Curators expanded this concept to develop an inspired brief that embraced a range of possibilities, including: journeys, borders, longitudes, latitudes, songlines, storylines and tracks.
This thought-provoking exhibition presents a broad range of artworks, including a re-enactment of the first aerial balloon voyage in Scotland, a duet sung with a spider, a Meridian Line made from sugar, and a miniature ski lift.
Exhibiting Artists: Colin Andrews, Eskild Beck, Jacob Cartwright and Nick Jordan , Ellie Chaney, Jeremy Evans, Alice Forward, Lesley Halliwell , Adam Heiss, Kaori Homma, Mark Langley, Daniel Lehan, Eleanor Morgan, Plan b, Nicole Polonsky, Margaret Proudfoot, David Rickard, Stuart Robinson, Carole Romaya, Helen Saunders, Daniel Staincliffe.
Tocynnau
Gwybodaeth am y Lleoliad
Gwerthu Allan
Mae tocynnau ar gyfer y digwyddiad hwn i gyd wedi'u gwerthu :(
Os hoffech gael eich ychwanegu at restr aros, cysylltwch â ni: desk@orieldavies.org
Mae'r oriel ar agor:

Mawrth - Sadwrn 10 - 4
Caffi yn cau am 3
Ac eithrio digwyddiadau arbennig
Gwyliau banc ar gau