Me v U
Young Curators 2008
Arddangosfeydd
|
9 Awst 2008 - 4 Hydref 2008
Curated by Oriel Davies Young Curators, 'ME v U' focuses on 'conflict'. Through personal arguments, political debates, cultural differences, family struggles and internal struggles, we all face conflict on a daily basis. With newly commissioned work by Rabab Ghazoul alongside work by Andy Warhol, Paul Seawright and Richard Billingham, 'ME v U' explores what conflict means to the individual.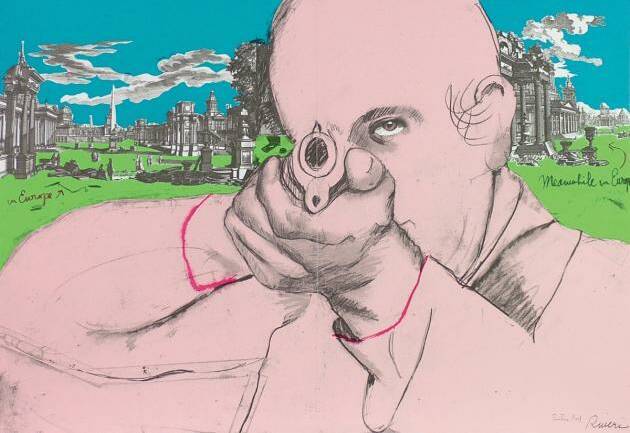 Works selected by Oriel Davies Gallery's Young Curators from Wolverhampton Art Gallery's permanent collection, alongside newly commissioned work by Rabab Ghazoul
We are in a world where our day-to-day lives are affected by different types of conflict. Whether these are personal arguments, family struggles, wars, religious disagreements, racial intolerances or clashes of political ideologies, we are hurt or angered by the conflicts we are constantly confronted with.
Throughout history artists have addressed conflict through a variety of media - from paint on canvas to installation, video, printmaking and photography. This exhibition draws together over forty art works by twenty artists from the art collection at Wolverhampton Art Gallery. These pieces demonstrate how society is saturated at different levels by conflict and ways in which artists question and challenge society's tension and struggles through their work.
Within the exhibition some works stand out as being directly about conflict and some actually explore potential acts of conflict - as can be seen in the sculpture, Sad by Siobhán Hapaska. Other works, such as Andy Warhol's Jackie or Tony Bevan's The Meeting, are less obvious and invite you to question the story behind the image. In some of the works the artists themselves are entwined in the conflict, such as Richard Billingham's photograph of his father or Paul Seawright's documentary-style photographs, taken by the artist working as Official War Artist in Afghanistan.
Woven into the exhibition is new work by Cardiff-based artist, Rabab Ghazoul. We have commissioned this work from Rabab, who has responded to our ideas and the artworks we have chosen. Our voices are referenced through her text-based installation to communicate our thoughts. We invite you to look at our views and decide whether you share our feelings and interpretations. At the same time, we invite you to challenge your own views and attitudes through engaging with our exhibition and the artworks in it.
ME v U has been curated by Oriel Davies Gallery Young Curators, 2008. We are a group of nine young people from the local area, studying or interested in art. Our group comprises Carys Corfield, Rhian Davies, Besi Jarman, Leanne Jarman, Becca Jones, Daniel Perry, Lucy Richardson, Marijka Thomas and Gemma Williams.
A fully illustrated catalogue accompanies the exhibition.
We would like to thank Rachel Lambert-Jones and Marguerite Nugent from Wolverhampton Art Gallery for the loan of the artworks; the artist, Rabab Ghazoul; Sean Edwards and Alex Boyd at Oriel Davies and Anthony Shapland from g39. We would also like to thank the Paul Hamlyn Foundation, the Esmée Fairburn Foundation and the Arts Council of Wales whose financial support has made this exhibition and project possible.
Tocynnau
Gwybodaeth am y Lleoliad
Gwerthu Allan
Mae tocynnau ar gyfer y digwyddiad hwn i gyd wedi'u gwerthu :(
Os hoffech gael eich ychwanegu at restr aros, cysylltwch â ni: desk@orieldavies.org
Mae'r oriel ar agor:

Mawrth - Sadwrn 10 - 4
Caffi yn cau am 3
Ac eithrio digwyddiadau arbennig
Gwyliau banc ar gau