MORDANT
Ellen Bell
Test Bed
|
23 Mai 2015 - 11 Gorffennaf 2015
Ellen Bell is intrigued by the influence that a particular art space and the work being shown within it might have upon spoken exchanges. Recently, she has spent time at Oriel Davies, gathering snippets of conversation in the galleries, café and shop as research for her show.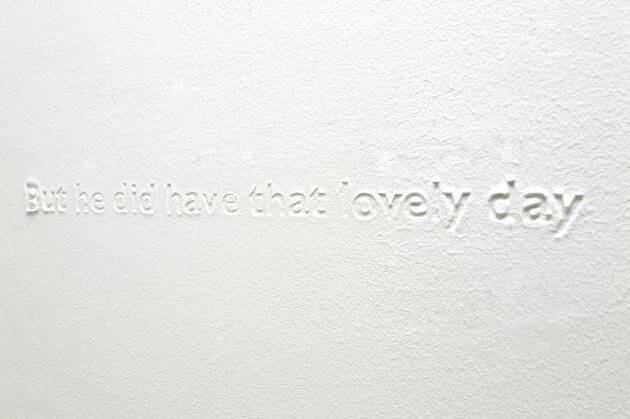 Intimate conversation, with all its prosaic, repetitive and seemingly uninformative murmurings, has long been the focus of Ellen Bell's practice. Working directly with novel and play texts, Bell fills templates with undulating lines of dialogue, creating as she does a physical, three-dimensional, manifestation of speech that takes the viewer beyond the mere act of reading. As a practicing artist and writer, Bell's drawings are also processes in separating and re-writing the manuscripts she selects.
For her show in TestBed she is transcribing these interactions, combining the printing method of letterpress with plaster, to present a facsimile of what she heard that can be both read and felt. MORDANT (from the French to bite) encapsulates the notion that walls somehow absorb the discourses that surround them.
Ellen has exhibited widely across the UK, recently completed an MA in Creative Writing at Aberystwyth University in 2014 as well as an MA in Fine Art at Norwich School of Art & Design in 2001. She lives and works in Aberystwyth.
Ellen Bell writes about MORDANT for the New Welsh Review: http://www.newwelshreview.com/article.php?id=987
Supporting new and experimental work by artists based in Wales and the Borders.

Tocynnau
Gwybodaeth am y Lleoliad
Gwerthu Allan
Mae tocynnau ar gyfer y digwyddiad hwn i gyd wedi'u gwerthu :(
Os hoffech gael eich ychwanegu at restr aros, cysylltwch â ni: desk@orieldavies.org
Mae'r oriel ar agor:

Mawrth - Sadwrn 10 - 4
Caffi yn cau am 3
Ac eithrio digwyddiadau arbennig
Gwyliau banc ar gau