Of time and the railway
A film by Robert Davies Soundtrack by Peter Pavli/Robert Davies Edited by Siencyn Langham/Robert Davies
Arddangosfeydd
|
19 Medi 2015 - 30 Medi 2015
This new film by Robert Davies concerns the rail line between Birmingham and Aberystwyth - a crucial artery between the industrial West Midlands and rural Mid-Wales.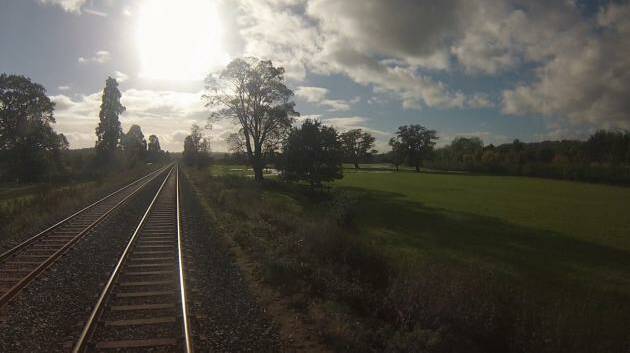 The final section of the railway line between Birmingham and Aberystwyth was completed in 1863. Since then the line has been a crucial artery between the industrial West Midlands and mid & west Wales.
This is a film about that journey recorded from the drivers' cab of the train. Filmed between October 2013 and February 2015 on 86 different days it has been edited into a single trip that takes in more than a year. It captures the changing human geography adjacent to the track, but also a landscape that is sustained and twisted by the weather and the coming and going of the seasons. The film also represents a single day – entering Birmingham at night and leaving at dawn, going to Shrewsbury in the morning and on to Newtown and the mountains in the afternoon, before dropping down towards the sea as the sun starts to set and we reach journey's end at Aberystwyth
The journey starts in a landscape described and scarred by the process of industrialisation. It continues through the Black Country, the Shires and the Welsh Marches, land that has been farmed since it was settled. It carries on through the hills of Powys, where the relationship between man and the landscape begins to change; cattle and sheep vying for space with crops. On the steeper slopes sheep farming becomes prevalent as the train reaches its' highest point at Talerddig, before winding down the Twymyn valley to the river Dyfi as it meanders to Machynlleth. The journey continues along the flood plain to the open mouth of the Dyfi estuary and the wilds of Ynys Las and Borth before arriving at the university town of Aberystwyth.
This is a film about the passage of time, both literally and historically. It's about taking a journey, but also the effect that the passage of time has on that journey. It describes a moment in the history of this landscape.
Tocynnau
Gwybodaeth am y Lleoliad
Gwerthu Allan
Mae tocynnau ar gyfer y digwyddiad hwn i gyd wedi'u gwerthu :(
Os hoffech gael eich ychwanegu at restr aros, cysylltwch â ni: desk@orieldavies.org
Mae'r oriel ar agor:

Mawrth - Sadwrn 10 - 4
Caffi yn cau am 3
Ac eithrio digwyddiadau arbennig
Gwyliau banc ar gau