Placement
Ceramic Connections: Wales & Scotland
Arddangosfeydd
|
16 Ebrill 2011 - 6 Gorffennaf 2011
Featuring contemporary ceramic objects by artists with connections to Wales and Scotland, this exhibition explores the narrative possibilities of ceramics through material, form, history, image and context. Artists: Stephen Bird, Claire Curneen, Lowri Davies, Ken Eastman, Nick Evans, Laura Ford, Anne Gibbs, David Shrigley, Cecile Johnson Soliz, Conor Wilson, Dawn Youll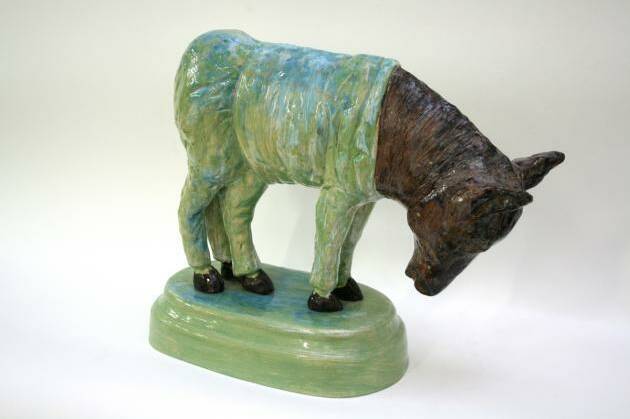 Through collaboration, Oriel Davies Gallery and Fife Contemporary Art & Craft are presenting Placement; a combined visual art and craft project which focuses on the strength and diversity of ceramic practice associated with Wales & Scotland. At the outset, a ceramic artist from each country was invited to curate the exhibition. Having never met each other previously, Lowri Davies (Wales) and Dawn Youll (Scotland), embarked on developing the show.
We each had a wish list and an artist we shared was Laura Ford. She uses the ceramic ornament as a hook to engage the viewer in the wider themes of her work. (Youll) … in favouring Laura's work it opened up the boundaries – we looked at designers, applied artists and fine artists, inviting people from different backgrounds who use clay but wouldn't usually exhibit in a ceramic show...(Davies)
Placement explores the subject of place, whether geographical or make-believe, and associated ideas around arrangement and placement, whether located to a place or within history. It aims to highlight important associations in the field of ceramics concerning location, geography, geology, ritual, commemoration and souvenir. Works by eleven artists reveal how ceramic objects can, and have been, used to articulate a particular language: telling stories and connecting us with both past and present.
A full colour catalogue accompanies the exhibition and includes an interview between Dr Natasha Mayo, artist and lecturer, Cardiff School of Art & Design and the co-curators. Special exhibition price £5 (£7 RRP)

Oriel Davies Gallery and Fife Contemporary Art & Craft would like to give enormous thanks to Lowri Davies and Dawn Youll for their vision, commitment and enthusiasm throughout the project. We would also like to thank all the exhibiting artists for their involvement and Mary Mary Gallery, Glasgow, who represent Nick Evans. This project has been made possible with support from The Colwinston Trust and the National Lottery through Creative Scotland.
Placement overlaps with the International Ceramics Festival which runs from 1-3 July, in Aberystwyth. Oriel Davies will run several events associated with both Placement and the Festival. Please keep an eye on our website for further information over the next few months.
In the meantime, check out the programme for the Festival by clicking on their logo below.
Tocynnau
Gwybodaeth am y Lleoliad
Gwerthu Allan
Mae tocynnau ar gyfer y digwyddiad hwn i gyd wedi'u gwerthu :(
Os hoffech gael eich ychwanegu at restr aros, cysylltwch â ni: desk@orieldavies.org
Mae'r oriel ar agor:

Mawrth - Sadwrn 10 - 4
Caffi yn cau am 3
Ac eithrio digwyddiadau arbennig
Gwyliau banc ar gau